'Traditional' wedding meals tend to consist of 3-course sit down dinners, which although nice, can lack some of the 'wow-factor'. We think serving wedding food that's outside of the box, yet still delicious, makes for a truly unique and special day that you and your guests will remember forever!
We've compiled a list of 9 unique wedding food ideas to impress your guests: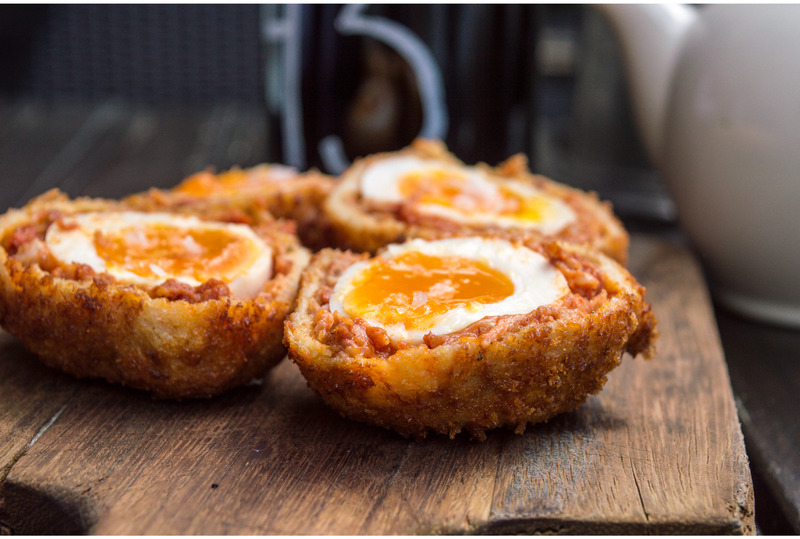 Scotch Eggs
Scotch eggs may not be the first things that come to mind when planning your wedding meal. As part of a wider wedding buffet, they are actually ideal. Scotch eggs are especially good in peak wedding season, when the heat is really kicking in. An accompanying salad bar works extremely well and adds colour to the meal. Depending on the size of the Scotch eggs, these could be the main part of the meal or a nice addition to the wider buffet.
The great thing is, there are actually so many options available. Classic, vegetarian, spinach, falafel, the possibilities are endless! Or why not try your own recipe?
Making for a brilliant relaxed vibe, Scotch eggs can be a cheaper alternative for your wedding food. Perfect for DIY weddings, or one where there may be a tighter budget.
Barbecue
If you're having a wedding in peak wedding season, when the temperatures are soaring, why not go barbecue style? The perfect Summer's evening meal, with a fun casual vibe. What's more, is that it's really easy to do! You could even go a step further and add a hog roast.
When you want to spend a good portion of your wedding party outside, this is a great option. It keeps your guests in the great outdoors whilst being able to smell the inviting scents of the food barbecuing away.
Fudge
Candy bars have been all the rage, featuring in many weddings. But, maybe you're looking for something a bit more subtle, or a slightly more adult option. Fudge really fits the bill here. It can be left on the table, be part of a buffet, or even served as a final course or with a coffee. You can really make this your own as it is such a versatile sweet.
A few ideas might include wrapping fudge up and leave it with the place setting for each guest, as a favour. Or, to encourage conversation at the table, put a variety on a cake stand for them all to reach in.
Fudge is really easy to make yourself so can be part of a nice personal gift to your guests. You could even have fun with making up a bunch of different flavours that your guests may not have tried before.
Alcoholic Cupcakes
You may have seen cupcakes at weddings before, but have you seen alcoholic cupcakes? All of us have probably made a cupcake at some point in our lives so why not make them yourself for your wedding? Give them a twist by turning them in to a cocktail flavoured treat that your guests will love!
Looking lovely on a tiered cake stand with different flavours on each tier, these would make a lovely display, or maybe even an alternative to your wedding cake. Think pina colada, mojito and Baileys cupcakes - what could be more delicious?
These cupcakes will provide a real talking point for your guests and they will certainly be wanting to try one of each, so make sure there are enough!
Doughnuts
One of our colleagues recently swapped out her wedding cake for a large order of doughnuts. We love this idea! Who doesn't love a doughnut?
Doughnuts cut out the need for cutting the cake as guests can help themselves and pick their preferred flavours. You can even have them frosted in your own wedding colours to go with the theme. Lay them out on a cake stand or serving board made out of slate for a fantastic display.
As doughnuts are becoming more and more popular, and with doughnut shops popping up all over the place, this is certainly a trend to get involved with! Get ahead of the curve (or ring, so to speak) and get your favourite doughnut store in on your wedding celebration.
Curry
Bowl food is a big trend in weddings recently. Curry is a great option for this - especially for an evening meal. If you include a few hot and mild options, everyone will be happy and your guests can help themselves. Poppadoms and naan breads can even be included for a great selection.
Including your favourite curry house by asking if they can cater for your wedding allows you to enjoy the food that you love the most on your special day. Just make sure that the venue is okay with it first!
Bain maries and hot plates are the perfect option for keeping your food warm and displaying them in a nice orderly way.
Oysters
Oysters are an expensive option for your wedding, but are fitting for a luxurious day. These may fit perfectly in to your theme if you're hosting a beach or exotic themed wedding.
Offer your guests different flavours to choose from and include your oysters as part of a wider buffet as they can be an acquired taste. All you need in addition is a seafood platter tray and ice. Ideal on a beautiful Summer's day in peak wedding season.
Pizza
Although pizza may not be obviously associated with Weddings, it could really be the perfect option for you. Great for late night picking and allowing guests to help themselves. DIY pizza making stations can be set up so that your guests can even make their own - a brilliant activity for the kids and big kids alike!
Passed Down
When the menu includes something personal to you it makes it all that more special. An example might be where a member of your family runs a business and you want to include some of their produce on the menu. Or perhaps you have a family recipe that has been passed down through multiple generations. Just check with the venue to see if they would make it for you. This can make for a really nice story on the menu, and would make your family members feel included and a real pivotal part of your day.