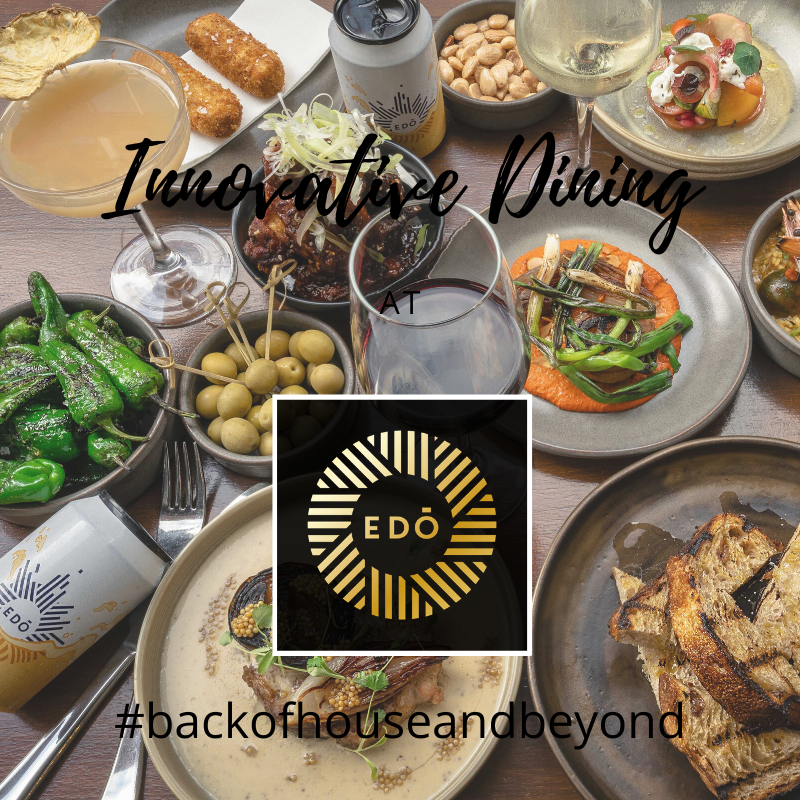 Welcome to December! Christmas is nearly here, and soon we'll be ringing in the New Year! For now though, it's time for our 12th and final #backofhouseandbeyond client feature for 2019.
This month we've ventured up to Belfast and are featuring "innovative, attentive and fresh" EDO Restaurant! We spoke to Matthew McIlwaine, the restaurant manager, to find out what makes this popular tapas restaurant special.
About the Venue
Matthew describes EDO as a "modern tapas restaurant situated in the centre of Belfast, influenced by a variety of world cuisines but with an underlying focus on fresh, local produce with great cocktails and wines to match!" Sounds great to us! What makes their venue special is "…without a doubt the entire team behind it…" Matthew explains that "Every week, step by step, we push our standards and skills sets, strive to learn, slowly and sustainably growing as a team over time – it's in our blood!" He believes that the work that his team puts in to progressing and learning comes across in every aspect of the customer experience at EDO, setting standards for the future.
A neat project that EDO Restaurant and Matthew took part in was teaming up with a local distillery to create their own craft beer, called the "EDO IPA". Matthew had a great time designing (and of course, testing) the beer, and they are currently working on a secondary new and improved design to the packaging. He was proud to "be able to partner up and support a local independent business."
The Customer Experience
EDO is a tapas restaurant which prides itself on small plates. Matthew explains that they "encourage and tailor our menus for sharing, therefore our customers will get the chance to taste a wide range of flavours and cooking techniques within a very social dining experience."
They offer ever-changing craft cocktails and wines and use the freshest of locally sourced ingredients. They also pride themselves on their relaxed, approachable style to service, but Matthew says not to be fooled by this… "we know our menus and we have a keen eye for the details!"
EDO Restaurant's Experience with Smart
Matthew was very kind in providing us with a glowing review, describing that "the process from start to finish was made very clear and I never once doubted that the end product would look great!" He also explains that throughout the whole process, his account manager went above and beyond to ensure that he had everything he needed, including taking on part of the design process. He says that Smart offered "the same level of personal customer service you would expect from your own restaurant staff…" Thank you Matthew!
Challenges in the Business
EDO Restaurant are unique in the way that they run their business – Matthew explains how they recently moved the restaurant down to a 4-day working week, to step toward addressing industry issues like the "…infamously bad work-life balance and high values of staff turnover." We love this kind of innovation! Of course, with fewer work days, this means that Matthew's day to day has become "…slightly more focused on the numbers to facilitate this change and ensure that it's a sustainable one going forward!"
Achievements
EDO Restaurant recently won the 2019 Ulster Tatler Restaurant of the Year!
Future Plans
Matthew is keeping his cards close to his chest… but says "let's just say if expansion was a card on the table, it's certainly a conversation we can't wait to have!"
EDO Restaurant can be found at 3 Capital House, Unit 2 Upper Queen Street, Belfast, BT1 6FB and online at https://www.edorestaurant.co.uk/