Smart Hospitality is proud to work with English Lakes Hotels, supplying them with a series of beautiful and stylish Menu Covers, Menu Boards, bar menus, Guest Room Folders and more. These elegant menu covers are an ideal finishing touch to the décor of the hotel and they offer a sense of luxury.
English Lakes Hotels, Resorts and Venues includes five luxury Lake District and Lancashire Hotels. These gorgeous buildings have their own charms and unique characteristics and they offer a complete luxury experience. This collection of hotels is praised for its scenic locations, top-notch amenities and superb customer service.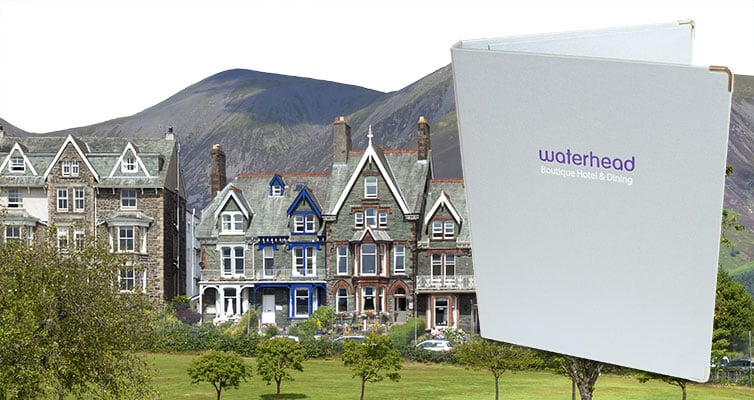 Here at Smart Hospitality we are proud to team up with English Lakes Hotels and provide them with menu covers, guest room folders and more. The products they have chosen are made from high quality Buckram, which is a stiff cloth that is made of cotton. These beautiful menu covers and folders are made from 100% cotton and have an acrylic coating, making them long lasting. The guest room folders have a wing and inter-screw fixing or a simple ring binder, which makes it easy to add a remove pages as necessary. The guest information folders are also very useful due to the internal back pocket, which makes it possible to store all sorts of important information.
If you are looking for a high quality guest folder or menu cover for your hotel, take a look at the selection that we have to offer. We offer beautiful and well-made folders and covers that will help to ensure that your hotel or restaurant creates a great first impression.
The English Lakes Hotels
There are five different hotels in the English Lakes Hotels collection, including The Midland, Lancaster House, The Wild Boar, Waterhead and Low Wood Bay.
Low Wood Bay is located on the shores of Windermere in the Lake District, one of the most scenic places in the UK. The hotel is in an ideal location for enjoying the lake and it also offers plenty of nearby amenities including a water sports centre, a beauty salon, a leisure club and much more. The water sports centre offers swimming, squash, aerobics and other group activities.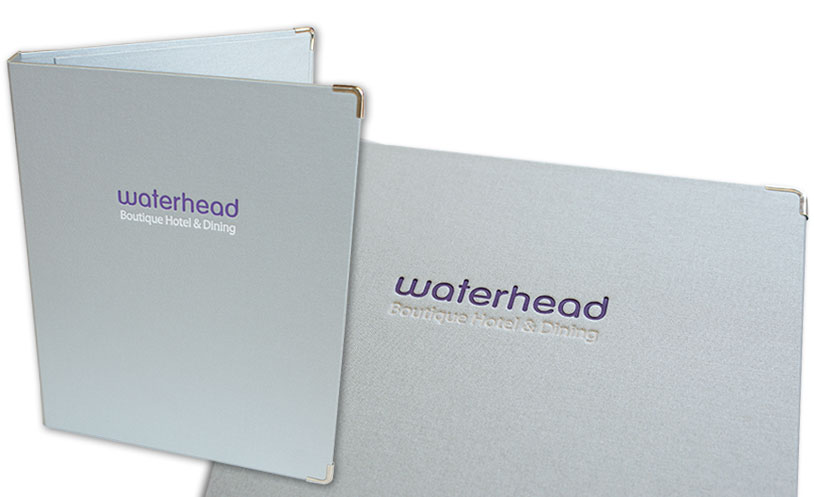 Waterhead Hotel, near Ambleside, is another fine choice for luxury accommodation in the Lake District. It has a stunning setting with beautiful views and offers the comfort of a luxury four star townhouse hotel. Guests can enjoy walks along the fells, a cruise on Windermere or a visit to the lovely towns and villages in the area. It is the perfect combination between the traditional charm of the Lake District and modern service and amenities.
If you are looking for a luxurious place to stay in historic Lancaster, try Lancaster House. When you walk into the balconied reception lounge with a roaring fire, you will know that this hotel prides itself on creating a luxurious impression for guests. From this superb hotel you will be able to explore the historic city of Lancaster, the beautiful Lancashire coastline, the Trough of Bowland, Lune Valley and the Lake District.

The Midland Hotel is a striking and unique building, a sleek Art-Deco design that curves along the North West coat of Morecambe. It has been recently restored and is no doubt a modern masterpiece. The hotel offers 44 newly renovated boutique style rooms as well as the Sun Terrace Restaurant, the Sandpiper Club Leisure Club and the Midland Spa.
Last but not least, the collection also includes the Wild Boar Inn. This is a tranquil hotel that is located close to the shores of Lake Windermere. It offers classic country style and it also has the Grill & Smokehouse – which is known for its excellent dining. The hotel gets its name from a local legend about Sir Richard de Gilpin, who fought and killed a ferocious wild boar.
These five hotels offer top notch amenities and services in some of the most idyllic and picturesque location in the UK. They are all family run establishments with four stars, so you can enjoy high quality customer service and a warm and welcoming atmosphere. We are happy to announce that all of these properties will be using our products – including menu covers, menu boards, guest room folders and much more. Why not plan a trip to one of these gorgeous properties on your next getaway and enjoy some of the most scenic locations in the UK?