Vivek Singh's 'slice of old India' is located at the old Westminster Library and the refurb is all about marking the prestigious restaurant's 15th anniversary as the UK's first fine dining Indian restaurant.
The Cinnamon Club have been working hard to revive and enhance the traditional features of the iconic Grade II-listed building, which once housed Westminster Library. The 363 square metre venue is now a plethora of strong colours and stately finishes, juxtaposed with fashionable yet lavish pieces of furniture – in true Cinnamon Club style.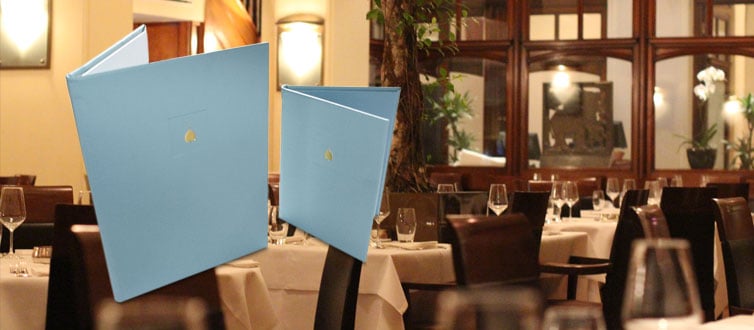 Smart supplied The Cinnamon Club with bespoke and luxurious menu covers made from 100% pure leather and 100% cotton material. The stunning set included teal leather menus and wine list covers with a platinum cotton lining, as well as a selection of Buckray Cloth (cotton) pieces in colours such as Powder Blue, Gold, Copper and Charcoal. All of the restaurant presentation products were customised with various Cinnamon Club motifs using techniques such as de-bossing, gold foiling and our brand new sparkle foil for that extra touch of magic. To find out more about these menu cover materials in particular, please visit our website and follow the links for
Real Leather Menu Covers
and
London Buckram Menu Covers
.
The Cinnamon Club's innovative menu covers feature some much-anticipated additions, such as a new three-course set menu featuring Kerala spiced Seafood Bisque flamed with brandy as well as Roast Loin of Oisin Red Deer with Black Stone Flower and Onion Reduction. Their long established favourites will remain on the menu with dishes such as the Wilde Spencer Gulf King Prawns with Coconut Ginger Sauce (the talk of many!).
Vivek Singh is one of the most successful and respected modern Indian chefs in the England, with three renowned London restaurants to his name: the authentic dining experience of The Cinnamon Club, the City's Cinnamon Kitchen and Cinnamon Soho. His reputation has continued to grow with the publication of five cookbooks, media appearances and a regular guest slot on BBC's Saturday Kitchen.
If you wish to discuss any Menu Cover requirements with our specialist team, please call our Sales Office on 0845 226 02 66.