Modern luxury restaurants are beautiful places that have been crafted with care, in order to create an atmosphere suited to high end dining. Everything from the tablecloths to the wall hangings to the carpet is selected in order to bring together a sophisticated and elegant vibe. Trends in restaurant design come and go with the seasons and there is always something new on the horizon. The hottest restaurants keep up with the trends, as well as staying ahead of the curve so that their restaurants are always hip and cutting edge places.
Luxury restaurants are always on the cutting edge of trends when it comes to interior design. Here are five of the hottest trends in luxury restaurant décor.
1) Minimalism and Simplicity
Restaurants are no longer elaborate and ostentatious in their design, they are becoming much more simplistic and minimalistic. This trend includes plenty of stone and wood as well as unrefined finishes. You will also see a lot of neutral colours such as cream, grey, white and charcoal and materials such as burlap, stainless steel and recycled paper. Less is more when it comes to these elegant and minimalist restaurant designs and when you pare back the design in this way it really puts the focus on the food.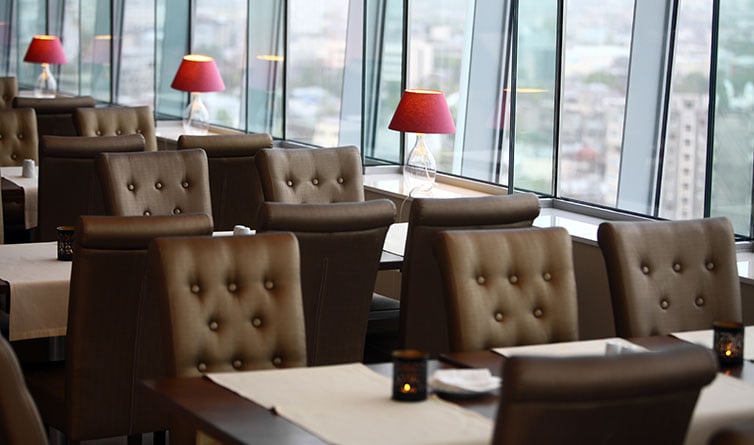 2) Dark Blue Tones
Another trend that you will see in many luxury restaurants is the use of moody shades of dark blue and indigo. Dark navy tones, complemented with white marble or perhaps mother of pearl, is a popular trend in many luxury restaurant projects – especially in Europe.
Dark navy blue is a great colour and it pairs very well with others, including cream, pink, coral and grey. It is a calming tone that will make diners feel very relaxed and it also looks very rich and opulent. However, make sure that you don't use too much of any dark colour within your restaurant design, or the room will appear too dark.
3) Blurring Boundaries between Indoor and Outdoor
Outdoor patios with heaters and canopies, dining areas with one wall open to the elements, gardens and fountains inside… many of the hottest luxury restaurants are blurring the lines between their indoor and outdoor spaces. This makes the restaurant feel a lot more spacious and will increase the general flow of movement and energy throughout the space. Restaurants are opening up their indoor spaces and ensuring that there is an easy transition to outside. Indoor waterfalls, stone decorations, large plants and even trees within the indoor space create a very natural and laid back vibe.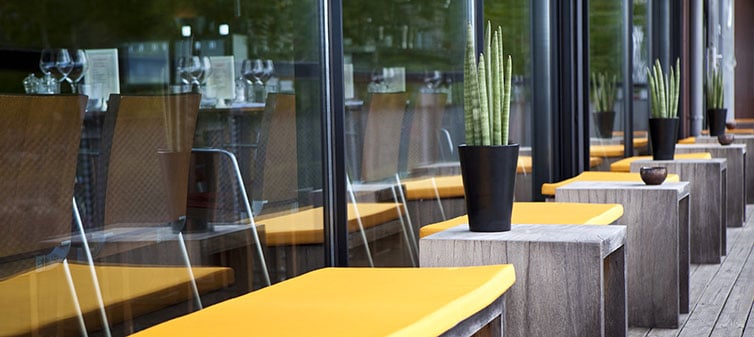 4) Unique and Stylish Menu Covers & Accessories
Luxury restaurants are starting to pay close attention to their Menu Cover Design, ensuring that it is unique and eye catching. Many of the hottest restaurants have menu holders with beautiful typography and very modern looking design, as well as sleek graphics. These menus are not just lists of the food that the restaurant offers, they are beautiful works of art.
Also, some menus are using menu covers in order to make their menus look much more sophisticated and stylish. A menu cover will not only keep the paper protected and stop it from getting smudged and stained, it will also give the menu a much more weighty and substantial feeling.
5) Green Décor
Sustainability is one of the hottest trends in restaurant design and many of the best restaurants are doing their best to choose elements of their décor that are beneficial for the environment. This opens up the door to a range of new and innovative décor elements and materials. For example, a restaurant might have large south-facing windows for natural light so that they reduce their energy costs, or recycling bins for guests. The green décor trend sometimes even stretches as far as green walls and roofs or other green materials being used in the décor. The sustainability trend stretches to the food as well, with many restaurants using ingredients that are sustainably farmed from local sources.
These are just a few of the major trends in luxury restaurant design. When you are designing your restaurant you can take a look at the main trends for inspiration, but you don't have to follow them exactly. Your restaurant should be original and unique, so use the current trends as a jumping off point. Make your Restaurant Design unique and specific to your brand, so that it will be memorable for your customers.