Helping prospective guests make important decisions quickly.
With competition higher than ever before, and customers quick to grab a bargain with their increased access to online booking sites, hotels need to be able to 'pitch' themselves as effectively as possible. Although we've always been taught to 'not judge a book by its cover', all the rules fall to the wayside when the hospitality industry is involved, mainly because guests make very quick decisions based on sometimes superficial information …it is just the way it has to be.
Star Bright!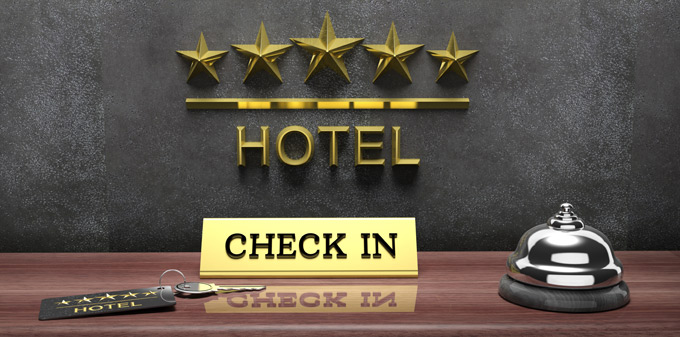 The hotel star rating is an effective way to tell your potential customers exactly what you have to offer. In the UK, hotels are rated from one to five stars, and this is also generally the case throughout the rest of Europe. In 2008, it was made standard procedure that the only grading schemes that could actually operate were the AA (Automobile Association) and the national tourist boards; Visit England, Visit Wales, the Scottish Tourist Board and the Northern Ireland Tourist Board (this is still the case). The stars that you obtain from these companies, are the ones you advertise on your outdoor signage, interior literature and website/social media, for example. Your venue – your stars!
What about the virtual world?
Online star ratings are not as straightforward unfortunately, by and large because ratings vary between travel sites, whom base much of their information on the customer feedback that is submitted to them: of course, this can make consistency an issue, but as long as you offer a clean property, as well as quality amenities and good hosting at all times, then it is more than likely that your rating will not vary greatly between such websites.
The Star Effect…
Really paying attention to your star-rating (or indeed just having one in the first place, as still many venues don't) can impact your business for the better. As we have already touched upon; guests are drawn to concise and, what seems to be, truthful information. Furthermore, your stars could very well be the first thing your prospective customers see: they play a major role in helping guests choose between your venue and others in the same area and, with a higher rating, you could secure higher booking prices. In fact, if a three-star hotel jumps to a three-and-a-half star hotel, the resulting revenue could increase by about two percent for each room per day.
Twinkle, Twinkle (every) Little Star!
It's important to realise that each and every star that represents your hotel means something and can affect your revenue; therefore, it is critical that you take absolute pride in your establishment, as well as the time to get rated – it could prove all the difference to the overall success of your hospitality business.