A chef's hat isn't merely a stylish food preparation and cooking accessory. Instead, it marks ability and professionalism, showcasing the chef's commanding role in the kitchen and adding a dash of sophistication to their outfit. Picking the perfect chef's hat can feel daunting, given the array of choices. This guide aims to assist chefs in finding the perfect hat that aligns with their style, ensures comfort, and serves practical purposes.
Now, let's explore the various types of chef hats available.
Classic Toques
With its stately height and elegant pleats, the classic Toque is an enduring icon of the professional chef. These hats are usually crafted from breathable materials like cotton or cotton-mix fabrics, helping keep the chef's head cool amid the kitchen's heat. Ensuring your Toque is comfortable and can absorb sweat effectively is essential.
To ensure a good fit, check the product's dimensions and see if different sizes are available before purchasing. A properly fitting toque should stay securely on the head without needing constant adjustments while cooking.
Traditional toques are recognised by their tall stature and the number of pleats. Each pleat is sometimes believed to stand for a different way to cook an egg. If you appreciate this tradition, seeking toques that adhere to this pleat count is recommended.

Skull Caps
Skull caps have appeared as a popular choice of headwear for chefs in the bustling world of culinary arts. Combining practicality and style, they present an alternative to traditional chef hats that is modern, comfortable, and efficient.
A skull cap is a close-fitting, usually round cap that tightly covers the top of the head. Its primary function in the kitchen is similar to other chef hats: keeping the chef's hair securely tucked away from the food, ensuring a clean and hygienic cooking environment. The tight fit also means the chef doesn't have to frequently adjust the cap, a practical benefit in the fast-paced kitchen environment.
Typically made from breathable materials like cotton, skull caps are designed for maximum comfort during long, hot hours in the kitchen. The material's breathability helps minimise sweat, offering chefs a comfortable and hassle-free work experience. What's more, these caps are easy to clean – a vital feature considering the unavoidable messiness in a kitchen.
Style-wise, skull caps present a more subtle and streamlined look than traditional toques. They're available in many colours, enabling chefs to showcase their style or match the restaurant's brand image. Some chefs personalise their skull caps by embroidering their names, the restaurant's logo, or other unique designs, adding a personal touch to their professional look.
Bandanas
Bandanas are typically square pieces of cloth that can be folded and tied in various ways, catering to the wearer's comfort and style. They keep the chef's hair secured and away from the food, ensuring a clean and safe cooking environment. Also, they serve as effective sweatbands, preventing sweat from dripping onto the chef's face amidst the kitchen's heat.
Bandanas are usually breathable, lightweight, and absorbent materials like cotton or blends. This makes them comfortable to wear for extended periods, particularly under the high-temperature conditions of a bustling kitchen. They're easy to wash, too, a key attribute given the inevitable kitchen spills and splatters.
Regarding style, bandanas inject fun and personality into a chef's uniform. They come in a wide range of colours, patterns, and designs, allowing chefs to express their style or coordinate with the look of their kitchen or restaurant. Some chefs even opt for custom-printed bandanas featuring the logo or name of their establishment, contributing to the overall branding.
Baseball caps
Baseball caps bring a lot of practical benefits to the kitchen. They're great at keeping hair out of the face and food, and the cap's brim can shield a chef's eyes from bright overhead lights. They're often made from breathable materials like cotton, keeping chefs cool during high-heat, fast-paced work. Baseball caps are a convenient choice for the kitchen environment. These are simple to clean and maintain and can endure the busy and chaotic atmosphere of the kitchen.
Beret
Berets as chef hats bring a touch of continental charm to the culinary world. Often associated with French culture, berets have found a special place in pastry kitchens, embraced by Pâtissiers and chocolatiers who wish to stand out from their toque-wearing counterparts.
The beret's design is more compact and stylish than traditional chef hats. It has a snug fit and covers the head completely, ensuring hair stays out of the food. They are generally made from cotton or wool, providing comfort and breathability and making them ideal for the kitchen's heat.
Considerations for functionality
When it comes to picking a chef hat, one must not only consider style and comfort but also focus on functionality. Given the inevitable mess in a kitchen setting, hats crafted from machine-washable and stain-resistant fabrics are top choices due to their ease of cleaning and maintenance. In the high-temperature environment of the kitchen, hats with proper ventilation become indispensable, preventing overheating and ensuring the chef's comfort.
Another critical feature to look out for is adjustability. Hats with buckles or straps offer a snug fit that can be customised to the wearer's comfort, ensuring they stay securely in place throughout a busy cooking day. These considerations blend practicality and aesthetics, ensuring chefs perform their best while maintaining their professional appearance.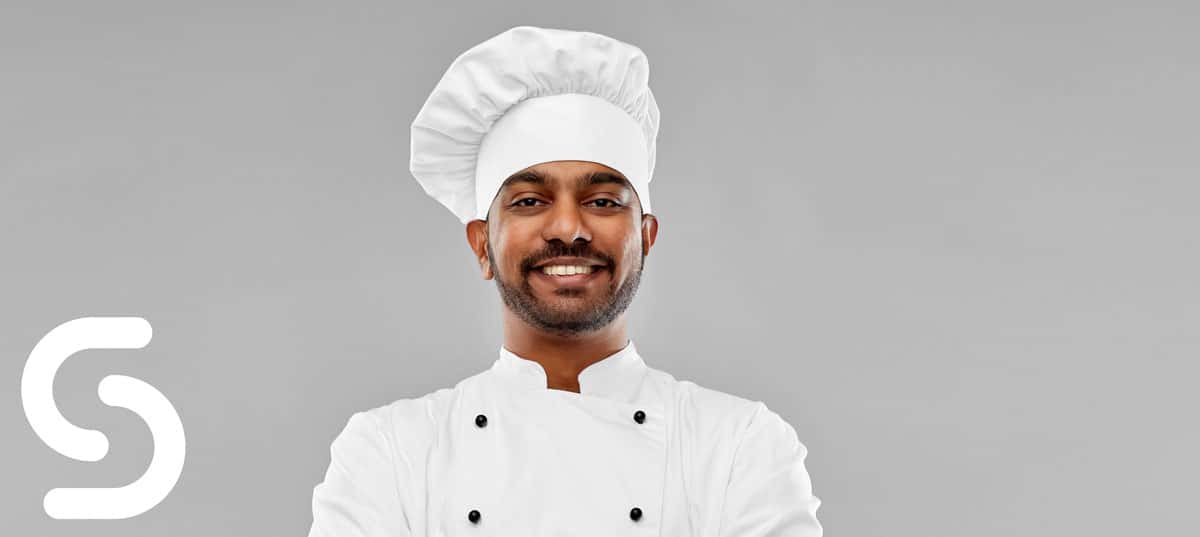 Personal style and branding
The chef hat you choose can serve as an extension of your style and a cornerstone in your professional branding in the culinary world. Many chefs lean towards custom-designed hats adorned with their name or logo to create a distinctive identity.
While personalisation is critical, maintaining a professional look is equally important. Any custom elements should be thoughtfully chosen and tastefully executed, ensuring they align with the professional image you aim to project. Balancing personal touches with a sense of professionalism can help elevate your presence in the culinary scene.
Choosing the right chef hat is an essential decision for culinary professionals.
Whether you prefer the traditional elegance of a toque, the practicality of a skull cap, or the contemporary flair of modern alternatives, consider factors such as style, comfort, and functionality. Your chef hat should enhance your appearance, reflect professionalism, and promote a safe and hygienic kitchen environment.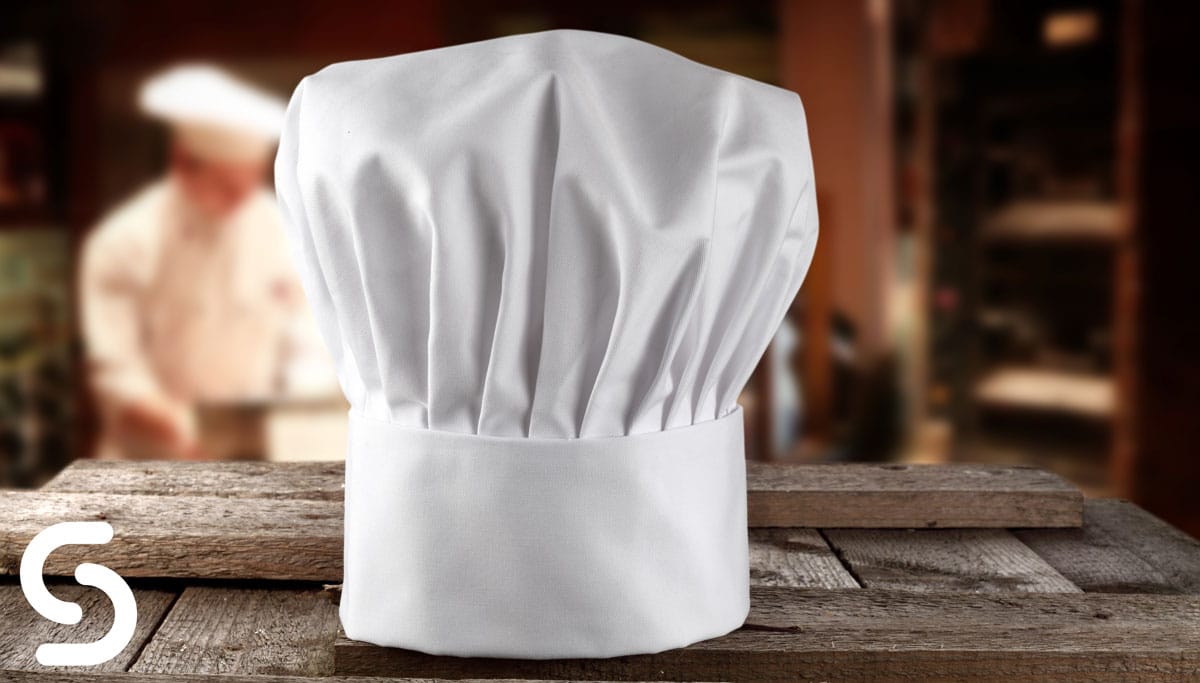 Click here to find out more on The Evolution of Chef Hats