Colour has a powerful influence on our perception and emotions, even in the culinary world. Regarding chef hats, different colours carry symbolic meaning, representing specific roles, ranks, or personal branding. Let's see how colour choice can reflect hierarchy, tradition, or individuality within the culinary industry.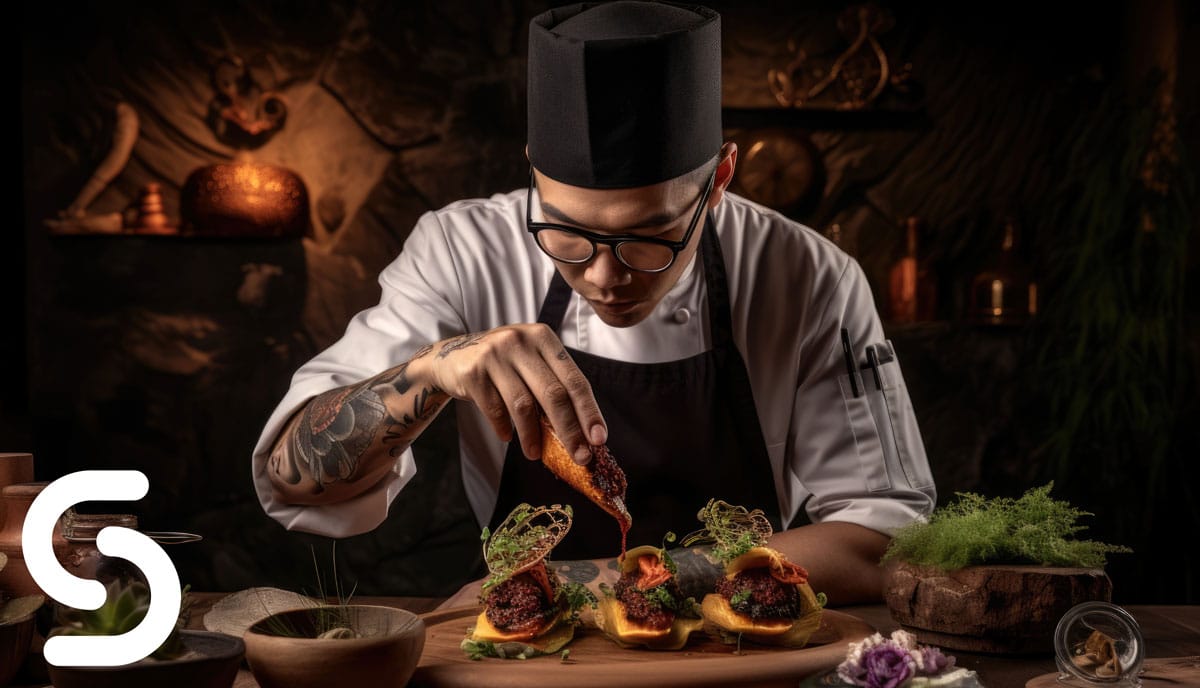 White Chef Hats
The white chef hat is a renowned and recognisable symbol in the culinary industry. It is commonly linked with the expertise and leadership of the executive chef. In most kitchens, wearing the white chef hat signifies the top rank and the most significant level of accountability. It embodies professionalism, self-control, and a dedication to sustaining the best standards of culinary mastery.
Black Chef Hats
Traditionally, black chef hats have been worn by sous chefs, who are second in command in the kitchen hierarchy. Black symbolises authority, competence, and the transition to higher levels of responsibility. While not as common as white hats, black chef hats are still prevalent in many culinary establishments, representing the skilled chefs who assist the executive chef in running the kitchen smoothly.

Alternative colours
In recent years, there has been a rise in the use of alternative colours for chef headwear as chefs and culinary establishments embrace and wear their unique styles or brand.
Coloured Bands or Trims
Some chefs retain the classic white or black chef hat and incorporate coloured bands or trims to represent their flair or affiliation with a specific culinary establishment. These coloured accents can align with a restaurant's brand colours or serve as a means of self-expression.
Vibrant Colours
Vibrant and bold colours, like red, blue, or green, in chef hats are indeed quite eye-catching and serve more than just an aesthetic purpose. When a chef chooses such an intense colour for their hat, it often expresses their vibrant energy, creativity, and innovative spirit.
For example, a bright red chef hat can signify passion, power, and determination. It might hint at a chef who is fearless in their culinary experiments, pushes boundaries and isn't afraid to spice things up. This could translate into bold flavour combinations, innovative techniques, or a drive to keep service running smoothly and effectively in the kitchen.
A blue chef hat can represent tranquillity, depth, and wisdom. It might suggest a chef who values consistency, precision, and harmony in their dishes. This could mean meticulously crafted recipes, a calm demeanour amidst the hustle and bustle of the kitchen, and a thoughtful approach to food.
A green chef hat could signify freshness, growth, and balance. Chefs who opt for green may be drawn to fresh, locally sourced ingredients or are passionate about sustainability in the kitchen. This could be seen in their commitment to reducing food waste, sourcing ingredients responsibly, or creating balanced, healthy dishes.
Beyond just making a visual statement, these vibrant-coloured chef hats can serve as an extension of a chef's identity and approach to cooking.
Customised Logos & Designs
Another way to add individuality is through customised logos or chef hat designs to match the restaurant's theme.
Coloured chef hats have a special meaning in the culinary profession.
Chef Hats can either allow chefs to embrace tradition or seek to make a bold statement, the choice of coloured chef hats showcases their individuality and style within the culinary world.
For more on the hygiene and safety surrounding chef hats, view our latest blog on The Role of Chefs Hats in the Professional Kitchen