Maintaining strict hygiene and safety standards is of utmost importance in the bustling environment of a professional kitchen. One critical aspect of kitchen cleanliness is preventing hair contamination in food. This is where the role of chef hats becomes vital. Chef hats contribute to a chef's professional appearance and play a significant role in upholding hygiene standards and ensuring the food's safety.
We will look into the headwear's importance in maintaining cleanliness and security in the kitchen, highlighting best practices for wearing and supporting them to uphold optimal hygiene standards.
Hair contamination and food safety
Hair can carry bacteria and other contaminants, posing a potential risk to food safety. Even the most meticulous kitchen practices can fall short if proper precautions are not taken to prevent hair from contacting food. Chef hats act as a barrier, preventing loose hairs from falling into dishes and reducing the risk of contamination. They help maintain a sterile and hygienic environment, ensuring the food's safety and integrity.
Best practices for wearing Chef Hats
To ensure proper hygiene and safety, it's important to wear chef hats correctly and according to established best practices. Here are some guidelines to help you do so:
Suitable fitting headwear
In the kitchen, chefs must wear properly secured hats to prevent hair from falling into the food. Loose-fitting hats can be problematic, so choosing hats with adjustable features like elastic bands or straps is recommended. This allows for a customised fit that can be modified according to the chef's head size and comfort preferences. Find more information here on Choosing the Right Chef Hat.
Hats with these adjustable features can accommodate different head sizes and hair volumes, ensuring a snug fit and reducing the risk of hair contamination in the food.
It's essential to cover all possible hair.
For individuals with long hair, more than merely putting on a chef's hat might be required to ensure all hair is securely contained. In these instances, it's often recommended to tie the hair back into a bun or ponytail before donning the hat. This can help keep the hair more controlled and less likely to escape from under the hat.
For an added layer of security, using a hairnet or a secondary cap underneath the main chef's hat can be an effective solution. A hairnet or cap can catch loose hairs that might escape from a ponytail or bun, ensuring they stay contained and away from the food.
Chefs should ensure their facial hair is neatly trimmed. If a chef prefers to keep a longer beard, they can use beard nets, which work like hairnets to cover the beard and prevent loose hairs from contaminating the food.
Hats should be used in the kitchen only.
When chefs wear the same hat inside and outside the kitchen, they risk introducing contaminants from external environments into the food preparation area. This could include dirt, dust, pollen, or other airborne particles that the hat might have picked up while being worn outside. This potential cross-contamination can pose significant health risks and compromise the kitchen's cleanliness standards.
Having a dedicated chef hat for kitchen use can significantly minimise this risk. This means the hat is only worn when entering the kitchen and removed when leaving. By doing so, the hat remains part of the kitchen-controlled environment and lessens the chance of becoming a carrier for unwanted contaminants.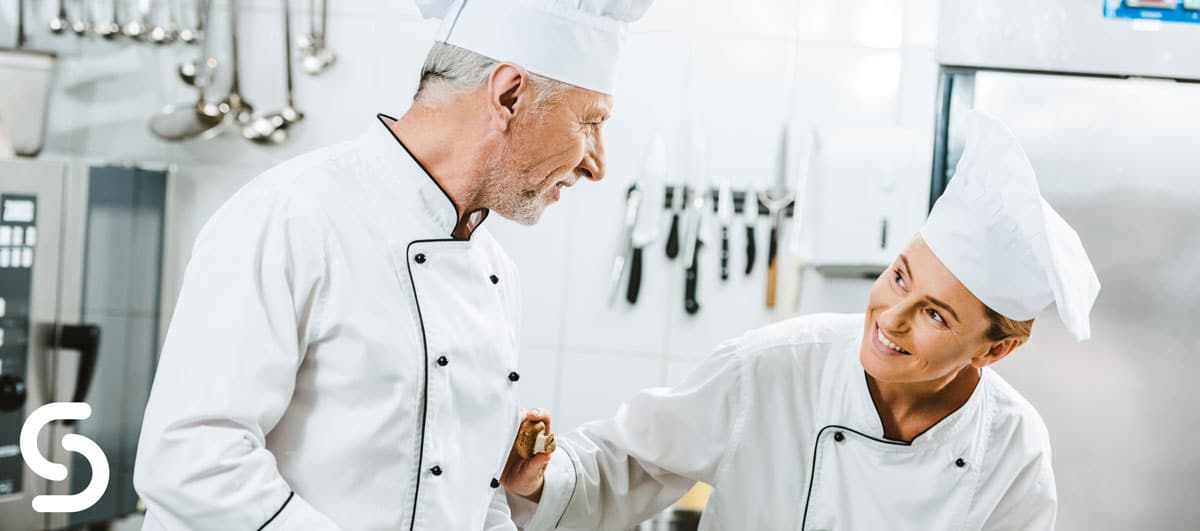 Regular cleaning to maintain optimal hygiene standards
Proper care and cleaning of a chef's hat are vital in maintaining its appearance, durability, and, most importantly, hygiene. To do this correctly, always adhere to the manufacturer's cleaning instructions provided with the hat. These instructions are specifically designed to ensure the hat's longevity and cleanliness, taking into account its fabric type and construction.
Some hats may be machine washable, which means they can be tossed into the washing machine with a suitable detergent. Others might require hand washing, especially if they're made from delicate fabrics or have specific embellishments that the rough tumble of a machine wash could damage.
When using detergents, opt for effective yet gentle ones on the fabric. Some hats may even require specific types of detergents, so it's best to check the manufacturer's instructions. The goal is to cleanse the hat of any kitchen grime, sweat, and potential food particles without damaging the fabric or altering the hat's shape and fit.
After washing, it's essential to let the hats dry completely before using them again. While some hats can be tumble-dried, others with unique details may need air drying. Damp hats can breed bacteria and mould, a health risk in food preparation.
Chef hats, like any other clothing, have a limited lifespan.
When a hat shows signs of being worn out – such as fraying, thinning fabric, tears, or loss of shape – it's time to consider replacing it. A hat in a state of disrepair can not only look unprofessional, but it also might not serve its purpose of keeping hair and sweat from contaminating the food.
Creating a culture of kitchen hygiene
While chef hats play a crucial role in maintaining hygiene and safety, they are just one aspect of an overall culture of cleanliness in the kitchen. It is essential to have a mindset that prioritises hygiene and instils practices such as regular handwashing, wearing clean uniforms, and keeping workstations and equipment clean.
Kitchen staff should be educated and trained on proper hygiene practices, including wearing and maintaining chef hats. By fostering a hygiene culture, culinary establishments can ensure that food safety standards are upheld and minimise contamination risk.

Chef hats are essential for cleanliness and safety in a kitchen, not just for fashion.
By preventing hair contamination in food, chef hats contribute to upholding hygiene standards and ensuring the safety of the prepared meals. By following best practices for wearing and maintaining chef hats, culinary professionals can play their part in creating a safe and hygienic environment in the kitchen.