Whether you're an experienced culinary master or a budding cook starting your journey, having the right chef's outfit is vital. It doesn't only enhance your comfort and efficiency in the kitchen, but it also plays a significant role in your professional look.
Let's dive deep into chef jackets and their important features, such as design, colour, material, usability, and significance in the catering industry.
The Classic Chef Whites
The history of chef whites dates back to the 19th century in France. The famous French chef, Marie-Antoine Carême, is largely credited with making white clothing popular among cooks. Carême viewed the kitchen as a space that should be clean and professional. His introduction of white chef clothing was an effort to mirror these qualities.
Choosing white for the chef uniform was not just a random decision. White signifies cleanliness, purity, and meticulousness. Plus, it helps spot stains quickly, which is crucial to uphold cleanliness standards in a kitchen.
The Signature Chef Jacket
Chef jackets, also called chef coats, hold great significance in the culinary industry for various reasons.
Chef jackets are vital in maintaining high levels of hygiene and cleanliness. Chefs wear a chef jacket to display their culinary expertise and maintain a professional appearance in the kitchen. The clean and bright look of the coat immediately conveys a sense of authority and professionalism. The long sleeves and high collar also provide extra protection, safeguarding the chef from spills and ensuring safe and sanitary food preparation.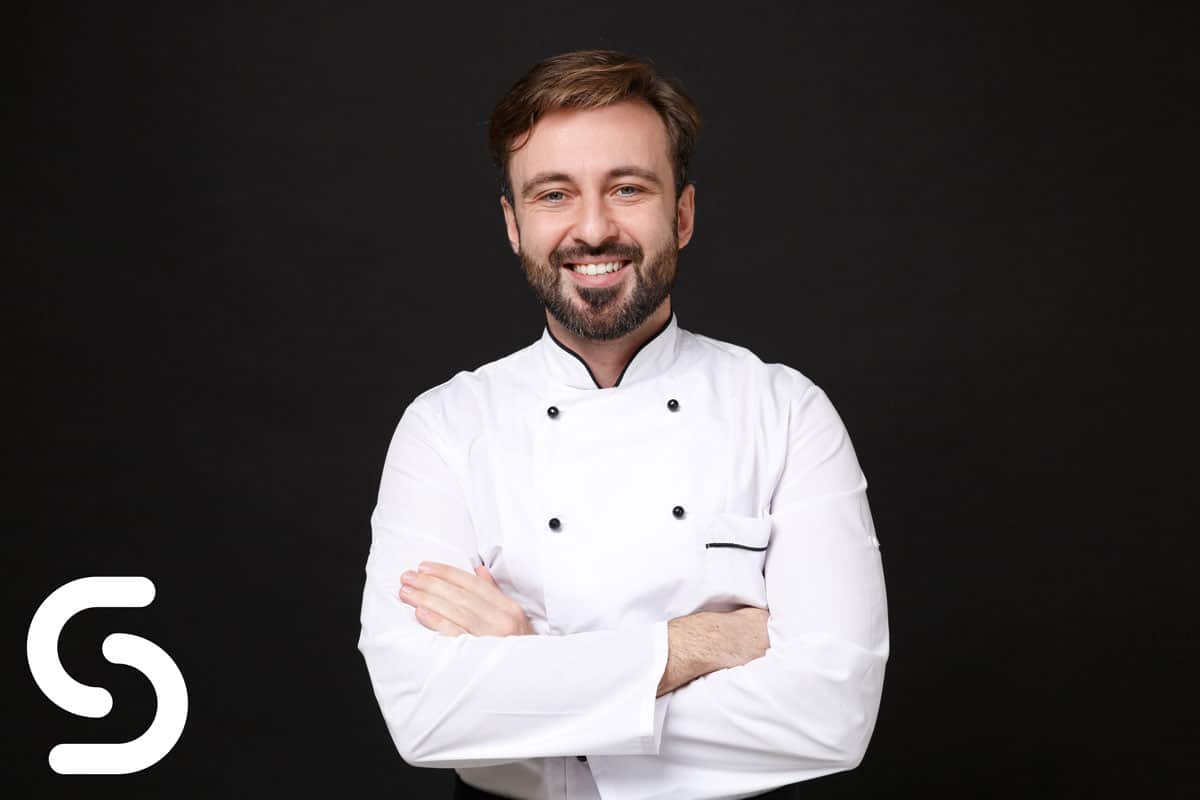 Deciphering the Perfect Chef Jacket
Choosing the right chef jacket is an important decision that can significantly impact your comfort, functionality, and professional appearance in the culinary industry. Here are some key factors to consider when making your selection:
The correct fit
When searching for a chef's jacket, finding one that fits comfortably and flatters your body type is essential. It would be best to consider the movements you'd be making in the kitchen. An adequately fitted jacket allows you to move quickly while maintaining a professional appearance.
Fabric options
Choose a fabric that is breathable, lightweight, and durable. Cotton and polyester blends are popular as they provide comfort and easy maintenance. Look for materials with moisture-wicking properties to stay cool and dry in a hot kitchen environment.
Design choices
Decide between a double-breasted or single-breasted design based on your preference and the image you want to project. Double-breasted jackets are traditional and offer a professional look, while single-breasted jackets are more contemporary and stylish. Consider the number and placement of pockets, ensuring they meet your needs for tool storage and accessibility.
Trusted brands
Investing in high-quality chef whites and jackets is crucial for durability and longevity. Look for reputable brands such as Chef Works and Chef Whites Clothing, who use fantastic fabrics and prioritise quality.
Adding a touch of personalisation
Personalisation can add a special touch to your chef's whites and jackets, making them unique and helping you distinguish yourself from your colleagues. The possibilities, whether embroidered names, logos, or custom colour combinations, are endless.
The new trendy colours in the world of cooking
While the traditional colour choice for chef attire has long been white, there is a growing trend in the culinary industry towards embracing a more comprehensive range of colours and modern styles. Many chefs now opt for chef jackets in various hues, allowing them to showcase their style and create a unique and eye-catching look.
By choosing coloured jackets, chefs can express their individuality and stand out in the kitchen. Whether it's a vibrant red, a sleek black, a cool grey, or deep blue, the choice of colour can make a bold statement and reflect personal preferences or brand identity. Coloured jackets can add a touch of flair and personality to the chef's attire, showcasing their creativity and confidence in the kitchen.
Care and maintenance tips and tricks
It's essential to properly care for your chef's whites and jackets to keep them in good condition and lasting longer. Here are some valuable suggestions.
Address stains by using suitable stain removal techniques before washing.
Separate your chef's whites and jackets from other garments during washing to prevent the colour transfer or damage.
Choose gentle washing cycles or consider handwashing for more delicate fabrics.
Avoid high heat when drying your chef's attire to prevent shrinkage or damage; go for low heat or air drying instead.
Store your chef's whites in a cool, dry place away from direct sunlight to prevent discolouration.
Use garment covers to protect your chef's attire from dust and potential damage.
Regularly inspect your chef's whites for any signs of wear and tear, and mend any minor issues promptly.
Replace heavily damaged or extensively stained chef's jackets to maintain a professional appearance.
Final thoughts
Selecting the right chef whites and jackets is an important decision that impacts your comfort, style, and professional image in the culinary world. By considering factors like fabric, design, personalisation, and functionality, you can find the perfect chef attire that makes you feel great and confident in the kitchen.