In the culinary world, a chef's uniform is more than just a piece of clothing; it symbolises professionalism, tradition, and respect for the craft. The neckerchief holds a special place among the components of this iconic uniform. Initially designed for practicality and now a fashion accessory in the kitchen, the neckerchief embodies a blend of utility and style. Yet, choosing the right neckerchief for your chef's uniform might take more work. This blog explores essential considerations to help you make the best choice.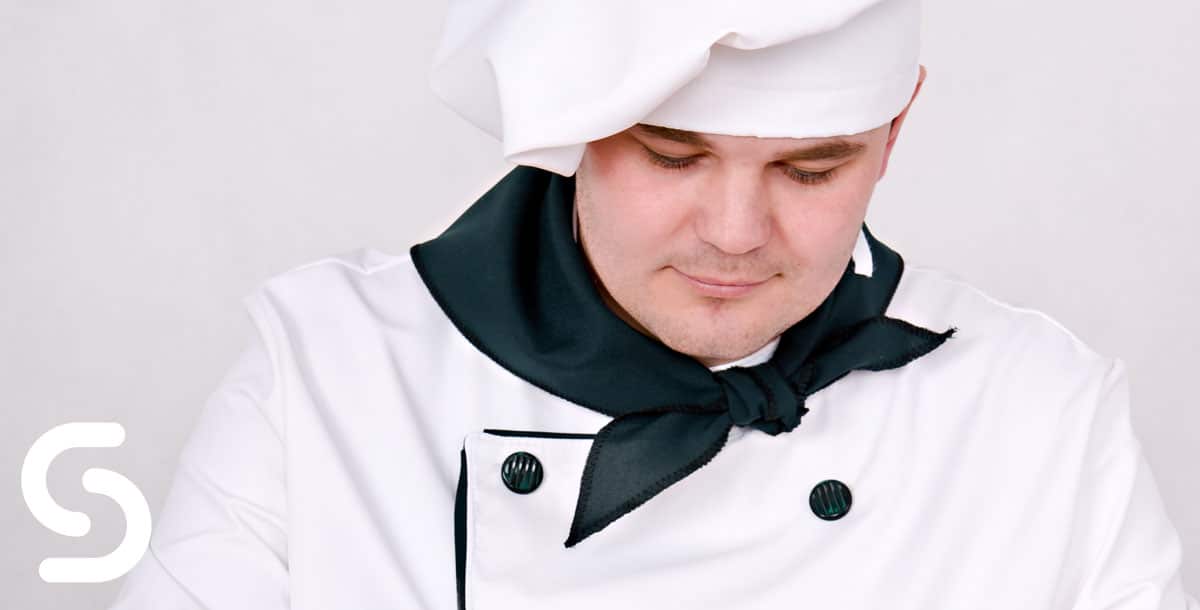 Material matters
Firstly, let's talk about materials. Traditionally, chef neckerchiefs are made from 100% cotton because they are breathable, absorbent, and comfortable in a hot kitchen. Cotton neckerchiefs help absorb sweat, keep you cool, and prevent drip from landing into the food – a paramount aspect of food safety. Yet, some modern versions incorporate polyester for added durability. The choice of material also influences how you care for your neckerchief, as different fabrics require different cleaning methods.
Size and comfort
Size considerations
The length of a chef's neckerchief is not a minor detail. An ideal neckerchief should be long enough to loop around the neck and tie in a secure, comfortable knot. A too-short neckerchief might not tie properly, leaving you with an ill-fitted accessory that could become a nuisance during your busy kitchen activities. Also, it might offer different coverage or absorbency around the neck, defeating some of the practical purposes of the neckerchief.
An overly long neckerchief has its own set of challenges. It can be cumbersome, with excess material getting in the way of your tasks. There's also a risk that the ends might dangle and come into contact with hot surfaces or food. Typically, your neckerchief should be long enough to tie comfortably without leaving over a few inches of material dangling on either side of the knot.
Thickness and comfort
The thickness of the neckerchief is also crucial in maintaining comfort and functionality. A too-thick neckerchief might not only feel bulky around your neck but also trap heat, leading to unnecessary discomfort in the already warm environment of a kitchen. Overly thick neckerchiefs may also be more challenging to tie securely and could become loose over time, becoming more of a hindrance than a help.
But, a too-thin neckerchief might not provide the desired level of sweat absorption, reducing its functionality. Also, very thin neckerchiefs may not hold their shape well after tying and may require constant adjustments throughout your shift.
When choosing a neckerchief, it's crucial to balance thickness and comfort. The neckerchief should feel light and comfortable around your neck, but at the same time, it should be sturdy and absorbent enough to serve its practical purpose.
Colour and style
Chef Neckerchiefs can also add colour to your chef uniform while keeping you cool and comfortable. Neckerchiefs are available in a variety of colours and patterns. While traditionally white, reflecting cleanliness and simplicity, modern kitchen culture has embraced a broad palette. Choose a colour or design that complements your chef's jacket and represents your style. Remember that some workplaces might have specific rules about uniform colours.
Personalisation
Then, consider personalising your neckerchief. Embroidery or a custom print can turn a standard neckerchief into a statement piece. Whether it's your name, a meaningful symbol, or the logo of your workplace, a personalised neckerchief can set you apart and add an extra touch of professionalism to your uniform.
Choose wisely, and let your neckerchief be a badge of your passion for cooking.
The neckerchief, a small but vital part of the chef's uniform, symbolises culinary tradition and respect. Choosing the right one involves considering the material, size, comfort, colour, and the possibility of personalisation. When you keep these critical points in mind, you're not just picking a neckerchief that fits your job requirements. You're also choosing one that expresses your style and devotion to the kitchen. Remember, whether you're a well-established chef or just starting your culinary journey, the neckerchief you select reflects your professional persona. 
See here how we look into The Role of Chef Neckerchiefs in Different Food Cultures.