Chef shoes play a vital role in the culinary profession, providing comfort, safety, and style for chefs who spend long hours in the bustling kitchen environment. We will delve into the specific aspects of chef shoes, including their types, features, brands, and considerations for those with flat feet or foot pain.
Chefs need to wear appropriate shoes now more than ever.
The roots of chef shoes can be traced back to the need for practical and functional footwear in the culinary profession. In the early days, chefs often wore traditional leather shoes or boots, providing them with some protection in the kitchen environment. As the culinary industry evolved and kitchens became busier and more demanding, the need for specialised footwear became evident.
The diverse range of Chef Shoe styles
A wide range of styles is available to suit individual preferences and specific needs. Let's explore some of the most popular types of chef shoes.
Classic leather shoes
Classic leather shoes are a timeless choice in the culinary world. Known for their durability and professional appearance, Leather shoes offer a polished and refined look. With their sleek design and traditional appeal, leather shoes add a touch of sophistication to any chef's uniform. The high-quality leather construction ensures longevity, making them a reliable option for chefs who require footwear that can withstand kitchen demands.
Slip-on clogs
Clogs have gained popularity among chefs for their convenience and comfort. These slip-on shoes are easy to put on and take off, making them ideal for busy kitchen environments. They often feature slip-resistant soles that provide excellent traction on wet or greasy surfaces, ensuring chefs maintain stability and safety. Clogs are renowned for their roomy fit, allowing chefs to move comfortably throughout their shifts. The open-back design promotes airflow and breathability, helping to keep feet cool and comfortable during long hours on their feet.
Athletic-style trainers
Designed for maximum comfort and support, athletic-style shoes have become a favourite among chefs. These shoes often feature cushioned midsoles and supportive insoles, providing exceptional shock absorption and reducing foot fatigue. They are lightweight and flexible, allowing chefs to move easily and quickly in the kitchen. The sporty and contemporary designs of trainers add a modern touch to the culinary uniform while delivering the necessary comfort for long working hours.
Slip-resistant shoes
Slip-resistant shoes are a crucial style for chefs as they prioritise safety in the kitchen. These shoes are designed with unique outsoles that provide superior grip on slippery surfaces, reducing the risk of accidents and falls. Slip-resistant chef shoes often incorporate enhanced tread patterns and durable rubber compounds to ensure optimal traction on various kitchen floorings. Chefs can confidently focus on their culinary tasks, knowing that their footwear offers reliable slip resistance.
Clog-style sandals
Clog-style sandals offer a comfortable and breathable option for chefs working in hot and humid environments. These open-toe shoes provide excellent ventilation and allow feet to breathe during long shifts. They are designed with supportive features such as contoured footbeds and adjustable straps, ensuring a secure and personalised fit. They combine the convenience of clogs with the freedom and airflow of sandals, making them a popular choice for chefs seeking maximum comfort in warmer climates.
Chef Shoes need to be safe and comfortable for long shifts.
Chefs should prioritise safety and comfort when choosing their chef's uniform. Slip-resistant soles are essential to maintain balance and stability, especially on wet or greasy kitchen surfaces. Cushioning and arch support can alleviate foot fatigue and provide all-day comfort. Innovative features such as toe protection and heat resistance give an extra layer of safety against potential kitchen hazards. By selecting appropriate footwear, chefs can focus on their culinary tasks without worrying about discomfort or foot-related issues.
Quality shoes tend to last the best.
Investing in quality chef shoes is essential for their longevity and performance. Reputable brands such as Crocs and Birkenstock have established themselves in the industry, offering a wide range of chef shoes known for their durability, support, and reliability. These brands understand the unique needs of chefs and provide innovative designs that cater specifically to the demands of the culinary profession. For trusted brands, chefs can have confidence in the quality and longevity of their footwear, ensuring they can withstand the rigours of a busy kitchen environment.
Options for flat feet and foot pain
Chefs with flat feet or foot pain require additional considerations when choosing chef shoes. Look for shoes with built-in arch support and sufficient cushioning to stabilise and alleviate discomfort. Brands like Birkenstock offer specially designed shoes with contoured footbeds that adapt to the unique shape of flat feet, providing optimal support and reducing strain on the arches. Prioritising supportive features can significantly affect the comfort and overall well-being of chefs with flat feet or foot pain.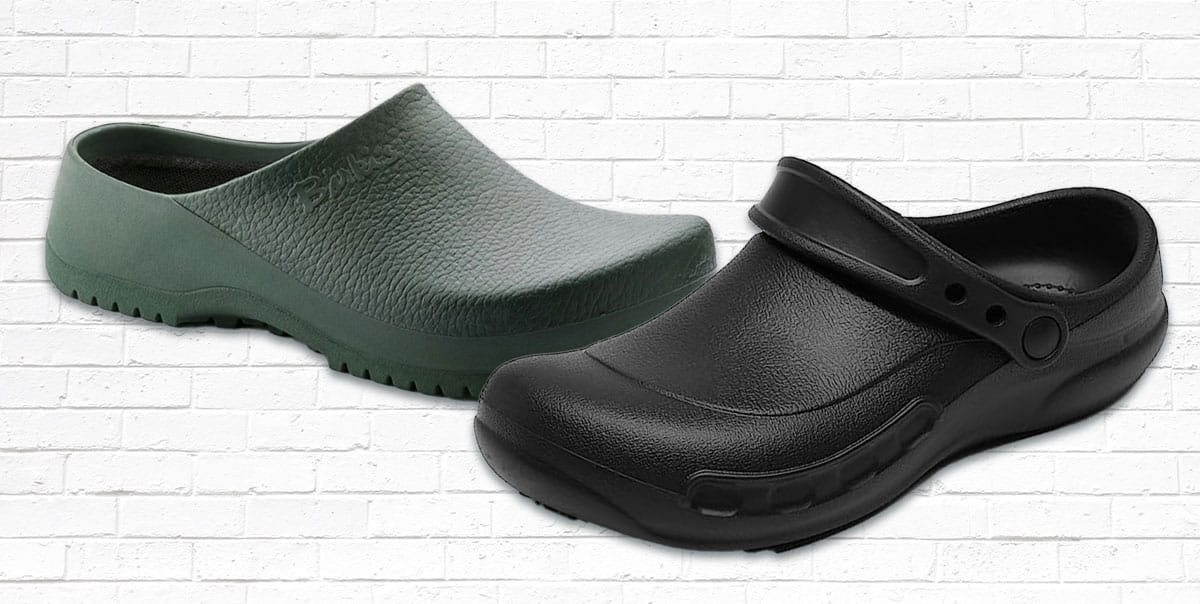 Chef shoes are more than footwear; they are essential to a chef's culinary journey.
By understanding the different styles, safety features, new trends and quality brands, chefs can find the perfect pair of shoes that combine style, comfort, and functionality. Whether you have flat feet, experience foot pain, or seek reliable and durable footwear, the right chef shoes will elevate your culinary experience and allow you to focus on what you do best – creating exceptional dishes.