The significance of having perfectly fitted chef trousers in a high-energy, demanding kitchen setting is immense. A proper fit doesn't just add to a chef's comfort; it's also a key player in elevating their overall performance. We will examine the crucial role of properly fitting chef trousers, highlighting the significance of comfort, unrestricted movement, adjustable waistbands, purpose-built designs, and fabric choices.
Prioritising comfort for long shifts
Comfort plays a crucial role in ensuring peak performance in the kitchen. Ill-fitting trousers can lead to discomfort, which can be distracting and decrease concentration. Chef trousers that fit well provide comfort for enduring long hours standing and performing demanding culinary tasks. They eliminate needless restrictions, allowing chefs to focus solely on their craft, undisturbed by the irritation of ill-fitting attire.
Ensuring unrestricted movement
Unrestricted movement is vital for chefs who perform various physical tasks throughout their shifts. Styles that fit well enable chefs to bend, squat, and move quickly, ensuring they can carry out their culinary tasks effortlessly. A perfect fit ensures the trousers don't obstruct movement or create unnecessary barriers, empowering chefs to work more efficiently and lower the risk of accidents or injuries.
Flexible waistbands for a custom fit
A flexible waistband is a worthwhile feature in chef trousers, especially for slim-fit versions, as it offers adaptability and a custom fit. Chefs can adjust the waistband to their preferred comfort level, ensuring a secure fit without being overly tight or restricting. Flexible waistbands also cater to changes in body size, accommodating variations due to weight gain or loss. This adjustability ensures chefs can wear them comfortably, regardless of their body shape or size.
Purpose-built designs
Chef's trousers are designed ergonomically to consider the specific movements and postures typical in a professional kitchen. They are tailored to deliver optimal comfort and practicality. Features like articulated knees, strategically located darts, or gussets provide greater flexibility and ease of movement. These design elements ease the strain on the body, reducing fatigue and encouraging superior performance in the kitchen.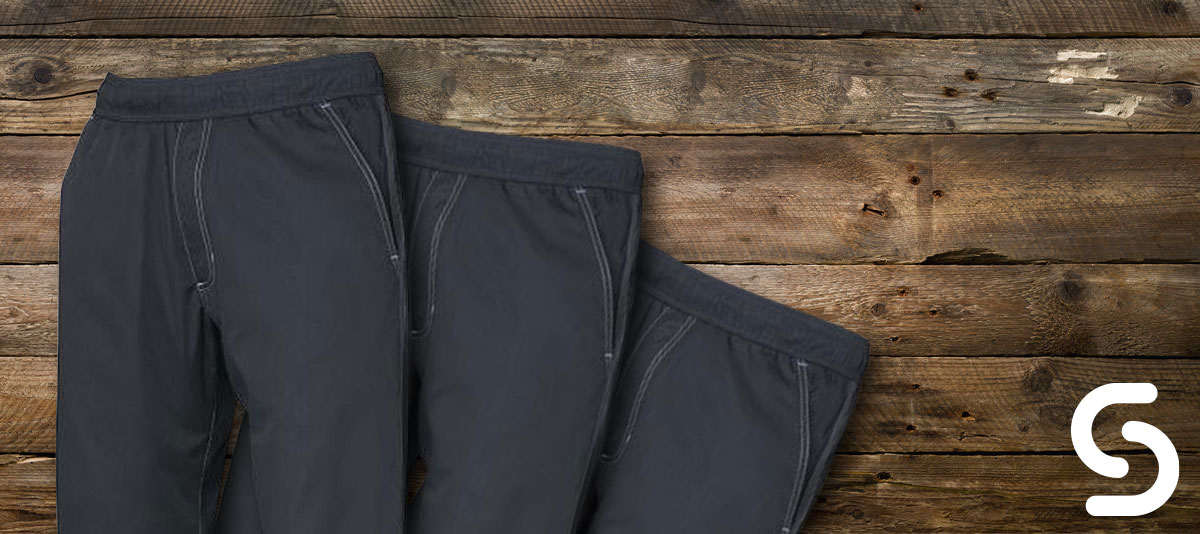 Choosing a suitable fabric for comfort and durability
Breathable, lightweight materials are a favoured choice, often prioritised for their ability to promote airflow and reduce overheating. This is incredibly important in a hot and busy kitchen environment, where temperatures can soar. Fabrics like cotton or blends that incorporate cotton can help keep chefs cool as they whisk around the kitchen, ensuring they can concentrate on their tasks without the discomfort of excessive heat or sweat.
These materials are renowned for their moisture-wicking properties, drawing sweat away from the body. This feature is handy in keeping chefs dry and comfortable, even during high-pressure, sweaty kitchen situations.
As a plus, cotton and cotton blends are generally lightweight and hard-wearing. This feature enhances the ease of movement, ensuring the trousers do not feel heavy or restrict the chef's mobility. The more freely a chef can move, the more efficiently they can execute their culinary tasks, directly impacting their performance in the kitchen.
One final note…
The combined benefits of comfort, unrestricted movement, adaptable waistbands, purpose-built designs, and suitable fabric selections significantly contribute to a chef's efficiency and prowess in the kitchen. By investing in well-fitted trousers, chefs can concentrate on their culinary skills unhindered by discomfort or restrictive movement while maintaining a smart appearance. This will also show when chef trousers are correctly looked after.