A chef's uniform, particularly the trousers, is tailored to endure the hustle and bustle of a professional kitchen environment. Caring for these trousers is paramount to maintaining their good condition and longevity. This blog offers handy advice on how to treat your chef trousers right, touching on washing instructions, tackling stains, ironing guidelines, and storage tips.
Observe washing guidelines
Before giving your chef trousers a spin in the washing machine, it's essential to check the care label for specific instructions. Different materials might demand other treatments. Washing them in cold or lukewarm water is recommended to avoid colour fade or shrinkage. Choose a gentle detergent appropriate for the fabric type, and steer clear of bleach or harsh chemicals, as they can damage the trousers. If possible, wash your chef trousers separately from other clothes to prevent colour bleeding.
Techniques to remove stains
Kitchens are notorious for spills and stains, so being able to eliminate them effectively is vital to keep your chef trousers looking their best. Here are some techniques for common kitchen stains:
Grease/Oil
Start by blotting the stain with a paper towel to remove excess oil. Then apply a drop of dish soap or a grease-fighting stain remover straight onto the stain. Gently rub the fabric together to help the product penetrate, then wash as usual.
Food stains
In case of food stains, rinse the stained area with cool water to prevent the stain from settling in. Before washing, treat the stain with a pre-wash remover, baking soda, and water paste.
Wine/Coffee
If wine or coffee is spilt, blot the stain with a clean cloth or paper towel to soak up the liquid. Apply a mixture of liquid detergent and water directly to the stain and gently rub the fabric together. Finally, rinse thoroughly and launder as usual.
Ironing guidelines
If you want your chef trousers to look neat and professional, ironing them might be necessary.
Before ironing:
Make sure the trousers are clean and slightly damp. You can achieve this by spritzing them with a water spray bottle.
Iron the trousers inside out to avoid potential damage or marks on the fabric from buttons or zippers.
Use even strokes and move the iron along the fabric's grain to smooth out wrinkles.
Pay extra attention to creases and hems for a neat, professional appearance.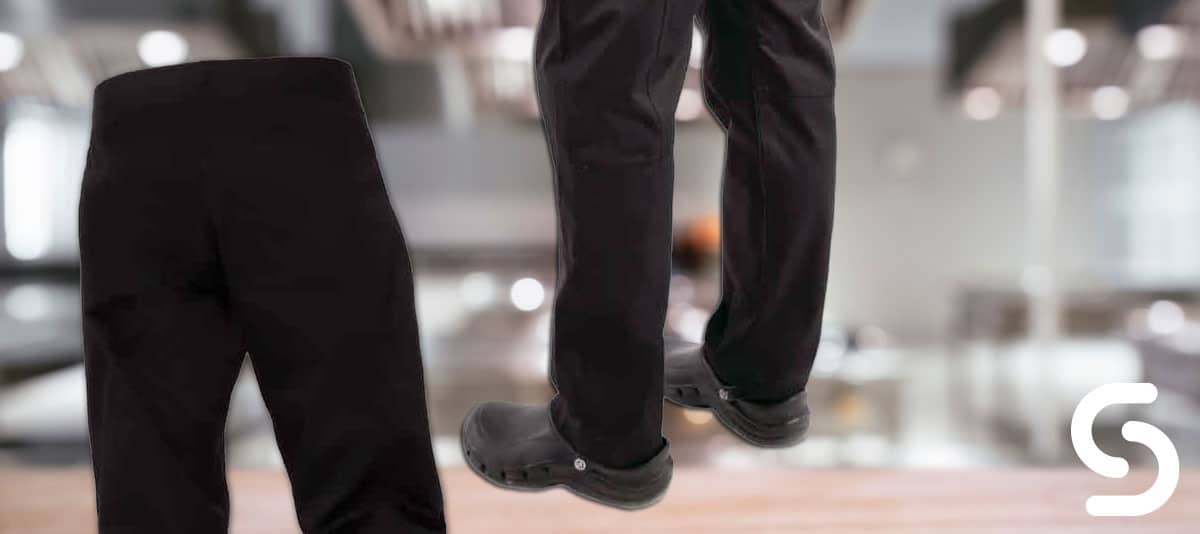 Storing your chef trousers correctly is vital to maintain their shape and quality.
To keep your chef trousers looking their best, it's best to hang them on sturdy hangers that prevent wrinkles and maintain their shape. Be sure to store them in a clean, dry area away from direct sunlight, as prolonged exposure to sunlight can cause the colours to fade. If space is limited, neatly fold the trousers and store them in a drawer or storage box, but avoid cramming them into tight spaces to prevent creases.
Closing thoughts
Looking after your chef's trousers is a small but significant step towards their longevity and maintaining a professional appearance in the kitchen. By observing these practical maintenance tips, including proper washing, stain removal, careful ironing, and thoughtful storage, you can ensure your chef trousers stay in top-notch condition, accompanying you through your culinary endeavours. With a bit of love and care, your chef trousers will continue to shine, letting you concentrate on crafting delightful dishes with ease.
If you are wanting to dive into the environmental impact of Chef Trousers, check out our latest article where we explore the Role of Sustainable and Ethical Chef Trousers