Having reliable and high-quality chef trousers is crucial for comfort and professionalism. This blog post examines three renowned chef trousers brands – Chef Works, Wundaweb, and Whites Chefs Clothing. We'll investigate their histories, key features, and what sets them apart in the market.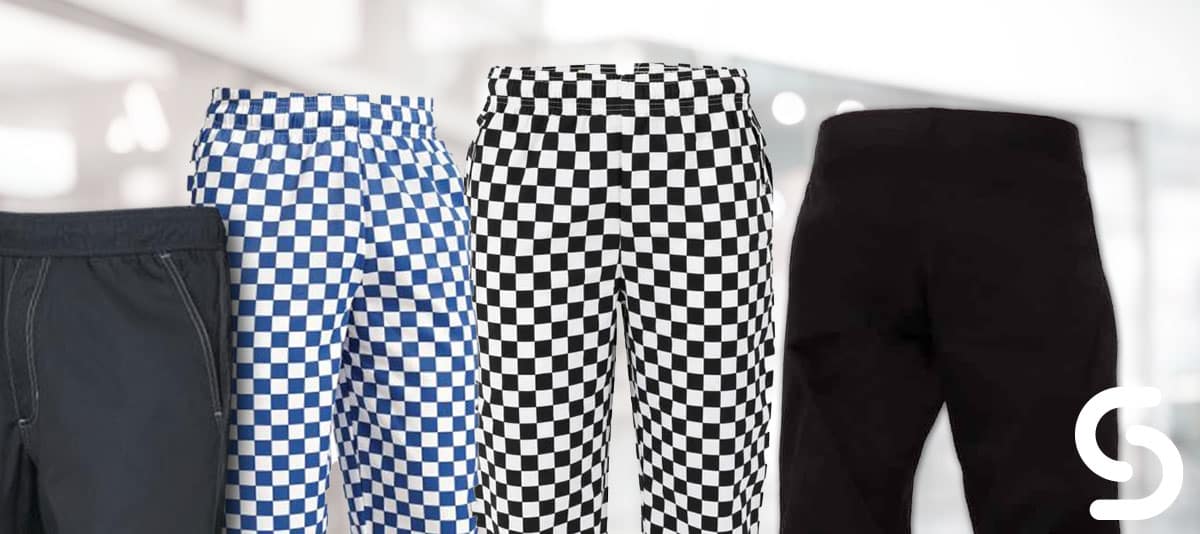 Chef Works: The culinary professional's trusted ally
Chef Works is a renowned brand in the culinary world, priding itself on addressing the unique needs of chefs. They've established a name for themselves through their superior-quality chef trousers crafted with an unwavering focus on detail. One of their distinguishing features is the brand's commitment to durability. Recognising the pressures of a bustling kitchen environment, Chef Works designs trousers built to endure the trials of high-intensity culinary activities. Reinforced stitching adds to the durability, providing chefs with the confidence that their
trousers will resist wear and tear even under rigorous conditions.
Comfort takes centre stage in Chef Works' designs, achieved through premium fabrics. These materials blend durability with breathability, ensuring good airflow that keeps chefs cool and comfortable throughout their working hours. The fabrics are designed to withstand repeated washes without compromising their quality or feel.
Chef Works pays attention to practicality in their chef trousers. Incorporating specialised, strategically located pockets offer handy storage for crucial kitchen tools and utensils. Chefs can quickly access their thermometers, pens, and other essentials without needing extra pockets or accessories. This considerate design elevates efficiency, allowing chefs to concentrate on their culinary tasks without unnecessary interruptions.
Customisable waistbands in Chef Works' trousers emphasise the brand's understanding of the need for a perfect fit. This feature allows chefs to adjust their trousers for a comfortable and secure fit, ensuring they stay in place throughout the workday. The ability to fine-tune the fit adds to overall comfort, improving chefs' experiences in the kitchen.
Wundaweb: Redefining comfort and efficiency
This brand has carved a niche among culinary professionals due to its dedication to comfort and performance in its chef trousers. Their trousers are distinguished by features that significantly enhance the kitchen experience. A significant aspect of Wundaweb chef trousers is the incorporation of moisture-wicking properties. The fabric pulls moisture away from the skin, ensuring chefs remain cool and dry, even amidst strenuous culinary tasks. This feature augments comfort and enables chefs to concentrate on their culinary artistry, unbothered by sweat or discomfort.
Wundaweb also prioritises breathability in their chef trousers, using fabrics that encourage optimal airflow. This prevents the accumulation of heat and humidity, assuring chefs stay comfortable and fresh throughout their challenging shifts. These breathable fabrics help maintain a cooler, more comfortable work environment by facilitating air circulation.
Functionality is vital in Wundaweb's design philosophy. Their chef trousers are fashioned to allow easy movement and flexibility, empowering chefs to execute their tasks with precision and skill. The trousers incorporate ergonomic design elements like strategic seam placement, articulated knees, and gusseted crotches. These thoughtful features ensure unrestricted movement, reducing discomfort or hindrances from repetitive or dynamic trends in the kitchen. Wundaweb understands that a chef's freedom of movement is critical to delivering their best culinary performances.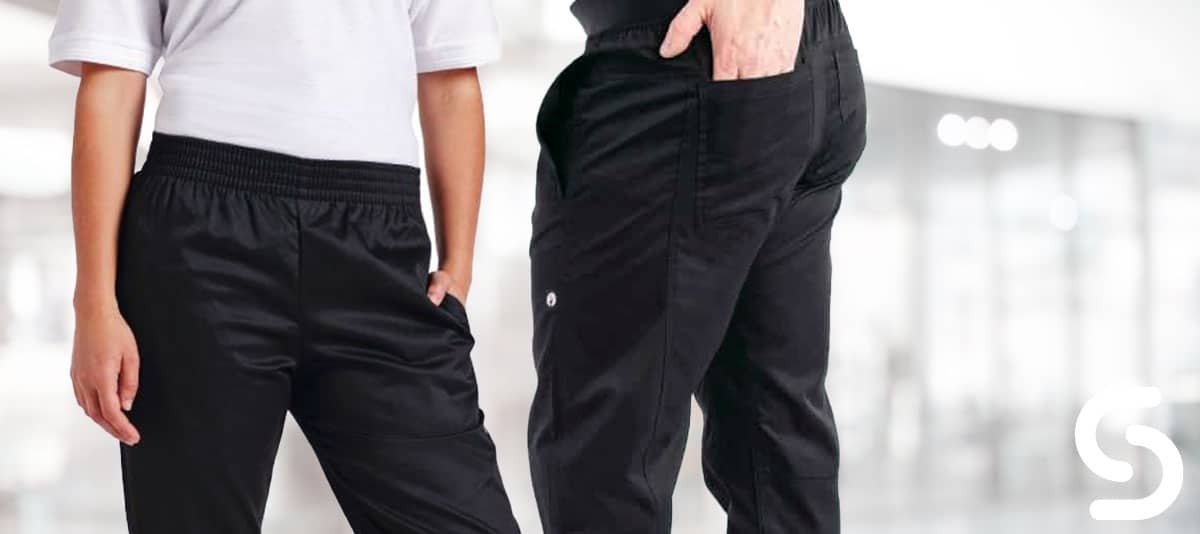 Whites Chefs Clothing: Elevating professional standards
With a history that spans many years, Whites Chefs Clothing has established itself as a trusted brand within the culinary apparel industry. Their longstanding presence reflects their commitment to quality and understanding of chefs' unique needs. Whites Chefs Clothing emphasises craftsmanship, ensuring their chef trousers meet the highest durability and functionality standards.
One of the standout features of Whites chef trousers is their reinforced seams. The brand recognises that the rigorous demands of a professional kitchen can stress the seams of the trousers. Whites incorporate reinforced stitching to combat this, providing extra strength and resilience. This attention to detail ensures that the trousers can withstand the intense movements and rigorous activities chefs engage in throughout their workday.
Secure closures are another hallmark of Whites chef trousers. Recognising the importance of a snug fit, Whites uses reliable closures, such as solid buttons or durable zippers. These closures are carefully selected to withstand repeated use and provide chefs with confidence that their trousers will remain securely fastened, even during the most demanding culinary tasks.
Meticulous attention to design details is a distinguishing feature of Whites chef trousers. The brand understands that not only do the trousers need to be functional and durable, but they should also exude professionalism and style. Whites ensure their trousers have a polished and sleek appearance, with clean lines and a tailored fit. From the careful placement of pockets to the overall silhouette, every aspect is thoughtfully considered to create a cohesive and professional look.
Comparison and concluding thoughts
In comparing these top chef trousers brands, it's essential to consider factors such as price ranges, availability, and customer reviews. Chef Works, Wundaweb, and Whites Chefs Clothing all prioritise the needs of culinary professionals, offering a range of features to enhance comfort, functionality, and durability in the kitchen.
See here for more on Stylish Chef Trousers for today's culinary experts