Long gone are the days of old-school, uninspiring chef trousers. In today's culinary world, chefs combine their professional needs with their style, making bold fashion statements in the kitchen.
Let's explore the ever-growing trends in chef trousers, featuring a medley of fashionable designs, colours, and patterns that bring a zest of personality to the standard uniform without compromising practicality or functionality.
The emergence of modern designs
A significant trend that is impossible to miss is the move towards contemporary cuts and tailored fits in chef trousers. These designs avoid conventional baggy styles, providing a fresher, more refined look. Slim fit or tapered styles are increasingly popular as they deliver a neat, streamlined image. The tailored fit enhances the overall look and creates a flattering silhouette, emphasising the chef's professionalism and meticulous nature.
Captivating details find their way into the design of chef trousers. Designers are introducing delicate yet eye-catching elements to boost the overall style. This can include intricate stitching patterns, splashes of contrasting colours, or decorative zippers and buttons. These elements bring a touch of personal style, enabling chefs to showcase their fashion sense while ensuring the functionality required in a professional kitchen setting.
Introducing colour to the culinary scene
Historically, chef uniforms were predominantly black or white, with practicality taking precedence over style. However, with the evolution of fashion trends, a spectrum of colour options for chef trousers has emerged.
Grey
Grey is at the forefront of this colour revolution for chef trousers. Presenting a stylish and versatile alternative to the standard black and white, grey brings a modern touch while maintaining professionalism. Various shades of grey, such as charcoal, slate, or heather, offer chefs a trendy and refined choice that can suit any kitchen environment.
Navy Blue
Navy blue is another stylish choice for chef trousers. It emanates timeless elegance and versatility, making it a go-to among culinary experts. The Navy pairs well with various colours and easily coordinates with other uniform pieces. Navy trousers can add a deep richness to the overall look while maintaining a classic and stylish appearance.
Brighter shades are gaining popularity.
Colours such as deep burgundy, olive green, and intense blue offer a bold yet sophisticated alternative for chefs seeking to stand out. These colours can infuse personality and individuality into the kitchen uniform while being tasteful and professional. It's crucial, though, to select these vibrant shades carefully, ensuring they harmonise with the overall branding and aesthetic of the restaurant.
Patterns and prints take centre stage.
Contemporary chefs welcome patterns and prints to bring a personal touch to their work attire.
Pinstripe
Pinstripes have made a grand entrance into the world of chef trousers. They bring a sophisticated touch and create a visually slimming effect, contributing to an attractive appearance. This pattern is trendy in high-end dining or upscale kitchen environments where a polished and professional image is paramount.
Houndstooth
The perennially stylish houndstooth pattern is also making waves. This distinct pattern is composed of broken checks or abstract four-pointed shapes. It brings a classic elegance to chef trousers, helping them to make a statement in the kitchen. Chefs who wear houndstooth trousers portray a stylish flair and an appreciation for a traditional style.
Checks and Plaids
Checks and plaids are excellent choices for those keen to make a bold fashion statement. These patterns range from subtle, understated checks to larger, more noticeable designs. They offer a modern, stylish appearance while maintaining a professional image. Chefs who opt for checkered or plaid trousers aren't afraid to experiment with their style and express their unique personalities in the kitchen.
Adding personal touches and branding
Many chefs are choosing to add personal elements and branding to their trousers. Options such as embroidered or printed logos, monograms, or custom patches can be added to chef trousers, offering a unique and professional touch. This personalisation allows chefs to showcase their affiliation with a specific restaurant, culinary institute, or personal brand, further enhancing their professional identity.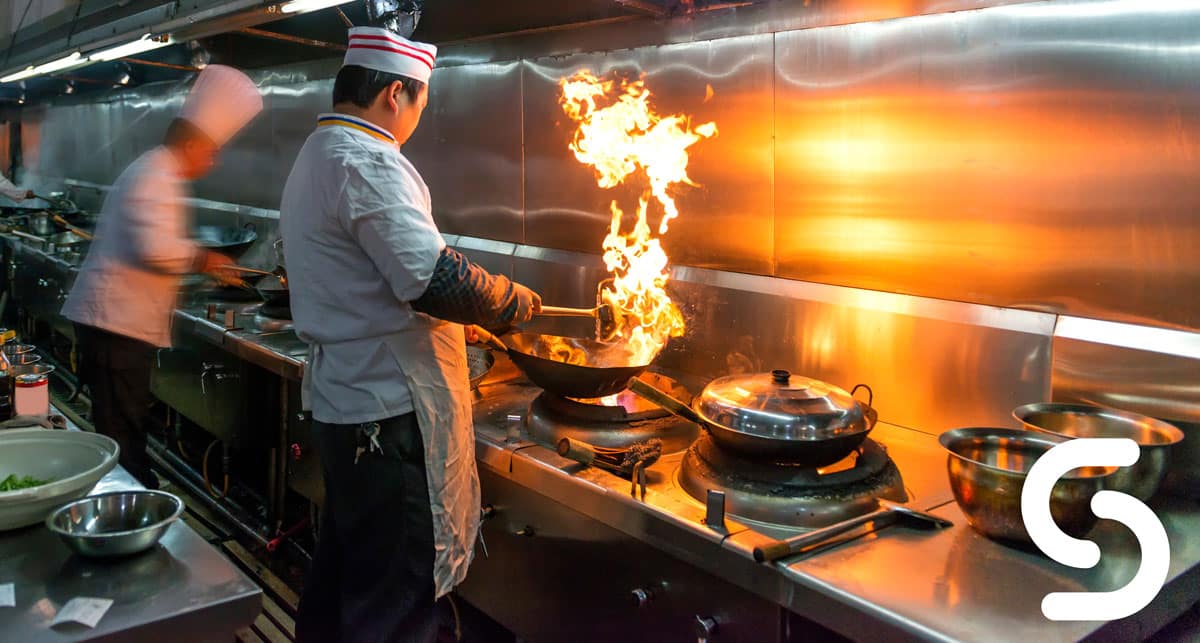 Chef trousers, style and functionality, go hand in hand.
Emerging trends in clever design, colour, patterns, and materials enable culinary professionals to display their unique cool style while adhering to the necessary standards of a kitchen uniform. By adding exciting elements to their uniform, chefs can confidently express their creativity in the culinary field.
Learn more about how we Explore the World of Chef Trousers