In our modern world, the culinary profession isn't solely about the dishes we serve but also the principles we uphold. Aspects of sustainability and ethical practices are becoming increasingly important, permeating our food preparation and wardrobe selections. We'll explore how our clothing decisions impact the environment and society, discussing the benefits of eco-friendly materials and the value of supporting fair trade practices.
Grasping the environmental footprint
Recognising that the fashion industry has a substantial environmental footprint is crucial. But, we can diminish this impact by choosing sustainable and ethical chef trousers. Conventional fabric manufacturing involves harmful chemicals, excessive water consumption, and intense energy usage. Additionally, clothing waste has a significant role in the pollution of our landfills. By selecting environmentally-friendly materials and endorsing ethical manufacturing procedures, we can reduce pollution, conserve valuable resources, and foster a circular economy where materials are repurposed or recycled.#
What Eco-Friendly materials are out there for chef's trousers?
Taking a sustainable approach begins with choosing chef trousers made from eco-friendly materials. Look for organic cotton, hemp, linen, or bamboo trousers. These materials are renewable and require fewer resources, such as water and pesticides, than conventional fabrics.
Fortunately, these fabrics are also hard-wearing and durable, so there is no need to worry about their quality deteriorating.
Supporting Fair Trade and ethical practices
Wearing chef trousers produced through fair trade and ethical practices is essential. This ensures that the individuals involved in the manufacturing process are treated fairly, paid fair wages, and worked in safe conditions. Look for certifications such as Fair Trade, Global Organic Textile Standard (GOTS), or Certified B Corporation to ensure the brand or supplier meets ethical standards. By supporting fair trade practices, we contribute to a more equitable and sustainable supply chain, promoting social justice.
Finding sustainable and ethical brands
Fortunately, many brands and suppliers prioritise sustainability and ethics in producing chef trousers. When choosing, look for companies that value transparency, traceability, and eco-friendly practices. Research and seek out brands that use organic or recycled materials, implement sustainable manufacturing processes and support fair trade initiatives. Zero-waste principles, vegan styles, and a commitment to local and ethical sourcing are hallmarks of sustainable and ethical chef trouser brands.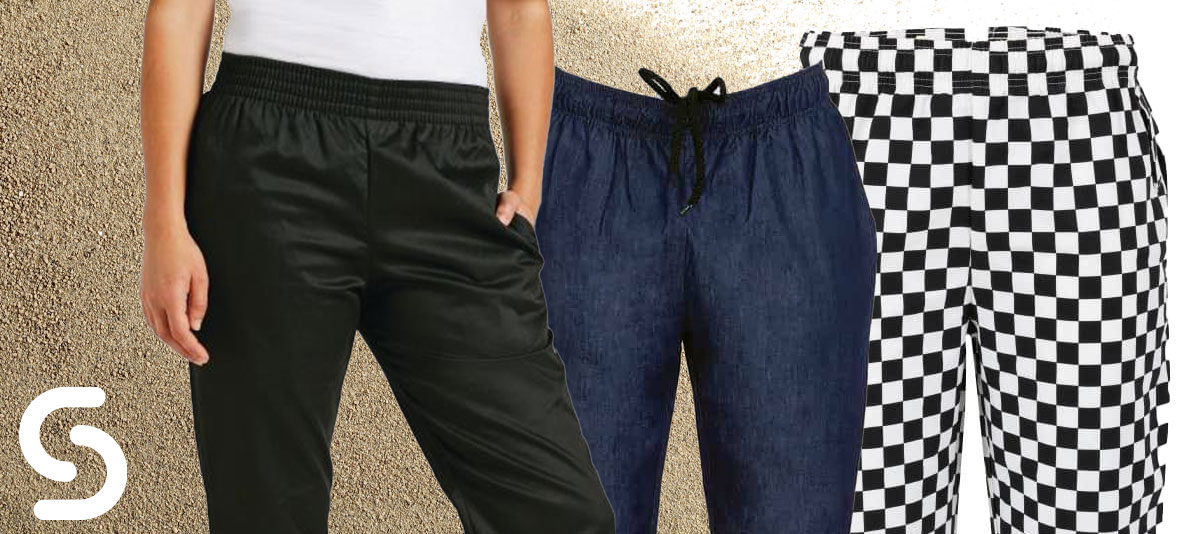 Our responsibility as chefs extends beyond our food to our choices.
We contribute to a more environmentally friendly and socially conscious culinary industry by opting for sustainable and ethical chef trousers. From choosing eco-friendly materials to supporting fair trade practices, we can positively impact the planet and promote a more sustainable future. By choosing brands or suppliers that prioritise sustainability and ethics, we lead by example and inspire others to embrace responsible choices in the kitchen. Sustainable and ethical chef trousers are not just about looking good in a professional kitchen; they represent our commitment to a better world.