The role menu boards play in pub or bar cannot be overemphasised. It is the tool your pub needs to get obvious exposure, draw traffic and promote your products and services.
It could be for advertising, drawing customers' attention to special events, boosting sales, keeping customers coming back, and improving your overall business activities.
The value the menu boards can add to your space is endless but before we discuss more, let's see how to set it up in your cafes.
What to watch out for when setting a menu board in a pub
Where you are going to keep the menu board should be the first thing you should consider. Are you best keeping them on the bar or on the front desk on display for customers as they walk in? Also, do you need an acetate sheet covering the menu?
It would be good if you take a seat at your cafe, bar or restaurant so you can get a sense of the perspective from various locations and angles. It's even better doing it from different sitting and standing positions so you'd be able to get a better view.
Sizes
The size of your board is a defining factor to where your menu board is placed. You should know that larger boards can be viewed from a far distance, while smaller boards should be placed where customers are ready to place an order.
Orientation
Orientation is also key, how do you want your menu boards held? In a landscape or portrait position. In a small venue, portrait would be best suit as it reduces the arm space required to hold the menu boards. Landscape would suit in a more open plan environment.
The choice of materials, the fixing, and the logos will be the most crucial decisions you have to make in this process.
Material
Popular materials for the menu boards include: Buckram, Acero, Stitched Hide, Vivella, Elephant Grain, Wood-effect, Safia Bonded Leather, Hydra Recycled Leather and Wood/Wood Veneer.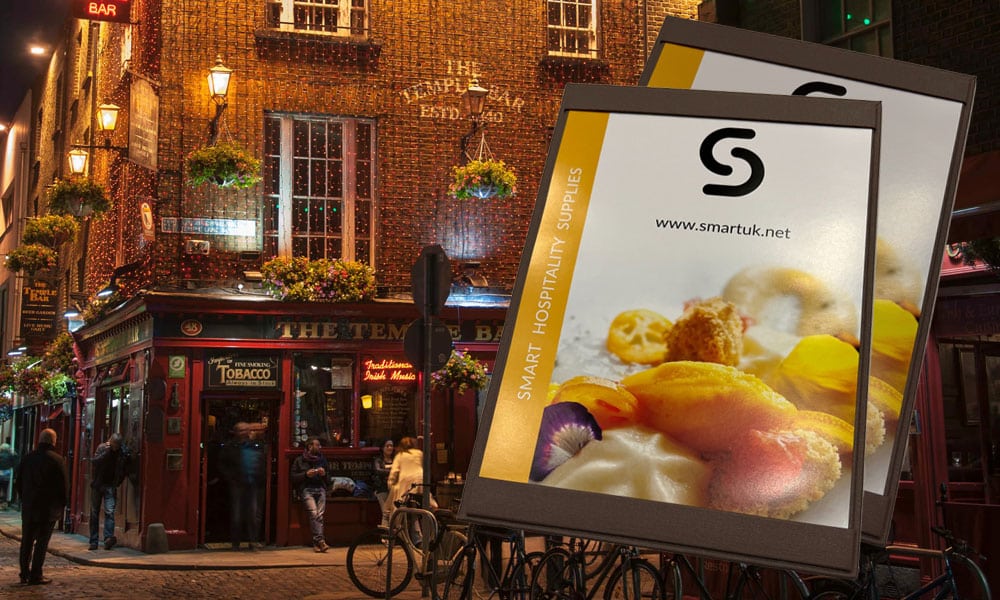 Fixing
How the menu is held place is important to consider. Elasticated Bands, Clips, Corner Mounts or Parallel Bars are some of the fixing options used for securing the menu into menu boards.
Artwork
Making your restaurants or pubs logo stand out is key as well. We offer options like Digital Printing, Foil Debossing, Laser Engraving, and more are available for the logo.
So having known how to set up menu boards, let further discuss its importance. – For information on Menu Boards for Restaurants, click here
Importance of Menu Boards
The hospitality business relies on upselling and suggestive selling, and a menu board gives business owners more control over how patrons interact with their cuisine and brand in a meaningful and dynamic way. The following are the reasons why menu boards are still necessary for pubs today:
Boost the quality of service
A menu board can assist your efforts to develop a more seamless experience when used in conjunction with a clear marketing and branding strategy. It will keep your consumer interested.
It can also help inform them about the menu items, pique their interest, and maybe make a crucial distinction in their experience with the business.
Options for design are no longer constrained.
With many materials available, there are more design alternatives than just plain PVC, illuminated design for the register. Menu boards and menu covers are now incorporated into the interior design projects. They are no longer an afterthought; their location and use are thought out in advance to ensure that they match the character and soul of the pub as a brand experience.
Brand consistency is maintained.
Brand consistency is one of the keys to successful marketing. Businesses need to be sure that their branding elements and messages are synchronised. This helps customer store images of the venue in their mind
When you can easily promote daily specials and flavours, remove menu items when you sell out for the day, easily rearrange or reorganise your menu for maximum impact, and add or remove seasonal items, you sure are working towards your brand consistency, and that's with the aid of a menu board.
Cost-effective
The cost of initial installations of menu boards used to be a problem, but not anymore. Also, investment in this venture tends to bring back revenues in a relatively short period.
Since they can be easily updated and printing expenses for menus and promotional offers might be reduced, digitalisation is the best option to become cost-effective. This upkeep is fairly simple; store-level labour may be decreased without incurring additional costs.
Best Menu Boards for Pubs
A menu board effectively serves as a one-stop shop for all the details about your pub that a customer could be interested in learning. In light of this, you should present a variety of materials in addition to your menu items.
With the menu board, you can quickly and easily create a stunning design, update your prices, and add photographs, prices, descriptions and more.
You could also add your social media accounts to the menu board. This will help your customers connect better with you.
For bars, restaurants and pubs, events are a significant source of revenue, and a menu board is the best way to generate buzz and increase the FOMO (fear of missing out). To get the best results, combine some text with high-quality photographs to pick customers' curiosity.
If you've added exciting menu items, rotating taps, or particular seasonal options, ensure that you always display them on your menu board. This can foster brand loyalty as customers will see your venue constantly evolving.
Promotions like Limited-time deals and "grab them before they're gone" are excellent ways to get rid of extra stock and encourage more sales. Remember that 1 in 5 buyers buy something they hadn't planned because of the advertisement. So, if you own a cafe and you've not gotten a menu board, you're missing out.
Why you should buy menu boards from Smart Hospitality supplies
Customers now seek more value than ever before. They want it in exchange for the money they spend, and they define value by the complete dining experience—from the moment they walk in the door to the time they sit down to eat their meal.
Smart Hospitality supplies want to provide this value through our products.
We have an extensive range of menu boards that are made in the UK. These include illuminated menu displays, chalkboard surface menu boards, single and double-sided menu boards, wall-mounted menu boards, free-standing menu boards, and peg letter boards which can be used in portrait or landscape orientation to display your offering.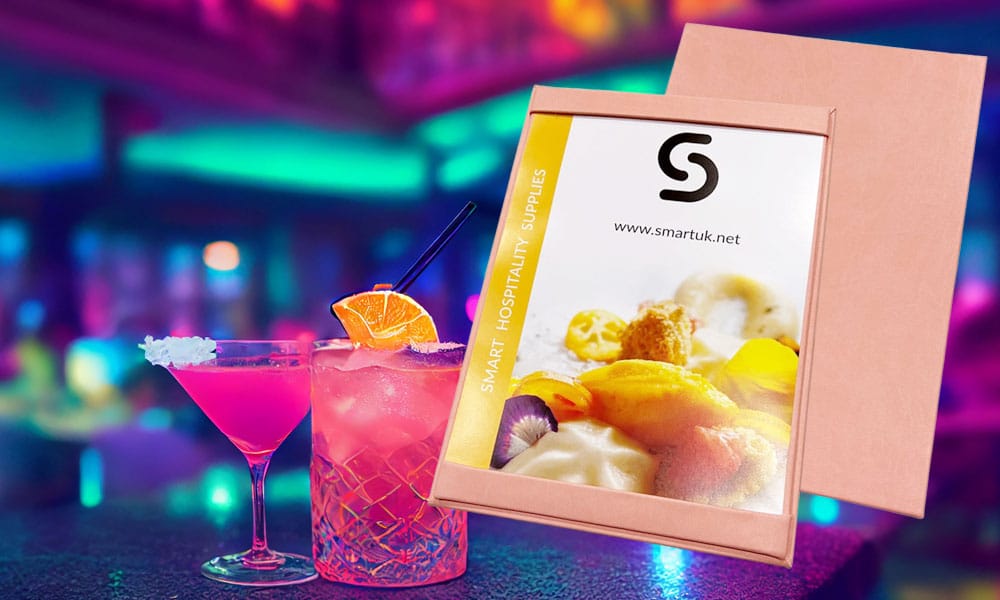 These menu boards, menu covers and menu displays available in different colours, designs and shapes. They are suitable for eating establishments such as restaurants, a bar, and cafes. It comes in a variety of sizes and materials so that they may complement a variety of different types of interior design.
If none of the personalised menu boards are to suit, we also offer a range of 'offer the shelf' products like the Olympia Menu Boards or a Restaurant Peg Letter Board for a quick turnaround.