What is one of the key features customers focus on when visiting restaurants? The menu covers.
If you haven't paid much attention to it in the past, you should start. It's a practical way to get the customers' attention as soon as they walk through the door.
Put yourself in your customers' shoes, you walk into a restaurant, and you're amazed by how beautiful everything is, and the smell of food in the air makes you want to eat right away.
You are excited and looking forward to a perfect meal, but your waitress hands you the menu. It's a piece of paper that's wet, creased, and stained with food and grease. How would you feel? Disappointed right? This is how they think anytime they see a dirty menu.
So, If you want to beat your competitors in the race, you should read on as we'll provide a variety of tips to help you get the best menu covers .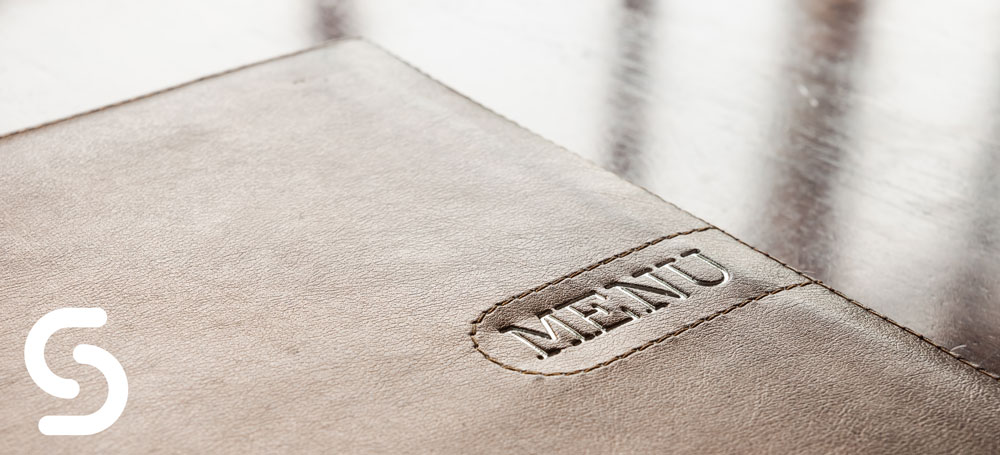 Why you must get a menu cover
To make a good impression
Because a menu cover is the one of the first thing people see when they walk into your venue, it tells them what kind of experience they can expect to have there.
It fosters brand recognition and customers loyalty
When you have an eye-catching, professional menu cover, diners will immediately know that they're at a high-quality establishment.
It will instil confidence in those who visit, leading them to become loyal to your brand.
With this confidence, they'll be more likely to return again and again, bringing their friends so they can enjoy the same great experience you've had!
It is cost-effective.
Menu covers keep your menu prints in great shape, which saves you money in the long run as you won't be printing new menus frequently. Drinks spilling in restaurants can happen quite regularly and will ruin any paper or card menus.
Without covers, you'd have to deal with regular re-printing, which would overtime, be a loss for the business. This is why menu covers are essential for maintaining your menu's visual appeal.
When protected by covers, your menus can be used circulated without becoming damaged and are easy to clean.
It boosts your brand image in the eyes of diners.
Menu covers are a great way to enhance your branding by showing off your restaurant's dedication to quality. You'll be able to promote your business and even trick diners that this is not a typical restaurant.
It is common knowledge that it is impossible to influence the tastes and inclinations of a consumer. Still if a restaurant uses high-quality materials and has an attractive menu cover design and logo, it can encourage visitors to spend more.
It increases your marketability
A visually appealing menu cover on the dining table increases the likelihood of guest returning to the snacking, eating, or drinking options.
This presentation can affect the customer's perception when combined with the proper menu layout.
We've seen where satisfied diners take photos with menu cards in their hands, and this information is quickly shared and discovered on social media channels leading to high traffic —I'm sure you'd love this kind of marketing.
This is why it's crucial to have the logo on your menu cover, prints, tabletop accessories, etc. By putting your brand on display visually, you make the experience more unforgettable.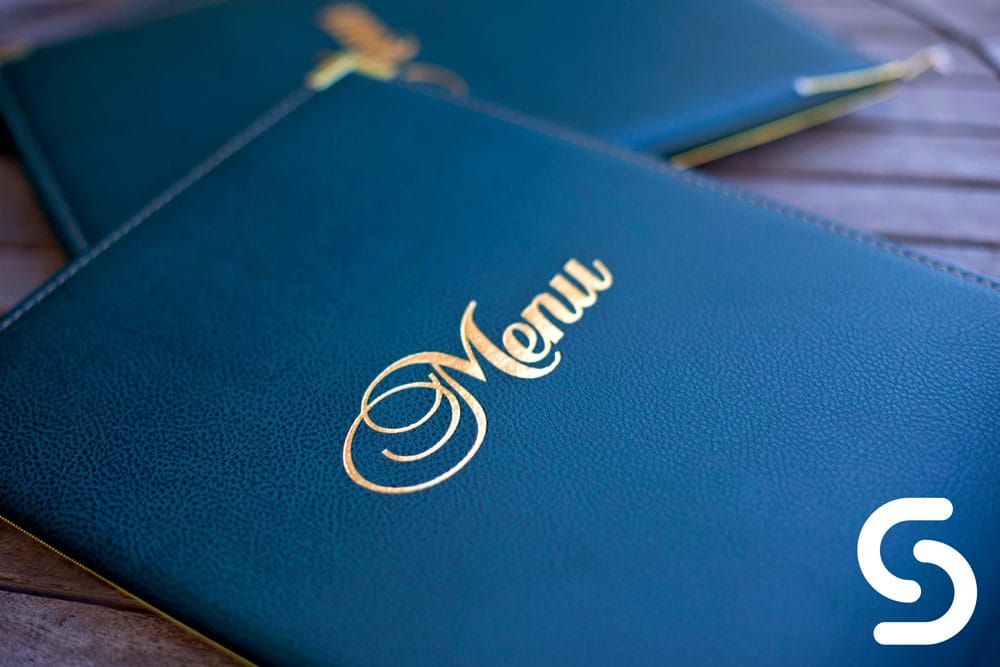 How to choose the suitable restaurant menu covers
Menu covers are an essential element of any venue, as they can improve or detract from the overall appearance of the menu. You need to check that the cover is suitable not only for you but also for your visitors.
When you want to choose a menu cover, it would be best to keep these things in minds:
Colour of your menu
There are a large variety of colours across a large variety of materials. You need to make sure the colour and material chosen works for the venue. This could be dictated by how bright the venue is or what colour scheme runs throughout the site.
Durability
If you're using this menu cover daily, you don't want something that'll start falling apart after a few weeks.
Pick something made from high-quality materials so it'll last for years without losing its colour or texture. A good example of this is have a stain resistant material. Cafe Menu Covers in instance of coffee spillages. This way the material can be wiped clean with ease. Buckram Menu Covers would be perfect for this.
Readability
Is it easy to read? Ensure that the font is clear enough so diners can see it quickly and that there are only a couple images or lines on the page. Otherwise, this will take away from the customers overall experience.
Affordability
Menu covers come in different colours, designs, shapes and price range. The price depends on the materials used, fixing option, size and artwork requirement. Get in contact to learn more about the menu holders and how they are priced.
Best Menu Covers for Restaurants
Leather menu covers
Lether menus are the ultimate luxury and are primarily used in upscale restaurants. It has qualities that make it both valuable and attractive.
Leatherette or faux leather menu cover:
They have a rich, silky feel. People will like it when they touch them. The only drawback is that it does not have the same feel and impact as the real leather cover.
Plastic Menu Covers
These menu covers are made more for function than style. They're helpful because they're easy to clean with damp soapy rags. Most of the time, these types of covers are used in bistros and cafes
Custom Menus
A custom menu cover is simply a holder tailored to your venue's specific needs. We have access to 100's of material options that come in many colours and designs.
It all depends on your style and budget. A restaurant that is known for its extensive range of wines for instance, might decide to use a synthetic/real cork cover for a wine menu.
Custom menus would be ideal for a local establishment. You could choose fabrics like the a Buckram cloth, wood effect or recycled leather for your menus.
What makes a great menu cover?
It's simple:
It has to be eye-catching
It has to be unique
It has to suit the venue.
When choosing a menu cover, it's not just about style. It goes way beyond the sleek, stylish design and size of the body. A good menu cover must represent the brand in style and details.
Are Menu holders a substitute for Menu covers?
Menu holders can be used to display menus and special offers on tabletops. You can also use menu holders to effectively advertise your menu as they are often made of acrylic or wood and have double/triple sided.
But we advise you get the Menu cover as it is designed to protect and advertise your menu.
What Smart Hospitality Supplies offer
We've been working with brands and agencies for more than a decade, and we know what makes a Menu Cover stand out from the crowd. We manufacture our Menu Covers in extensive shapes, many sizes and with unique designs.
Some of our products include: Bill presenters, London Buckram Menu Covers, Real Leather Menu Covers, Hydra Recycled Leather menus, Wood-effect Menu Covers, Printed Menu Covers, Tailor Made Menu Covers, Menu boards, Holder, Menu inserts and more!
You can get our Menu holders if you want to try something different. We have a wide selection. It also comes in various sizes, colours, shapes and material options.
We have the Numbered Metal – Menu Holder, Wooden Block Menu holder and more. The best part of it is that all our prices are super affordable.
We let you choose your personalisation and branding, then create an eye-catching cover with a perfect finish that will add value to your brand.
Contact us here at Smart Hospitality Supplies and allow us to create your beautiful, functional, and 100% pixel-perfect Menu Cover so you can focus on what matters most: growing your business!