A comprehensive guide on menu covers to help you choose the right one for your steak restaurant.
In the "meat and potatoes" loving culture, running a successful steak house can be anything but easy. Customer expectations are high, quality is crucial, and competition can be extremely stiff. Therefore, all the decisions should be made wisely, from selecting the location to purchasing the ingredients and choosing the right menu covers for your steak restaurant. It is a menu cover that will set the overall personality of your restaurant.
Read on to choose the right steak restaurant menu covers and make sure that your new business really sizzles!
History of Steaks
If you are a true steak lover, you might often wonder about its origin. The word steak might sound like a British culinary dish, but it actually originated in Florence, Italy. The steak was invented in 1565 in Florence during a popular feast on St. Lawrence day. During this feat, a large number of meats were roasted on bonfires and contributed among people.
The feast became immensely popular among the people for all the right reasons so did steaks. Steaks became a part of everyone's diet because of their delicious flavour and high nutritional value.

Britain Ever Increasing Love Affair with the Steaks
Steak is often thought of as a British culinary dish and has long been beloved by the British. They realise that the steaks are expensive both financially and environmentally but still British cannot keep their hands on a steak platter. Therefore, it comes as no surprise that there is a steakhouse at every corner of the UK's streets. sign page
Not only these steak houses are earning the love of food lovers, but they also make huge profits for themselves. According to reports, steakhouses in the United Kingdom formed a $500 million dollar industry as of 2022. Therefore, opening a steakhouse is a great business idea.
However, entrepreneurs must realise that steakhouses are a common offering in many cities and towns, so it is important to know the competition and determine how your restaurant will differ in the early stages.
How Does a Restaurant Menu Cover Help in Branding?
In this cutthroat competition, every new steakhouse needs a big boost in marketing to match the level of its competitors. A restaurant usually runs through repeated clients. However, nowadays, it is not easy to keep customers loyal to your eatery as they have tons of other great options.
However, to keep the customer retention rate of your restaurant high, you need to focus on branding. In simpler words, branding means how the restaurant is different from other eateries of similar niches. It is not necessary to spend high costs on branding and marketing campaigns as it can be done right with simple restaurant items like menu covers.
When customers come to your steakhouse for the first time, the first they look carefully at is the menu cards or menu displays. Often, customers build their first impression of the restaurant based on the appearance of the menu. An elegantly designed menu placed in a premium quality menu cover or menu holder will convey to the customer they are going to have delicious food.
Therefore, if you want your new business to make a name for itself in a highly competitive market, make sure to choose menu covers or menu holders wisely to create a positive first impression of your restaurant.
What is the Difference Between a Menu Cover and a Menu Holder?
Menu holders and menu covers are one of the most essential accessories for your steakhouse business. Not sure what the difference is between both? Stress no more. Menu holders help you present the menu of your restaurant at the table. Table menu holders clasp menu cards that customers can remove and peruse.
On the other hand, menu covers are designed to protect the printed menu card from daily wear and tear. Customers will not have to remove the menu from the cover. Instead, they can hold and read the menu in a book-reading style.
Are you wondering which to choose for your steakhouse? If you plan for your restaurant to have a formal arrangement of guest dining, you must consider choosing leather menu covers with clear panels. However, if you plan to give your restaurant a casual cafe or pub vibe, it is better to go with menu holders or menu boards.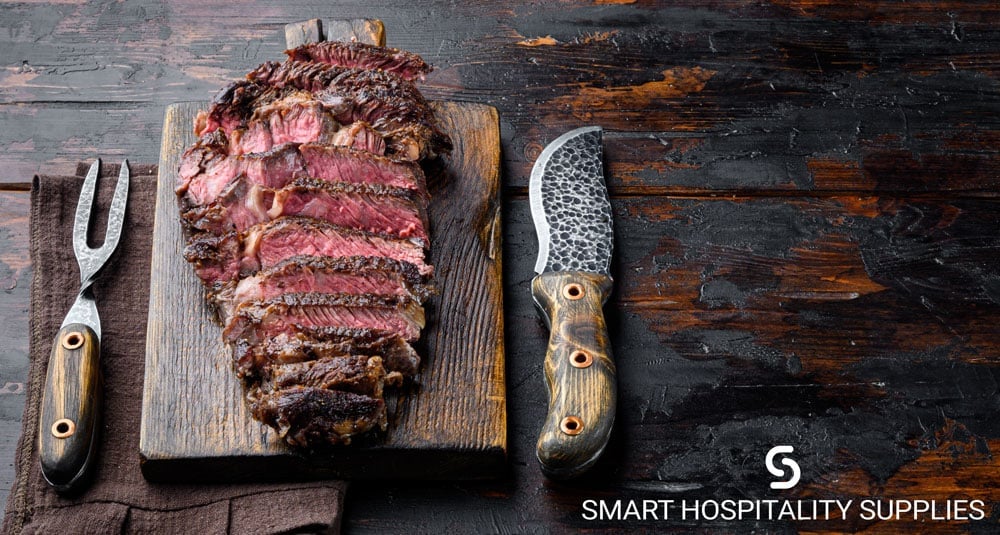 Important Menu Cover Considerations for Your Steakhouse
In the United Kingdom alone, there are hundreds of steakhouses, each trying hard to differentiate itself from others. However, it is not an easy task. If you want your steakhouse to be on the top of the game, you must pay attention to minor details as they matter the most for positive branding and marketing.
As mentioned above, menu covers play an important role in your restaurant's branding. Therefore, you must choose them wisely. To help you make the right decision, here are a few important things to keep in mind while looking for your steakhouse menu covers!
Menu Covers Should Reflect Brand Personality
Like people, brands also have a personality. A person can be known for certain qualities. So will your brand. Therefore, while choosing a menu cover for your steakhouse, make sure it reflects your brand personality clearly.
Menu Covers Should Match the Steakhouse's Theme
Have you chosen a theme for your steakhouse? If you haven't, you must choose it before finalizing your menu cover. Any menu cover you choose should match the theme of your restaurant. Otherwise, customers will find it hard to connect with your steakhouse.
Menu Covers Should be Made of Premium Material
When customers enter your steakhouse, everything should speak volumes of high quality. Customers are keen observers. Anything of cheap quality cannot get missed by their eyes. Therefore, when choosing menu covers or menu holders, make sure not to compromise on quality.
Like other restaurant accessories, menu covers are also available in different styles and materials. In the past, plastic, vinyl, and wood menu covers were popular. However, now leather menu covers have replaced them for good. Leather menu covers will not add a touch of elegance, but they will also serve your restaurant for years.
Menu Covers Should Have a Vibrant Colour Scheme
Colours are quite effective in triggering different emotions. Therefore, why not trigger your customer's appetite by choosing a vibrant colour scheme for your restaurant's menu cover? By doing so, you will also boost your sales without spending a ton on marketing campaigns.
There are many colours that can help you trigger your customer's appetite. However, red and blues have a proven record in that aspect.
Why Smart Hospitality Supplies is the Excellent Choice for Your Menu Cover Needs?
If you are looking for premium-quality menu covers for your steakhouse, Smart Hospitality Supplies has plenty of options for you. Smart Hospitality Supplies is a reliable brand known for selling steakhouse owners high-quality menu covers. We have an extensive range of menu covers available at competitive prices.
With our real leather menu covers, you will be able to deliver the best dining experience to customers at your steakhouse. Also, if you don't have the time and expertise to personalise the menu cover yourself, we can do that for you too. We have art and printing experts that can help you personalise your menu covers in any style you want.
Whether you are looking for menu covers for your Tapas Restaurant or rustic Steakhouse, we will be able to find the right product for you.