Crystal Palace Football Club Choose Smart Menu Covers
Crystal Palace become the latest football club to utilise the Smart Marketing Group's extensive menu cover offerings, opting for some rather stylish, elegant cotton covered menus, personalised with the club's traditional winged logo. Having worked with Arsenal, Aston Villa and Leicester City, Smart was keen to join forces with another premier league club.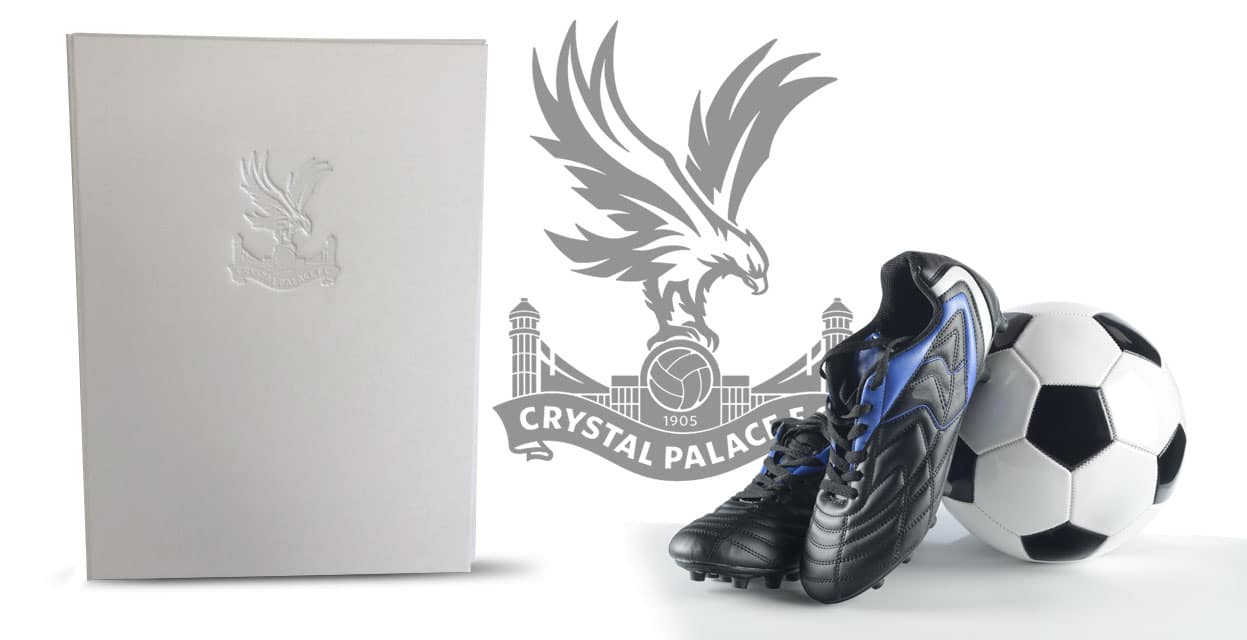 It was the sturdy but stylish, London Buckram Menu Cover range that took Crystal Palace's fancy; a simplistic A5 and A4 booklet style menu with parallel bar fixings on the inside front and back cover. The club chose black, oak brown and metallic pearl colours; the perfect backdrop for an understated and beautiful blind embossed personalisation technique for their much-loved brand.
As always, Smart's production team ensured that their quality was second to none, whilst the order was designed, manufactured, personalised and delivered in super fast time constraints. The club and their dedicated supporter's love the new additions to their restaurant and box office seats.
Crystal Palace Football Club is a professional football club based in South Norwood, London.
Since 1964, the club has mostly played in the top two leagues of English football so we were of course thrilled when they wanted to utilise our stylish range of menu cover offerings. The club was originally founded in 1905 at the site of the famous Crystal Palace Exhibition – and it was therefore important that this date was included in their crest logo and neatly embossed on their covers.
Buckram Menu Covers
Buckray cloth is a very popular bookbinding material and our range now includes of 60 different colours, including a small selection of metallic options. It doesn't scuff, scratch or dent and is easily cleaned – a perfect choice for venues using covers outside, which is exactly what Crystal Palace intend to do with a further order made recently for the on pitch box seats.
We originally spoke about working with the club colours; however, after working closely with our graphic design team, the club decided to opt for a more simplistic, understated approach. They very much welcomed our Graphic Design Services and suggested that it was this extra care to the look of their menus which set us apart from our competition.
Call our Hospitality team today on 01743 465 301 for more information about how we can help your venue.