We're a Cut above the Rest!
Our stylish menu covers are perfect for use in restaurants, but that doesn't mean that they always have to be used in that way. These menu covers are often purchased for other purposes and used in creative ways. After all, they are simply a stylish, sturdy cover for documents – so there are a number of different ways that you could use them.
One of the creative examples of using our Menu Covers in a different way is Francesco's Salon. They have ordered menu covers so that they can use them to display price lists, customer information and different options for hair styles. We are pleased to announce that our products were chosen by this high end salon group in the UK. The sleek and stylish menu covers will look right at home within the modern and trendy environment of Francesco's Salons in several cities all over the UK.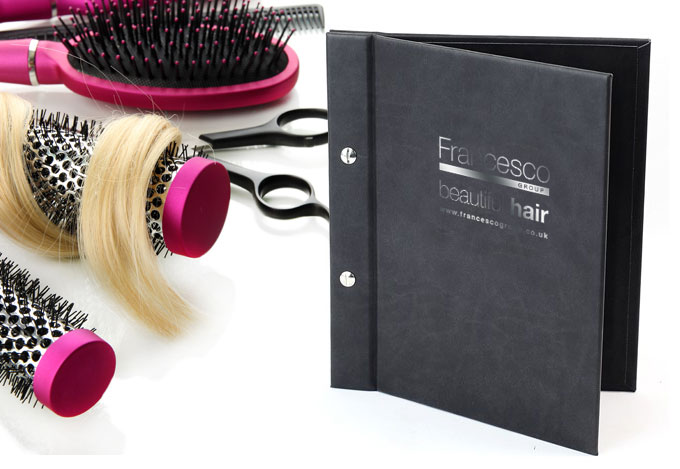 Chic Menu Covers for a Stylish Salon
The menu cover style they have chosen is the Art Board Menu Cover in A5 and the colours are charcoal with a silver foil logo. This design is very simple, sleek and modern and it is versatile enough to use for a range of different purposes. It is perfect as a restaurant menu or a bar menu, but it can also be used for price lists, as a portfolio or for many other purposes.
The soft-touch material of these menu covers feels very luxurious and elegant. This makes it ideal for a high end luxury setting, as it adds to the total sensory experience of the customer. The tall and thin design looks stylish, works well as a wine list and adds to the versatility. The menu covers are also very easy to clean and they comply with all fire regulations and health and hygiene requirements.
If you are a salon owner, have you ever thought of using menu covers in this way to display your services to your customers? Or, perhaps you have a different type of business and you can think of another way to use our menu cover designs creatively? Our menu cover designs are sleek, simple and elegant so they can be used for a wide range of purposes in an array of different settings. Feel free to visit our website and contact us at any time to learn more about the products that we have to offer.
About the Francesco Group
The Francesco group has a number of top notch salons around the UK, offering quality hairdressing in Derbyshire, Gloucestershire, Shropshire, Staffordshire and the West Midlands. There are salons in Derby, Shrewsbury, Newport, Lichfield, Newcastle, Chester, Cheltenham, Nantwich, Stafford and many other locations.
They offer excellent award winning hairdressing services, from styles and cuts to wedding services and updo's. Also, the salon stylists are highly trained by the Francesco Group and Wella in colour application, so they are able to offer the very best hair colouring results.
The many salons of the Francesco Group all offer modern and stylish surroundings where you can relax and enjoy your experience. The stylists are friendly and professional and they are great at making you feel at home. When you arrive at your appointment, you can sit back and enjoy a delicious selection of complimentary drinks. After, you will be pampered by your skilled Francesco stylist who will have the skills to create the ideal look that you desire.
Award Winning Hair Design
Francescos is a top notch hairdressing company that has won several awards over the years for their excellence. They won the Training Award at the British Hairdressing Business Awards in 2014 and several of their technicians went on to win at the British Hairdressing Awards in 2014. Also, Francesco stylists Alicia McLaughlin and James Earnshaw were Regional Finalists at the L'Oreal Colour Trophy in 2014. James Earnshaw has also been awarded the Bronze Award in the Young Talent Category at the Wella Professionals Trendvision Award Finals in 2014 – which is one of the most prestigious hairdressing competitions in the world. When it comes to award winning hairstyling, your local Francescos stands out from the rest.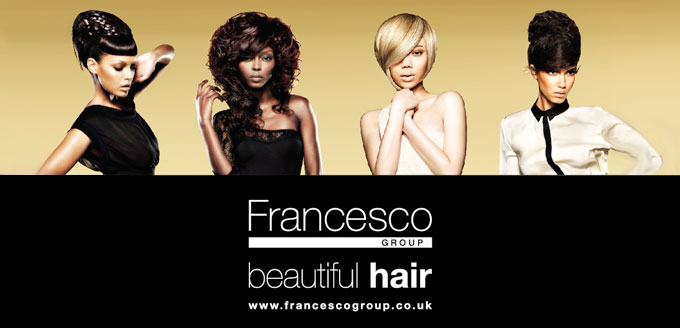 If you are looking for superb quality hairstyling that will ensure you look your best, choose one of the excellent salons in the Francesco Group. While you are there getting a chic and fabulous new look, make sure to notice our menu covers that are being used for the price list and to display examples of styles!