Most of the time when you go out for a meal, you simply want to sit down and enjoy some nice food and a pleasant atmosphere. But sometimes, it's fun to dine somewhere a little more unique and creative. There are many restaurants in the world that have unique and original themes, offering diners something out of the ordinary. Let's take a look at seven examples of the strangest themed restaurants in the world.
1.
Ithaa Undersea Restaurant, Maldives

Seafood doesn't get any fresher than this! You can actually dine underwater at this fascinating restaurant in the Maldives, located 16 feet below the surface of the water on Rangali Island. It offers 180 degree views of the coral reef and you will be able to see fish, sharks and rays gliding over your head as you eat your meal. This luxurious restaurant serves a delicious European prix fix meal with several courses including Maldivian lobster carpaccio.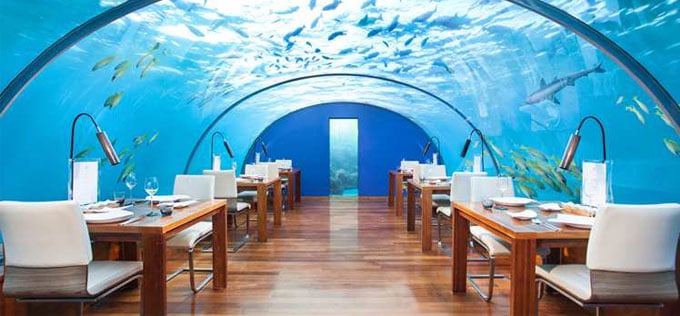 2.
Dinner in the Sky, Various Locations around the World

Another of the coolest themed restaurants in the world, this strange dining experience is quite uplifting! You will be able to book a sky platform which consists of a table and chairs that are lifted via crane hundreds of feet in the air. Strapped in dinner guests enjoy a delicious meal while being suspended high above everything else.
3.
Disaster Café in Spain

When you dine at this restaurant you will be able to experience what it is like to be eating a meal during a powerful earthquake. When you go in it will look just like an ordinary family restaurant with an alien theme. However, you will take an elevator down into the lower levels and you will notice that the staff are wearing helmets and construction gear. When your meal is served the dishes will be heavier than usual, so that they won't go flying as the ground starts to shake. Chairs and tables will move, the lights will go out and everyone will scream. After a few minutes everything goes back to normal – drinks are refilled and you can carry on with your dining experience.

4.
Robot Restaurant in Tokyo

Have you ever been to a restaurant where your meal is served by robots? Dining at the robot cabaret in Tokyo is an unforgettable travel experience that highlights just how surreal and whimsical a night out in Tokyo can be. This impressive 1 hour show features a range of performances full of flashing lights, techno-music and all sorts of bizarre, futuristic and sexy robots on stage. Neon tanks will face off against robots, samurais, ninjas and Godzilla. Dancing girls in sexy outfits will gyrate next to giant pandas and dinosaurs. The food is not renowned, but that's to be expected as the spectacle is the main attraction and not the cuisine.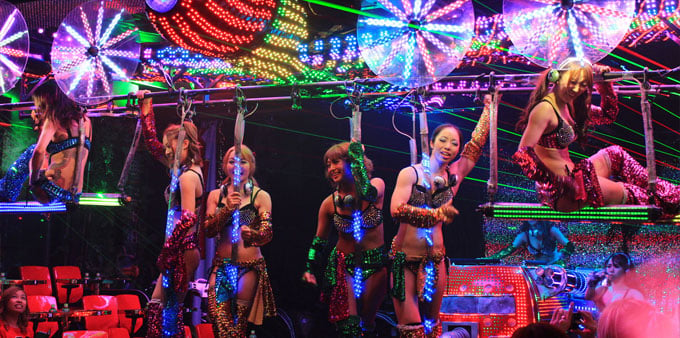 5.
The Lock Up

Yet another strange dining experience in Japan, this restaurant gives diners the experience of being locked up in a creepy prison. You enter through an ominous looking door down a dark stairway and when you reach the front desk you are handcuffed and taken to jail. You will eat your meal in a cell, with your drinks and food delivered by a prison guard.

At a point during your meal the show will start. The lights will dim, scary music will play and terrifying monsters will try to invade your cell. The wait staff, dressed in sexy cop outfits, will kill the monsters with fake guns in a spectacular showdown.
6.
The Safe House

Do you ever wonder where spies have their secret lunches? Probably at this quirky restaurant in Milwaukee, Wisconsin. A safe house is a seemingly innocent premises that is established by an intelligence organisation for conducting clandestine activities in secret. The Safe House is a spy-themed restaurant that has been around since 1966. You can find it behind the International Exports Ltd. On Front Street, but visitors are sworn not to reveal the location. You must know the password to enter and the restaurant is so well hidden that no one would be able to spot it if they didn't know where to look. One of the booths in the restaurant is even a secret entrance to the social club next door.
At this restaurant lunch is served on bamboo dining tables while the guests have their feet in a few inches of running water. A large waterfall cascades down right next to the dining area and when guests finish their meals they can even go for a swim. Dining with the cool water flowing over your feet and the soothing sound of the waterfall in the background is wonderfully relaxing.