The UK government has recently announced that it will be implementing a ban on selling single-use plastic items in October 2023. This ban will prohibit the sale of a range of single-use plastic items, including straws, cotton buds with stems, and stirrers.
The ban is part of the UK Internal Market Act, and it's aimed to eliminate all avoidable plastic waste and protect the environment.
What is a single-use plastics ban?
In 2023, the UK will take a significant step towards a greener future by ending the sale of single-use plastics/items. The ban will cover a range of single-use items commonly found in households main supermarkets and businesses nationwide. This includes straws, stirrers, and cotton buds with plastic stems.
The UK government's initial proposal to ban single-use plastic items in April 2020 was delayed due to the COVID-19 pandemic. https://www.gov.uk/government/news/far-reaching-ban-on-single-use-plastics-in-england
The ban was rescheduled to effect in October 2020 but was again delayed to allow businesses more time to adjust to the new regulations. The current expected date of implementation is 2023.
The existing carrier bag charge initiative has effectively reduced the consumption of one-time-use plastics. But, with more to be done, a new law has been implemented. There are plans for a deposit return scheme for food & drinks containers and consistent recycling collections in England.
What are the reasons for this ban, and why is plastic waste a problem?
The UK is deeply concerned about the planet's well-being and has taken a heartfelt stand against single-use plastic sales. Driven by the desire to reduce plastic waste and preserve the environment for future generations, this decision reflects the UK's commitment to a greener future.
Our world faces a plastic pollution crisis, with a staggering 8.3 billion tonnes produced since the 1950s. Much of this plastic finds its way into landfills or the beautiful yet fragile natural environment, where it lingers for centuries.
Plastic debris significantly affects wildlife and ecosystems, with waste in oceans causing damage to marine life and entering the food chain. Plastic litter significantly impacts wildlife and ecosystems, with waste in oceans causing harm to marine life and entering the food chain. As one of Europe's largest plastic producers, the UK has taken responsibility for the 2.26 million tonnes of plastic packaging waste generated in 2019 alone. By banning single-use items, the UK aims to spark change and inspire other nations to safeguard our precious Earth.
The ban on single-use plastic used in store sales, is part of a broader government strategy to tackle plastic pollution.
The government has also introduced a plastic packaging tax, which will be levied on plastic packaging that does not contain at least 30% recycled content from April 2022. The government has even committed to other measures to reduce plastic rubbish, including investing in recycling infrastructure and promoting reusable products.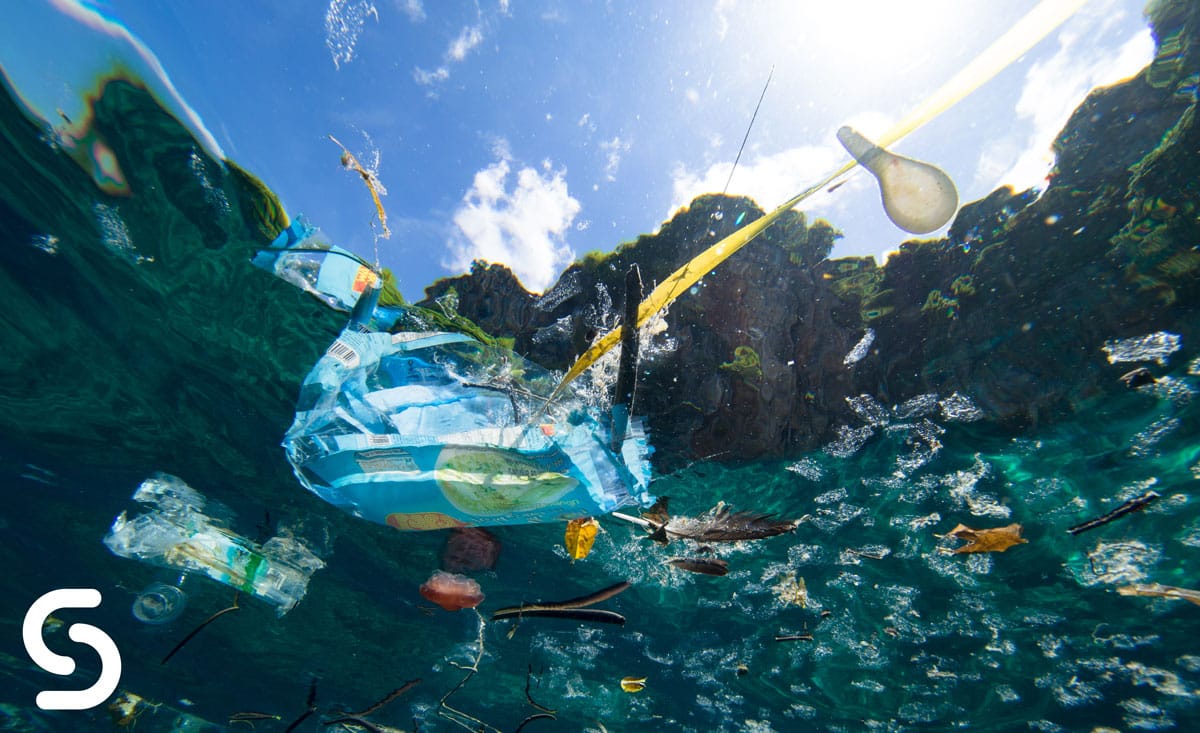 What does the single use plastics ban mean for the hospitality industry?
The ban on single-use plastics has significant implications for various businesses within the hospitality industry, including bars, restaurants, cafes, and event venues.
The need to invest in more sustainable alternatives, such as biodegradable or compostable packaging and alternatives to plastic cutlery, plates, and straws, applies to all these businesses.
The ban may require changing the menus and packaging options for bars, restaurants, and cafes. This could include using more eco-friendly materials for takeaway containers or switching to glass or metal straws instead of plastic ones. These changes can increase the business's operating costs, particularly for smaller establishments.
Event venues and food vendors may need to switch to more sustainable food and drink packaging and cutlery options. They may also need to ensure they dispose of any remaining single-use items appropriately to comply with regulations and laws.
Despite these challenges, the ban on single-use plastics also presents an opportunity for innovation and sustainability in the hospitality industry. Businesses can embrace this opportunity by adopting more sustainable practices, such as offering reusable cutlery and cups, using refill stations for water bottles, or encouraging customers to bring their reusable containers.
These changes can help reduce plastic waste, improve environmental sustainability, reduce the absolutely devastating impacts and appeal to customers who value sustainability that are looking for alternative materials.
What are the problematic single use plastics used in hospitality?
Taking the time to thoroughly assess your business operations and identify any items impacted by the ban on single-use plastics is crucial for maintaining compliance and demonstrating your commitment to sustainability.
Drink containers: Single-use plastic bottles, cups, and lids used for drinks will be barred.
Food containers: Single-use plastic containers for takeaway food, such as polystyrene boxes, will be banned.
Single-use cutlery: Plastic forks, spoons, and knives used once and discarded will be banned.
Single-use plastic straws: Plastic straws used once and discarded will be banned.
Single-use plastic plates: Plastic ones used once and discarded will be banned.
Polystyrene cups: Polystyrene cups used for takeaway hot drinks will be prohibited.
Plastic Balloon sticks: Plastic sticks used to hold balloons will be prohibited.
Expanded polystyrene cups: Expanded polystyrene cups used for takeaway drinks will be banned.
Single-use plastic bowls: Plastic bowls used once and discarded will be banned.
Cling film: Single-use clings film and single use packaging used to wrap food will be banned.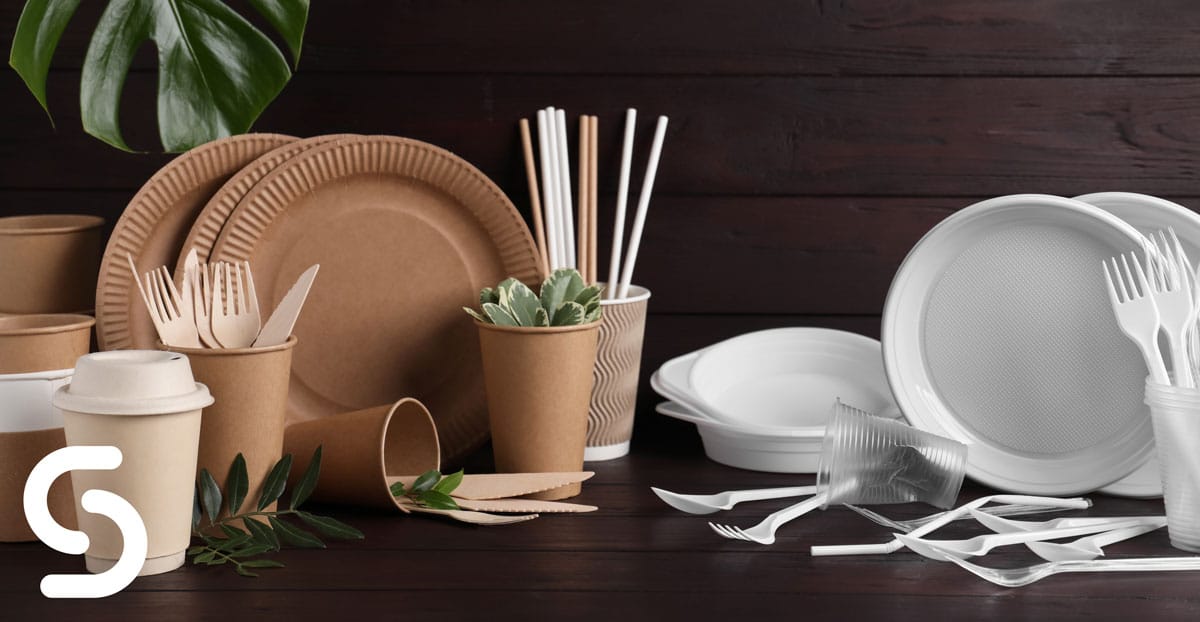 What are the alternative products the hospitality industry can use?
There are several alternatives to plastic that the hospitality sector in the UK can use.
Paper straws: Switching from plastic to paper straws is an easy and affordable way to reduce waste.
Glass or metal straws: Glass or metal straws are durable and reusable options that can be washed and used again.
Plant-based or compostable food containers: Biodegradable and compostable packaging made from materials like cornstarch, sugarcane, or bamboo can be an excellent alternative to single-use plastic packaging.
Refillable water bottles: Encouraging guests to bring their refillable water bottles and providing water stations can reduce the need for single-use plastics like water bottles.
Reusable cups: Providing reusable cups for guests to use and return can help reduce the waste generated from single-use cups.
Cloth napkins and tablecloths: Switching from paper to cloth napkins and tablecloths can reduce waste and create a more upscale dining experience.
Glass or ceramic dishware: Using glass or ceramic dishware instead of plastic plates and bowls can reduce plastic litter.
Wooden Spoons – Wooden cutlery is a biodegradable alternative to plastics that can be composted after use.
By making simple changes and adopting more sustainable practices, the hospitality sector in the UK can significantly reduce its impact on the environment and promote a more sustainable future.
What does this ban mean if you operate within the EU?
For UK businesses who want to operate within the EU following Brexit, the ban on single-use plastics presents an opportunity to align with European environmental standards and showcase their commitment to sustainability.
Are there any exemptions and exceptions from the ban?
The ban on single-use plastics will include some exemptions and exceptions. Specific medical and scientific uses of single-use items will be allowed under the ban, and accommodations for disabled people who rely on using plastic bags and straws to drink. But, the government has emphasised that these exemptions should be limited and only allowed where there are no viable alternatives.
The government has also stated that it will continue to review the ban and its impact and may make adjustments or exemptions as necessary. This is intended to ensure that the ban effectively reduces waste while minimising any negative impact on businesses or consumers.
Purchase eco-friendly alternatives from Smart Hospitality Supplies
The ban on single-use, hard-to-recycle items is just one of many measures necessary to tackle pollution. Governments, businesses, and consumers all have a role in reducing waste and promoting sustainable practices.
This transformative journey will include re-evaluating our investment in recycling infrastructure and fostering the creation of innovative, eco-friendly alternatives. If companies persist in using single-use plastics, bans are likely to and plastics bans will continue. So If businesses can successfully cut sales and find options, it can make a difference.
Fortunately, our website offers a vast selection of environmentally conscious alternatives.
Our inventory includes sustainable products.
Smart Hospitality Supplies is proud to be at the forefront of the sustainability movement, offering many eco-friendly alternatives to traditional, hard-to-recycle products such as single use plastic straws, single use plastic cutlery, single use plastic plates and drinks containers that contribute to plastic pollution. We understand the importance of making responsible choices to protect our environment and contribute to a greener future.
We are committed to reducing the devastating impacts that plastic pollution has on our planet in this increasing climate emergency by providing products such as compostable straws and reusable alternatives that can break down naturally, lessening the impact on our planet.
Our thoughtfully curated product line features items made from sustainable materials, such as bamboo and wooden cutlery, which are durable and biodegradable. We also provide biodegradable paper products, cups, and food containers that help reduce waste and minimise our environmental footprint.