A guide to choosing the right Indian Restaurant Menu Covers
Selecting the correct menu-covers to adorn the table in your Indian restaurant can present a unique set of challenges, with multiple considerations to make sure your Indian menu design and the final product are exactly what your Indian restaurant venue needs.
The British Indian Restaurant explosion…
Over the past few decades British Indian restaurants have exploded onto the UK food scene and become one of the UK's most popular cuisines, whether it's a family meal in a high quality city centre Indian restaurant, a quick sit down curry and a pint of Cobra lager after a boozy session with friends on a weekend or ordering an Indian take away to enjoy at home, the Indian restaurant scene is absolutely booming.
Spice mixes are tough on products…
The Indian restaurant environment can be tough on the furniture, fixtures and products, this is also true of the restaurant menu covers that you will find on the table! This is due to a multitude of factors, including heavy staining from a weekend of curry-stained punters fingers, flicking through the individual pages of your Indian menu on a busy Saturday night, to a higher rate of general wear and tear from lots of handling during a busy service in which the restaurant can turn the tables over several times in a single evening.
Indians are now open for longer…
Many busy Indian venues, located in city centres, now also compete for a lunchtime trade and therefore are open much earlier in the day, this means that the interior fixtures and fittings, including the menus, menu covers and take away menus are subjected to far more usage than a traditional restaurant or bar, that usually open in the evening for a single service.
Menu Cover Considerations for Indian Restaurants…
When you are considering spending money on buying a variety of quality products for your Indian Restaurant it is worth considering a number of practical points, above and beyond the aesthetic to display your food, drink and specials. Purely focusing on how your Indian menu looks may result in your ordering a product that is not suited to the busy and more challenging environment. This type of lighter-use menu maybe more suited to a pub or more at home in bars across the country.
It is important that your restaurant menus stand the test of time and look their best for your customers for many months to come. A printed menu is not a practical solution for an Indian restaurant, you will be continually throwing them in the bin!
Think about the quality of the menu cover material…
As they say, 'the devil is in the details' and choosing a quality material is just the start. The Indian restaurant environment can often be busy with high footfall over busy weekdays and weekends. The turnover in a busy Indian restaurant can be higher meaning that your menu holders will be handled by a lot more people and as such you may want to consider a more hard-wearing sort of material for these items.
Leather menu covers could be a good option…
A lot of the simulated leather, bonded leather, real leather, wood and plastic menu products are best suited to the Indian restaurant environment to display your dishes and your wine lists. These materials tend to be harder wearing and much more robust in demanding venues. These type of material also tends to age well and look better when used and handled frequently, this is particularly true of Indian menus manufactured from wood, leather and bonded leather materials.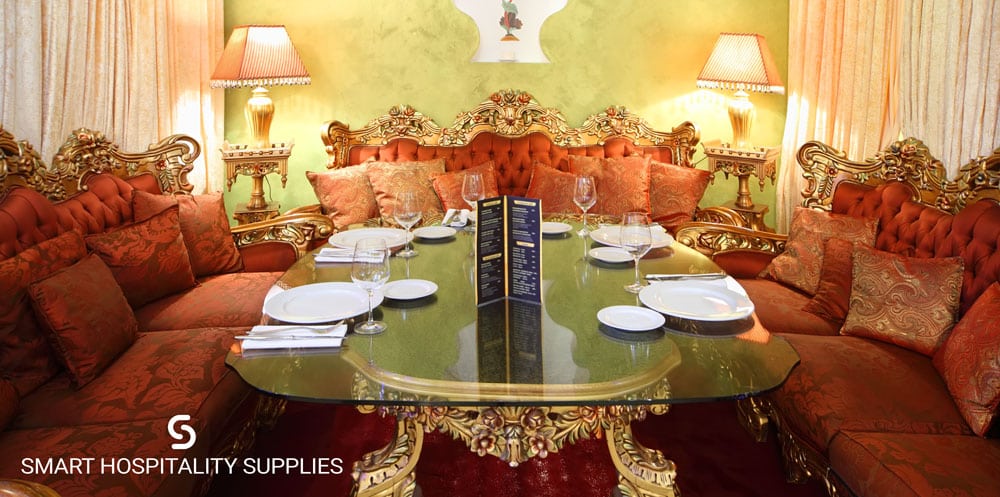 Some menu materials and fabrics just wont work…
Menus that are soft to the touch or mainly paper based are not very well suited and may start to tire and look worn before their time. Selecting the material for your Indian menu design is a somewhat a process of logic, our staff we have over 20 years of experience in supplying menu covers into Indian venues all over the UK, if you are unsure then just ask, we know what works!
What about menu cover colour?
When you peruse the menu in an Indian Restaurant the vast majority of curries and dishes are loaded with spices such as turmeric, saffron, tamarin, paprika and a whole host of other ingredients that stain clothes, table cloths and your menu covers!
Tandoori Masala and menus don't mix!
Many of the spice blends and ingredients used in Indian cuisine can prove to be problematic for textiles and paper products, so choosing the right materials is extremely important.
Don't use chemicals to clean Indian menu covers!
Unlike your tableware and linen your menu covers cannot be scrubbed in hot water and you cannot use detergents and chemicals to remove stains, so most Indians tend to select darker menu cover materials that do not tend show finger prints and stains.
Artwork for Indian menu design…
A lot of Indian menu designs incorporate heavy foil blocked areas with gold and silver logos being the most popular type fo personalisation. Often these logos are quite intricate and can contain many thin lines and small elements which add to the complexity of personalising.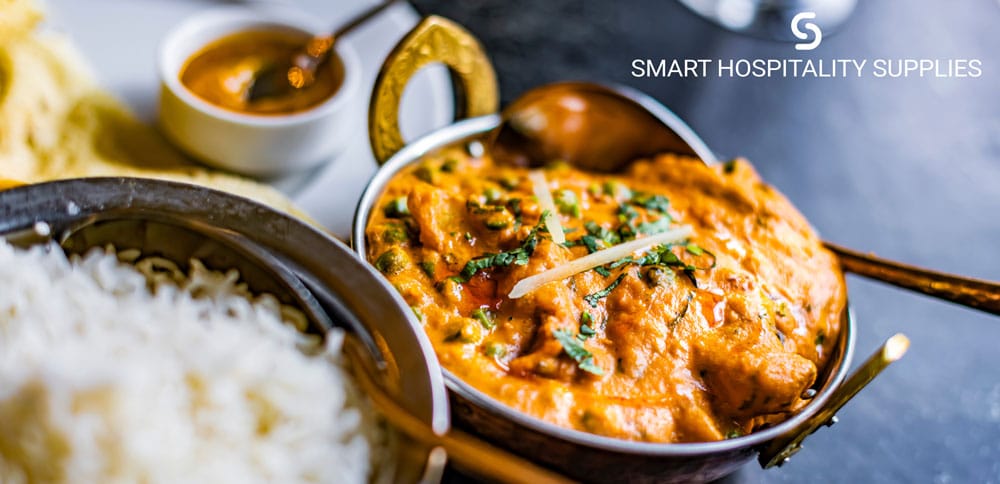 We are Indian menu design experts…
Much like the rationale behind selecting a material, in a busy environment with lots of handling, similar to busy pubs, artwork can show signs of wear and tear if not chosen with consideration, we can help you to ensure that your menu personalisation lasts a long time down the line, as well as match the aesthetic of the venue.
One of the personalisation services in Indian menu design is embossing, or debossing, your artwork design into the menu cover, this technique is proven to stand the test of time in the most demanding of Indian restaurant environments, we are on hand to review your artwork and offer advice.
Select your menu cover fixing wisely…
When it comes to selecting which fixing, or display method is the best suited to show your information, it is best to keep it simple. In an Indian restaurant environment, we typically design and manufacture menu products with plastic pockets, providing a cheaper menu cover product, easy to keep clean, strong and durable and they allow you to update your Indian menu design quickly and easily. The sizes of your printed menu is another key thing to consider.
Menu cover price updates…
If your Indian menu is likely to need regular price updates then plastic pockets is another great way to ensure that you can change single or multiple pages in a fast and cost-effective way compared to other menu cover fixing options.
Protect your Indian menu cards too…
Another huge benefit of plastic pockets in your Indian menu design is that they are available in a range of sizes to protect the printed paper pages. If you simply insert paper into your menu covers, with no protection, you will be changing them every couple of days as you will have tandoori chicken fingerprints throughout!

Indian menu covers to hold plastic pockets…
One of the most popular best sellers in Indian menu deign is to purchase a menu cover that contains plastic pockets, these are great and available in various sizes, in which you insert your printed material, this offers optimal performance. The plastic pockets are manufactured from a thick and durable PVC that can be wiped clean with a damp cloth.
Simply re-print or replace…
One of the great benefits is that if anything does get inside of the restaurant menu cover pocket and onto the printed paper, you can simply reprint a single page and replace it. If the PVC pocket itself gets damaged, then dependent upon which fixing method you have chosen, you may be able to simply replace the plastic pocket in entirety.
What is the best size for an Indian Restaurant menu?
With the popularity of quality Indian cuisine exploding over the past few decades in the UK, the vast array of Indian dishes available for hungry customers is truly mouth-watering!
The reality is that you are going to need a larger format Indian menu cover to promote your food and drink offering with a fixing method that can hold a large number of pages.
Think about printing your Indian menu…
We find the most common size of menu covers that we supply are standard A4 which can contain starters, main courses, rice dishes, side dishes, naan breads and extras, plus a smaller size, typically half A4 or A5 to use as a drinks and dessert list. It is possible to manufacture your Indian menus in alternative and bespoke sizes, but we find it is not always practical from a business perspective.
Do you need help with your Indian Menu Design?
Save yourself some time! If you need inspiration with design for Indian restaurant, or an Indian takeaway menu design, we have an in house menu design department that can help you every step of the way.
Our experienced design team have worked with countless Indian restaurant clients to assist with their Indian menu design and we understand what it takes to format all of the dishes and pricing options in a way that is easy to read for customer.
Creating an Indian menu template…
When creating a quality Indian menu template it is important to have all of the dishes and pricing in a simple format, such as a word document, from which you can start to layout the menu in a logical order that your restaurant customers will understand, good Indian menu design can actually increase the price per order as you can cross sell and upsell side dishes, naan breads, sundries and other items that the customer may not have ordered otherwise.
Why you should buy your Indian menu covers from Smart Hospitality Supplies…
We have been working with all types of venues from all over the UK for the past 20 years from local Italian restaurants to UK wide Indian restaurants. Our Indian restaurant and bar clients range from rural Indian take-aways in smaller towns and some of the great cities through the UK, to the busiest Indians places in award winning curry capitals such as Bradford, Bolton and the Curry mile in Birmingham.
Menu cover services…
We have extensive experience in the supply and design for some of the finest Indian restaurants in London and the UK. Take a look and search through our product images for inspiration to create your very own personalised Indian menu covers and contact us to discuss your requirement and place an order. Click to email us now.