No matter how great your food and service are, if your restaurant is not properly laid out, you will struggle to keep up with customer demand. To ensure maximum efficiency in your restaurant, strategically placing table numbers is vital.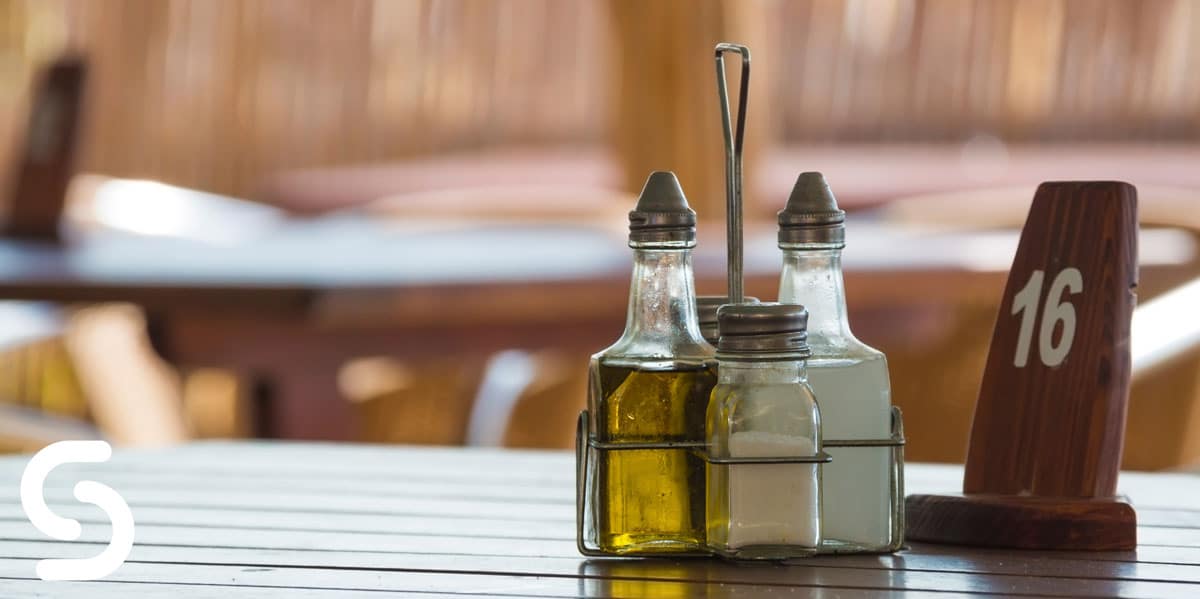 Table numbers are an essential part of the dining experience in your venue . They help guests quickly locate their table, allow servers and other staff to manage seating and service efficiently and even help reduce customer confusion
The goal is to create an organised system that enhances the dining experience. Effective table numbering also enables staff to manage table turnover and efficiently track guest orders and payments. A well-designed table numbering system helps improve a restaurant's overall flow and functionality.
So whether you're a new restaurant owner or a veteran restaurateur, make sure you understand the importance of strategically placing table numbers in your restaurant for maximum efficiency.
Best table numbers for restaurants:
Order at the bar QR table numbers
These "Order at the Bar" QR table numbers are popular choice for restaurants with bars.
The bold and eye-catching design allows customers to quickly find their table and order at the bar. The QR design adds a touch of style and personality to any bar setting, making it a standout feature for customers.
Emerald Monumental Table Numbers
The Emerald Monumental Table Number is a stately and sophisticated addition to any table setting. Made from premium materials, this table number features a striking emerald green colour and a bold, clear numbering display, making it easy to identify tables and seats. Ideal for use in formal events, restaurants, hotels, or high-end wedding venues.
White Table Sign range-numbers
White Table Sign Range-Numbers are a simple and effective way to manage and organise seating arrangements in many restaurants and These signs come in a classic white colour and feature clear and easy-to-read numbers, allowing for quick and hassle-free identification of tables. They are made of durable material, making them long-lasting and resistant to wear and tear.
Emerald Reserved Table Sign
The Emerald Reserved Table Sign is a stylish and functional accessory for events and functions. Made of durable materials, it features a sleek emerald green colour and bold lettering, making it easy to reserve tables for special guests. Ideal for use in wedding receptions, conferences, banquets, and other formal gatherings.
Plastic table numbers insert (Olympia)
These plastic table number inserts are the perfect solution for any event or restaurant looking for an affordable and durable option. The Olympia design features a classic look that will complement any décor style. Made from high-quality plastic, these table number inserts are durable and long-lasting, making them a cost-effective option for any restaurant.
Black Acrylic Table Sign Range – Numbers
Black Table Sign Range-Numbers are a sleek and modern way to manage seating arrangements in restaurants and cafes. These signs feature a bold black colour and clear numbering, making it easy for guests to identify their tables. The black restaurant tabletop product ranges is made of durable material, and the table signs are long-lasting and able to withstand the demands of a busy food-serving establishment. – View here for more on Acrylic Table Numbers
Disc table number- metal effect
This disc table number is perfect for any event or restaurant setting. With a stylish metal effect, it adds a touch of elegance and sophistication to any table setting. The disc design is simple yet eye-catching, making it easy to identify table numbers while adding to the overall décor.
Olympia Acacia table number signs numbers.
The Olympia Acacia, Table Number Signs are perfect for any event. These stylish signs feature a beautiful acacia wood finish with black engraving. The signs have a unique number on each one to easily identify which table it belongs to. They are lightweight and easy to use, making them a great addition to any event.
Why you should buy your restaurant table numbers from Smart Hospitality supplies
1. We are the best:
We have been in the business for over 19 years and know what it takes to prepare your tables for your restaurants. Our table top product ranges from reserved signs, table numbers, menu boards and more. They are made with the highest-quality artistry and materials, such as brushed steel, stainless steel, plastic, acrylic and more.
2. You can trust us:
You can trust us to deliver a quality product and pack quantity that meets your needs, no matter how specific. We will work with you to ensure you get exactly what you need.
If you require assistance, speak with any team member and be assured you'd get feedback.
3. We offer competitive prices:
We want to give you great value for your money, so we offer competitive pricing on all our products. Whether you need table numbers for 100 tables or more, we will work with you to give you the best. Our table numbers are available in full number ranges, so you can order packs to increase the number of actual tables in your restaurant.