At Smart, we don't just pride ourselves in supplying great quality products to hotels, cafes and restaurants – we also supply television sets!

Used as props for television and film, we have worked closely with production houses over the past ten years to manufacture effective Menu Covers, Guest Room Folders and more to fit perfectly with any genre. With an ever growing portfolio of television clients, we have worked professionally with The One Show, Tigress Productions, Pinewood Studios, BBC Scotland, The BBC Choir Project, Dinner Date and more!
Working with the notorious Lime Pictures, we designed and manufactured a set of Menu Covers perfect for their Hollyoaks requirements. Airing tonight, Tony Hutchinson is set to open his newly refurbished restaurant: The Hutch. Following a series of misfortunes, Digital Spy suggests that Tony and his wife, Diane, seemingly quieten nemesis Marnie Nightingale and gain control of their restaurant once more.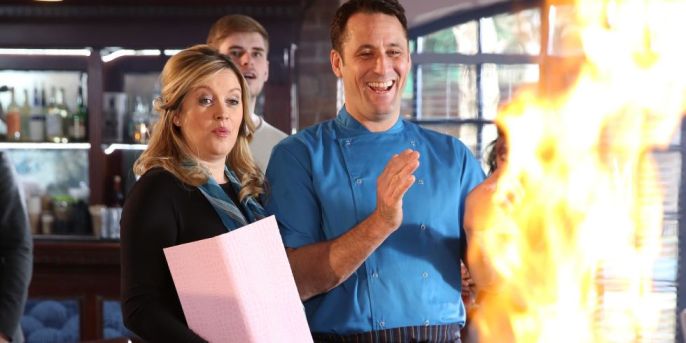 © Lime Pictures
Shown enjoying a Japanese themed evening at The Hutch, you can catch a glimpse of their beautiful baby pink Croco Menu Covers. The colour perfectly matches the pink and blue decor of the venue, with a subtle glimpse of exotic crocodile print to funk it up a bit!
© Lime Pictures
If you too want to add a tropical touch to your restaurant, why not talk to one of our friendly hospitality team today?