Here at the Smart Marketing Group we offer Mobile Responsive Web Design services so that you can create a beautiful, functional and streamlined website to promote your business. Whether you are a hotel, a tour operator, a venue or any other hospitality and leisure business – we can put together the ideal website for your needs.
We have 10 years of digital experience into creating beautiful and stunning websites and we will invest our experience into making sure that your business is well presented online. For a great example of what we can do for your company, take a look at a website that we recently designed for the tour company Aventura Safaris. We designed this website for the tour company, based in Tanzania, in order to showcase the tour experiences they had to offer and make it easy for customers to choose their safari package online.
A Well Designed Mobile Responsive Website
The website that we have crafted for Aventura Safaris is clean and simple, with a design that is straightforward and easy to navigate. This makes it easy for any visitor to find the information that they are looking for when planning their safari trip.
The website is also fully mobile responsive, which means that it has a unique design when viewed on mobile that is different than the desktop design. This makes it possible for guests to book their getaway while they are on their smart phones or tablets. More people are starting to use their mobile devices to research and book their holidays, so by having a website like this Aventura Safaris can take advantage of the growing popularity of mobile.
Aventura Safaris website is also up to date with all of the upcoming Google changes. It is difficult to keep up with the algorithms of Google and in order to make the most of SEO it is crucial to be on top of every change. We understand the importance of this, so we take the time to research Google changes and understand how they affect design. We use this information to create hospitality and tourism websites that will have the best possible SEO potential.
We offer all of these features and services for each of our clients, so if you are looking for a high quality website design for your hospitality business please feel free to contact us. We offer Restaurant Web Design, Hotel Web Design, Specialist Web Design and Hospitality SEO & Marketing Services. If you have any questions about what we have to offer, just ask.
Adventure Experiences in Tanzania
The website that we have designed features many high resolution images that showcase beautiful views of the Tanzania landscape and the wild animals that can be seen on the safaris. Aventura Safaris offers high quality bespoke tour experiences that allow guests to experience and appreciate the wild beauty of this country.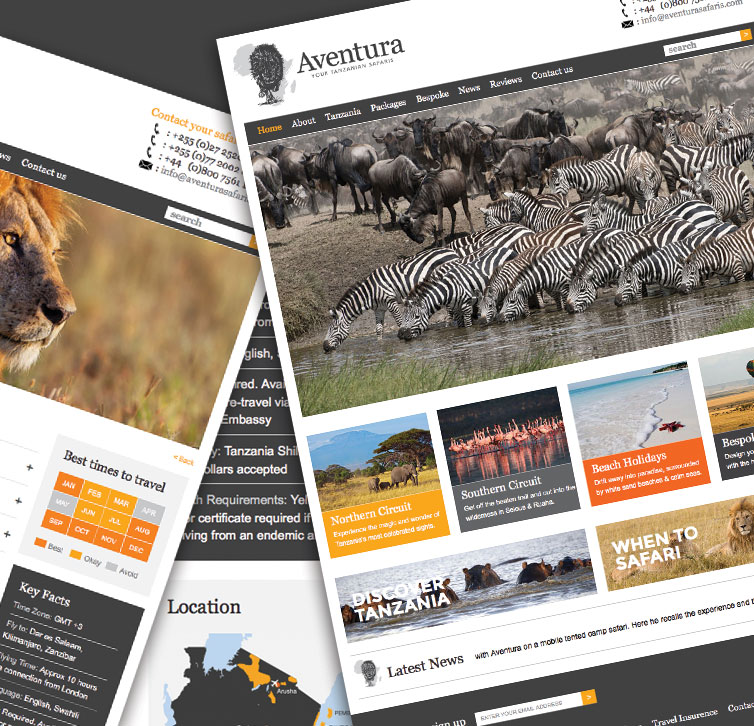 There are a number of safaris to choose from that represent the fascinating experiences that this country has to offer. The tours include adventures in the Kilimanjaro, the Northern Circuit, the Southern Circuit and beach holidays. The experiences take place in the Ngorongoro Conservation Area and Serengeti National Park, where guests can see millions of wildebeests migrating across the plains. This area is superb for overland safaris and offers amazing opportunities to see animals in the wild. The beach tour packages include some of the wonderful tropical beaches that are within a short flight away on the islands of Penba, Mafia and Zanzibar. Aventura Safaris even offers the option to design your own bespoke African holiday, combining together the aspects of the other tours as well as other experiences.
The company is run by Tanzanians and they know the area very well. They are very passionate about showing off their home to their guests and ensuring that all visitors have an excellent experience on their safari tours of the African wilderness. They strive to have each of their guests fall in love with Tanzania.
We are proud to work with a company like Aventura, who put so much effort and thought into pleasing their guests. The website that we created for them showcases the high quality travel experiences in Tanzania that they have to offer. To find out more about how we can design a website for your business, please feel free to Contact Us at any time.