We are proud to announce that Rocco Forte Hotels has chosen to use our guest room folders for their luxury hotel properties. They have chosen the Pellaq menu boards, which are one of our most stylish and elegant products. These guest room folders will be used in the hotel rooms and the Rocco Forte group have ordered a number of folders in bright, modern and funky colours.
It is an honour to know that these guest room folders have been used in such a prestigious hotel chain group. The list of high end luxury hotels in the Rocco Forte group includes the Balmoral in Edinburgh, the Hotel Astoria in St. Petersburg, the Charles Hotel in Munich and the Hotel Savoy in Florence. The company is also scouting locations in Paris, Barcelona, Madrid, Amsterdam, Moscow, Milan and New York City for their future hotel openings.
Working with Rocco Forte is a privilege. It is one of the best collections of luxury hotels in the world and what these properties have in common is the way that they stand out above the rest in terms of service, design, facilities and quality of experience.
Colourful Pellaq menu boards for Rocco Forte Hotels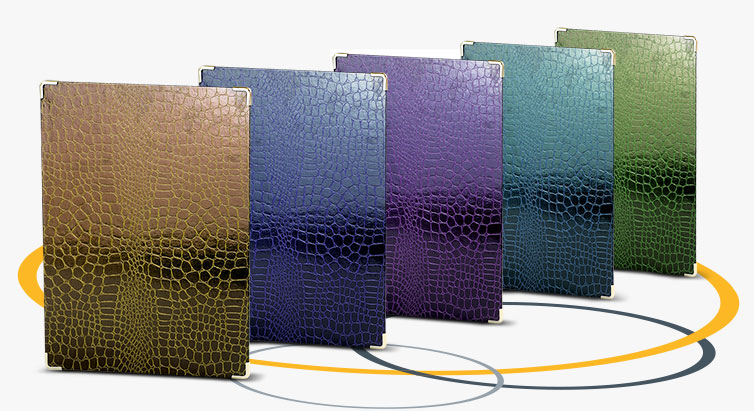 The beautiful Smart Hospitality folders that have been chosen for use in these hotels have been selected for their superb quality and elegant design – so they will fit right in at any Rocco Forte hotel. They offer two options: A Frame Style Menu Board with an acetate front sheet to keep the menu clean, or a corner style menu board with four open corners and no acetate or blocking involved. These menu boards offer Skivertex leather for the ultimate in luxury and they are fresh, fun and funky. They have the look of reptile skin and come in four different textures.
It's the little details that really make the difference between a luxury hotel and an ordinary one. Small factors like Egyptian cotton sheets, high end organic soaps in the bathroom and superfast Wi-Fi really make a room more enjoyable and comfortable for guests. Also, the décor of the room makes a big impact. The guest room folders could be in just your ordinary average folder, but in a high end hotel even this small object is an opportunity to make a style statement.
If you are looking for a hassle free and stylish way to present your room service menu, which Hotel Room Accessories to use, or to display your menu at your restaurant, these menu boards are a great option. For more information, check out the Smart Hospitality Website or call us on 0845 226 02 66.
About the Rocco Forte Group
The founder of the Rocco Forte Group of hotels has an impressive pedigree. The son of the late Lord Forte, Sir Rocco Forte was born in Bournemouth and was educated at St. Peter's Catholic Comprehensive School and at Pembroke College in Oxford. He qualified as a Chartered Accountant in 1969 and worked in accounting for many years, until taking over from his father as the CEO of the Forte Group in 1992.

Forte created his own chain of hotels in 1996, known as the Rocco Forte Collection. This collection of high end luxury hotels includes eleven properties in the Middle East, Northern Africa, Russia and Europe. Sir Rocco Forte was knighted in the year 1994 for his numerous contributions to the UK tourism industry.
Alex Polizzi – Hotel Inspector
The niece of Sir Forte is Alex Polizzi, who is an English-Italian hotelier. She is also the host of The Hotel Inspector, a British television series featured on Channel 5. The show features Polizzi visiting a struggling British hotel in an attempt to help it recover. She offers her expertise and suggestions to the owner so that the hotel can be improved.

The series started in September of 2005 and became an instant hit, attracting 2.5 million viewers and prompting Channel 5 to commission another series. Alex Polizzi took over in the role of presenter from Ruth Watson during the fourth series. She has continued to present the show since and the 10th series began airing in February 2014.
If Alex were to inspect any of the Rocco Forte group hotels that have ordered our Smart Hospitality menu cover products, we think she would find that they meet a very high standard. We also think she would appreciate the luxurious special touches that make the rooms so much more stylish and elegant, such as the beautiful guest room folders!