When it comes to cooking, the right tools make all the difference. Among those essential tools, aprons often get overlooked. But with the rise of stylish pattern chef aprons, they are fast becoming a style statement in their own right. Whether it's the classic bib apron or more innovative designs, patterns are stealing the spotlight. Let's dive into the world of fashionable apron patterns.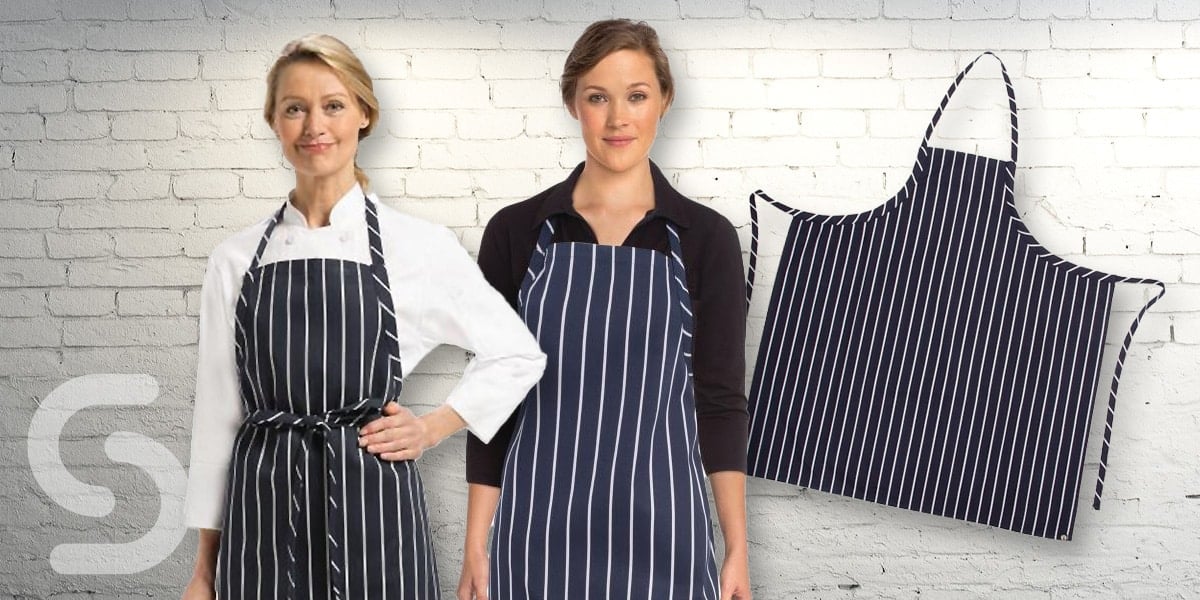 History of patterned chef aprons
The aprons from the 1920s reflected the fashion trends of that era, characterised by their loose and lengthy designs. Frequently fastened with buttons and embellished with intricate needlework, a wide variety of apron styles flourished during this period. Consequently, stores started offering patterns and kits for crafting and decorating aprons in the comfort of one's home, and that's how it all started.
Classic checks and stripes on Bib Aprons
The classic bib apron often comes in timeless patterns like checks and stripes. These patterns add a stylish touch and help mask any cooking splatters or spills. The bib apron typically features an adjustable neck strap and waist ties, and when made from cotton canvas, they're durable yet comfortable.
Polka Dots for a fun twist
Who says aprons have to be bland? A polka-dotted bib-style apron is fun and functional, adding a cheerful vibe to your kitchen routine. Whether you're a restaurant cook or simply cooking for fun, this pattern will surely make you smile.
Pinafore Aprons: Floral elegance and paisley patterns
These aprons often opt for feminine and whimsical patterns like florals and paisleys. Made from lightweight cotton or rough linen, these aprons drape beautifully and add a touch of romance to your cooking experience.
Denim Aprons: Not just a solid colour
Denim aprons are usually associated with a plain, rugged look, but they're now available in various patterns. Think faded lines or subtle polka dots for a chic twist to the rugged denim style. With handy waist ties and roomy hip pockets, they're as functional as they are fashionable.
Cross Back Aprons: From plaid to abstract
This kitchen apron prioritises ergonomic comfort and boasts a remarkable sense of style. It's not just about functionality; it's also a fashion statement. The apron comes in diverse designs, including classic plaids, abstract patterns that add a touch of contemporary flair, and even artistic prints reminiscent of watercolours. These designs are skillfully integrated into the fabric, typically made from rugged linen or durable cotton canvas.
Whether you prefer a timeless and traditional look with plaids or want to express your artistic side with watercolour-inspired prints, these aprons cater to various tastes and preferences.
Price and where to buy
Patterned aprons range in price depending on the material and the complexity of the design. Our website at Smart is a great place to browse for unique, chic options. For budget-conscious people, cotton aprons with simpler patterns offer style and affordability.
Aprons are now stylish kitchen accessories reflecting the Chef's personality.
With the range of patterns available today, from the classics like stripes and checks to the unique and artistic, there's a reason your apron shouldn't be as chic as any other item in your wardrobe. Selecting the suitable apron is hard, but whether you're into classic styles or looking for something more contemporary, there's something out there for you.
If you are looking for long-lasting chef aprons, then look at our blog on durability within aprons.