The next time you get dressed up and go out for a classy night on the town, keep an eye out for a sexy collection of Smart Hospitality Menu Covers. When you are sipping your martini at one of London's hottest clubs, you just might have one of our products in your hand.
Our Menu Covers have been chosen and used at a number of nightclubs in the Ignite Group, with the most recent orders including Boujis and Eclipse Bar. The global Ignite Group, owned by Chief Executive Matt Hermer, includes the Eclipse cocktail bars, the popular family friendly Bumpkin restaurants and the Boujis nightclub. In 2012 Boujis Hong Kong opened and the third Boujis opened in Barcelona. The Ignite Group specialises in creating iconic club environments that are the ultimate places to party.
Here at Smart Hospitality we are proud to announce that our menus will be part of the image and décor of these nightclubs – establishments that have become iconic landmarks in the London nightlife scene.
Only the Best Menu Covers for the Ultimate Club Setting
When you are designing a high end nightclub, you want to choose only the very best. People pay attention to details in such an establishment – which is why it is important to make sure that every element of the design is as beautiful and sophisticated as possible. Everything in a luxury nightclub, from the menus to the seats to the carpets and the design of the bathrooms is carefully chosen to create an atmosphere of opulence and richness.
The London Buckram Menu Covers have been chosen for these nightclubs thanks to the sleek simplicity of their design and the superb quality of their materials. They are generally black with a funky bronze logo, creating a stylish and sophisticated look. They are one of the latest editions to the Smart Menu Cover range and they are covered in luxury Buckram material. This coating is made with 100% cotton and has an acrylic coating, which makes it water and abrasion resistant – which is very important when being used in a nightclub setting. The surface has excellent foil blocking properties, which means that any logo or artwork will look exceptionally stunning.
The elegance and timelessness of these menus is the perfect match for the sophisticated style of these high end nightclubs – they will add to the overall elegance of the décor.
If you are looking for a sleek and sophisticated Menu Holder, you might want to consider following in the footsteps of these popular nightclub brands. When you choose one of our elegant luxury menu holders, you will be adding a touch of style to your establishment.
Boujis – London's Hottest Luxury Boutique Club
In 2012 Boujis celebrated a decade as one of the hippest clubs for London's aristocracy, VIPs and elite. Since it opened in South Kensington in 2002 it has set new standards for luxury and style – providing an unforgettable night out and hosting some of the most influential people in the world.
It has won numerous awards and the club has a reputation for top-class DJs, excellent cocktails and discretion – which keeps its famous clientele coming back for more. Boujis also hosts many glamorous events every year, taking over a number of venues such as London, Verbier and Monaco. Boujis is the place to see and be seen!
Eclipse Nightclub – Hot Atmosphere and Cool Drinks
Eclipse is a world class cocktail bar that offers creative and artistic drinks for a hip cosmopolitan market. London's hippest club-goers have a thirst for these trendy drinks made with premium spirits, fresh fruit and champagne. The famous Watermelon Martini is still a very popular option nearly 15 years later.
There are three locations of Eclipse, in Chelsea, South Kensington and Barcelona – the Barcelona club is located on the 26th floor of the W Hotel Barcelona with incredible panoramic views of the sea. As well as its artful mixology, this club is known for its cutting edge music. There is often live music and top class DJs provide a blend of house, funk, electro and R&B. All of the Eclipse bars attract VIPs from the worlds of media, entertainment, film and fashion who enjoy the great music and excellent cocktails in a hip and luxurious setting.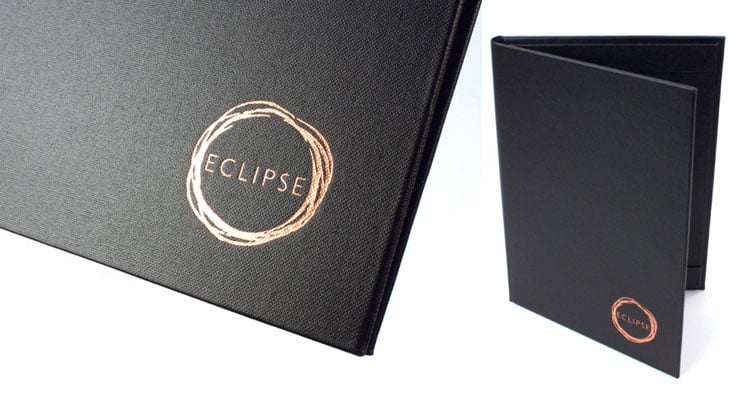 Smart Hospitality is excited to be a part of the Boujis and Eclipse nightlife experience – many top London celebrities and elite will be holding these menus while ordering their cocktails on a glamourous night out!