RAF Lossiemouth is a Royal Air Force base in Scotland. Here at Smart Hospitality we are proud to announce that our menu covers will be used in the Officer's Mess at this highly respected air force base.
These padded PVC menu covers were chosen because they offer a very hard wearing, durable and attractive design for an affordable price. Our range of Padded PVC Menu Covers are made from welded PVC and they show two menu sides. It is also possible to order additional pockets within the menu folder, so that up to 14 sides in total can be shown.
These menu covers are affordable, yet they offer great value since they are still very high quality. The reason we can offer such a great price on these products is because we can create them in bulk and save money on the materials. The air force base at Lossiemouth has ordered a large amount of these menu covers, so that they can be used for the menus at the Officer's mess. These menu covers are professional looking, attractive and timeless, so they are the ideal choice for an officer's mess – a dining environment that is steeped in military formality, tradition and honour.

If you are looking for high quality, affordable menu covers for your café, restaurant or pub, these Padded PVC Menu Covers would be a great option. To find out more about them, as well as our other products, visit the Smart Hospitality website or contact us.
RAF Lossiemouth – An Important Air Force Base
RAF Lossiemouth is a Royal Air Force stations that is located just west of Lossiemouth, a town in Moray, Scotland. This air force base is among the largest bases of the RAF and the main base in the UK for Tornado GR4s. In the summer of 2014, RAF Leuchars closed and the Northern Quick Reaction Alert relocated to Lossiemouth – making Lossiemouth the only operation base for the RAF in Scotland.
The surrounding town of Lossiemouth is a popular holiday resort in Scotland, with beautiful sandy beaches alongside the town. It offers excellent opportunities for angling and sailing, as well as having a championship golf course. Inverness is only 43 miles to the west and Aberdeen is 70 miles east – these are the closest cities with cultural elements, large shopping facilities and road and rail links. There are some shops in Lossiemouth, enough to cover basic requirements.
The base itself was built between 1938 and 1939 and the first aircraft to use it were Harvards and Oxfords. Also, due to the good weather and the location many other types of aircraft were often rerouted to the station. It is possible to see the Tornados flying from and to RAF Lossiemouth easily from Lossiemouth Town.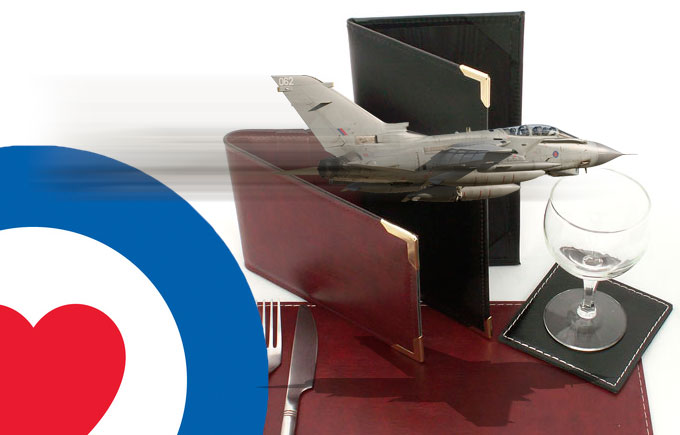 Facilities at RAF Lossiemouth
There is a great range of facilities on the base at RAF Lossiemouth, including St. Aidan's Church and Community Centre and Soul Food Café. The personnel at the base and their families are well provided for and the support team provides information, guidance and support to the service community. On the base there is also a Spar Shop, Costa Coffee Shop, hairdresser, tailor, childcare centre, officer's mess and other important facilities. The HiVE is a source of information about RAF support and housing, education and health facilities. It is staffed by information officers and it serves as a focal point for the service community.
Off base there are the Cilfton Heights Welfare Facilities, a number of flats that provide accommodation for service personnel of all ranks who are stationed at Lossiemouth. These apartments can be used for visiting family and friends.
Our menu covers will be used within the Officer's Mess at the air force base. The Officer's Mess is an important part of the base, as it is where all of the meals for the air force Officer's take place. The term "mess" comes from the Old French "mes" which refers to a portion of food. There are usually three messes, the Officer's Mess which is for officer cadets and commissioned officers, the Warrant Officer's and Sergeant's Mess and the Junior Mess for all privates. Home to several hundred service women and men, the three messes within the RAF Lossiemouth provide meal services as well as sleeping and off-duty facilities.

Here at Smart Hospitality we are honoured that our menu cover products were chosen to be used within the Officer's mess at this RAF base.