Working in a kitchen environment requires more than culinary skills and multitasking abilities. It also demands a great pair of chef shoes that offer comfort, safety, and breathability. Yes, we said breathability because keeping your feet cool becomes a priority when you're on your feet all day in a high-intensity work environment. In this blog, we dive into the importance of breathable chef shoes and explore options that offer that much-needed breathability without compromising safety and comfort.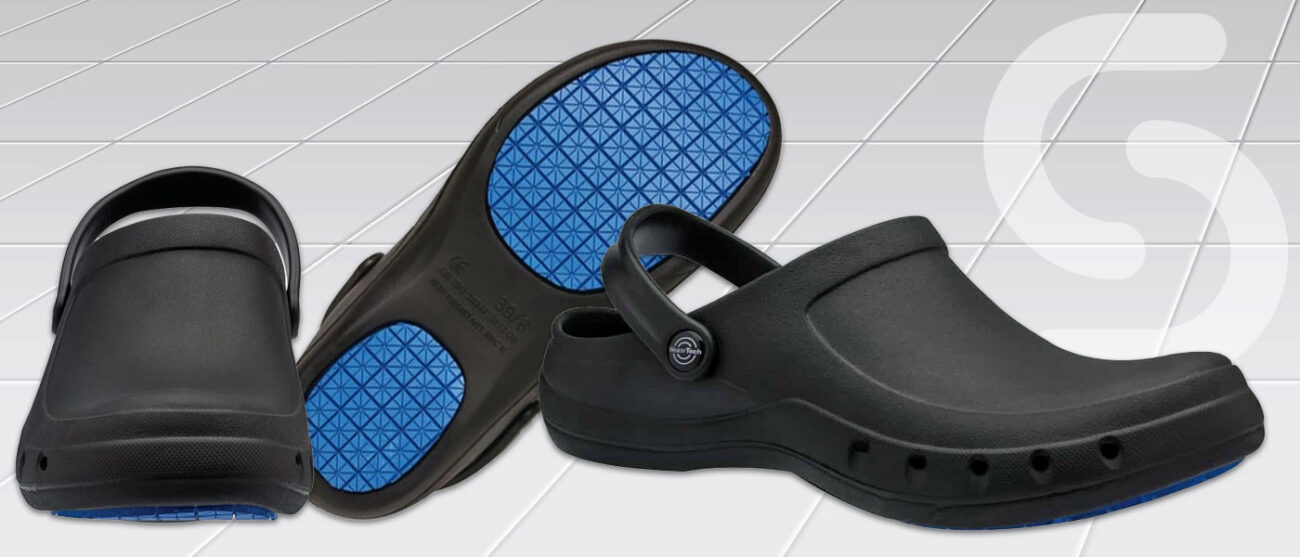 The importance of breathability in Chef Shoes
Air permeability is a significant factor when selecting the right pair of chef shoes. Due to body heat and moisture generated during long work hours, your shoes' temperature and humidity levels can be significantly higher than outside. This creates a differential Pressure, pushing heat and moisture out of your shoes if they are made of breathable materials. The material's breathability will thus help keep the heat and humidity at a minimum, providing a more comfortable experience for your feet.
Mechanisms of breathability
Physical (Microporous Coating): Hydrophobic materials, although waterproof, allow moisture vapour to pass through their micropores. These pores are too tiny for liquid water but are adequate for vapour molecules, making the material breathable.
Chemical (Hydrophilic Coating): In hydrophilic materials, moisture is moved through chemical diffusion. Weak ionic bonds attract the water molecules through the material, eventually passing through and thus allowing breathability.
Popular choices for breathable Chef footwear
Shoes for Crews
This brand offers a line of kitchen shoes with breathable, water-resistant materials. Their mighty grip makes them ideal for slippery floors and greasy surfaces in commercial kitchens.
Birkenstock Chef Shoes
Known for arch support and a padded instep, these slip-on shoes are great if you have flat feet. The brand uses breathable materials and offers styles with enclosed toes for extra protection.
Crocs with Crocs Lock
These shoes offer a heel strap and Crocs Lock technology for slip resistance. They are easy to clean and are made from breathable, high-quality materials that make them highly comfortable.
Leather Shoes with breathable linings
These chef's shoes are often preferred for their durability and style. When paired with breathable linings, they make an excellent choice for chefs who prioritise appearance and comfort.
Additional features to look for breathable shoes
Anti Slip Sole & Slip Resistant Soles: The importance of slip resistance cannot be overstated. It's critical to have an anti-slip sole to prevent serious injury in a busy kitchen.
Memory Foam & Removable Footbed: A memory foam insole or a removable footbed offers extra comfort and allows you to customise your arch support.
Enclosed Design: While breathability is crucial, an enclosed toe design offers extra protection against spills and hot liquids.
Thicker Metatarsal Area: This provides extra protection for the sensitive metatarsal area of your foot, preventing injuries.
Common mistakes to avoid
Choosing Style Over Comfort: While going for the best-looking pair is tempting, comfort should be your priority, especially for long hours.
Ignoring Slip Resistance: Slippery floors and greasy surfaces are common in kitchen environments. Always opt for slip-resistant soles.
Neglecting Breathability: Do not underestimate the importance of breathable materials. They can make a world of difference in reducing foot fatigue.
Final thoughts
Finding the right pair of breathable chef shoes can be a game-changer in a busy kitchen. Prioritise breathable materials, but don't forget other vital features like slip resistance, arch support, and extra protection. From industry leaders like Shoes for Crews and Birkenstock to functional and stylish leather options, plenty of choices are available to keep your feet cool and comfortable while you create culinary masterpieces.
Remember, the recommended shoes should be suitable for the food service industry, durable enough for a professional kitchen, and comfortable for those long hours on your feet. Choose wisely, chefs!
If you're hunting for waterproof chef shoes – read this blog!