Waterproof aprons serve as indispensable tools in the kitchen, offering both style and functionality. As the demand for these aprons continues to rise, individuals, whether seasoned chefs or home cooks are increasingly interested in the materials and styles that provide optimal protection. This in-depth guide will explore their world, covering materials, treatments, techniques, and features, such as adjustable neck ties and pockets, to help you make an informed choice.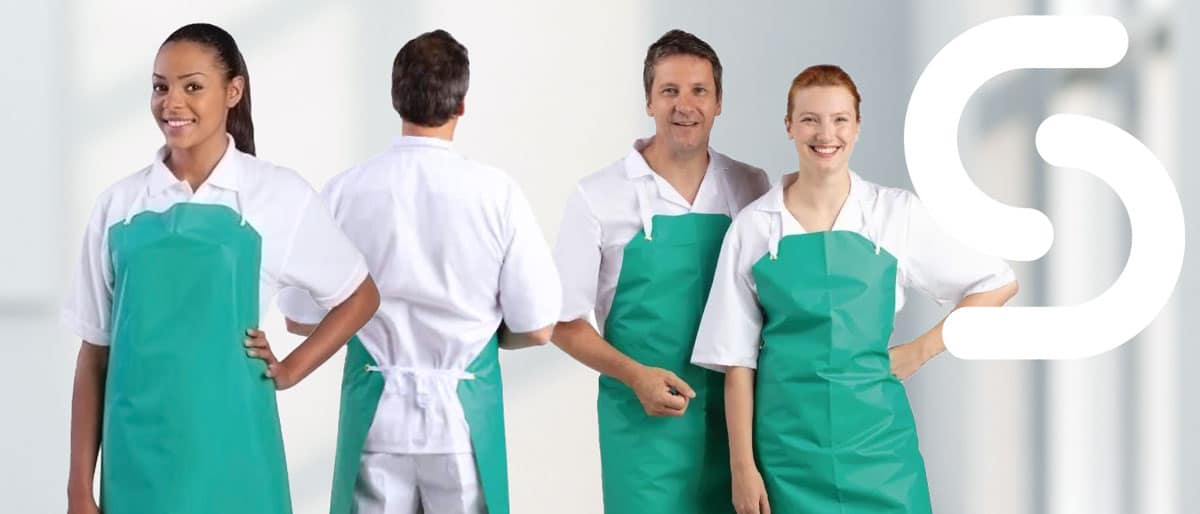 The significance of Waterproof Aprons
Spills and splatters are part of the job in the bustling kitchen environment. An apron is your shield against these inevitable mishaps, but not all aprons are equal. Enter waterproof aprons, which offer an impenetrable barrier, keeping you dry and stain-free. These aprons aren't exclusive to chefs; they are ideal for anyone in a kitchen or restaurant.
Understanding waterproof materials
Waterproof fabrics can either inherently repel water or have been treated to resist it. Common treatments include lamination or coatings using wax, rubber, polyvinyl chloride (PVC), polyurethane (PU), silicone elastomer, or fluoropolymers.
Polyvinyl Chloride (PVC)
PVC-coated aprons are robust and provide excellent protection against water and stains. However, they may lack breathability.
Polyurethane (PU)
PU offers a more breathable option while maintaining good water resistance. This material often finds its way into stylish aprons that balance comfort and safety.
Silicone Elastomer
Silicone elastomer coatings offer extreme water resistance and durability. Their flexibility and comfort make them a top choice for chefs on the move.
Fluoropolymers
For ultimate waterproofing, fluoropolymer-coated fabrics offer unparalleled water resistance, albeit at a higher cost.
What are the different types and styles of Watertight Aprons?
From the classic to more unique options, you'll find a range of waterproof aprons to fit your needs; make sure you look for ones with specific watertight materials, as mentioned above.
Bib Aprons
This classic apron provides comprehensive coverage, safeguarding both the chest and lower body. The waterproof Bib apron comes with an adjustable neck tie, catering to individuals of varying heights.
Waist Aprons
A Waist apron is tied around the waist and primarily protects the lower body. They are perfect for tasks that don't require upper body coverage.
Disposable Waterproofed Aprons
These aprons are designed for one-time use and are often used in medical settings, food handling, or when dealing with hazardous materials.
Benefits of waterproof aprons for Chefs'
These aprons are essential protective gear in bustling kitchens, offering a vital defence against liquid spills and potential hazards. Designed to repel liquids, these aprons shield kitchen staff from hot oil splashes, accidental sauce spills, and other fluid-related incidents, significantly reducing the risk of burns and scalds.
What further enhances the appeal of these aprons is their convenience in cleanup. Their stain-resistant nature and straightforward upkeep contribute to an extended lifespan, resulting in cost savings for kitchen professionals as the need for frequent apron replacement is significantly reduced.
Considerations when purchasing
Ease of cleaning
Check if the apron is easy to clean. Some aprons can be wiped clean with a damp cloth, while others may be machine-washable, e.g. Cotton. Consider the maintenance requirements based on your intended use.
Pockets and storage
You might want an apron with a back or front pocket with storage compartments, depending on your needs. This can help keep tools, utensils, or other items within easy reach.
Gender-neutral designs
Modern apron designs cater to the needs of both women and men, ensuring that waterproofed aprons are universally suitable.
Colour variety and personalisation
Waterproofed aprons are available in various colours, from classic navy to pristine white and everything in between. Look for customisation options, including embroidery, a popular choice in restaurant settings.
In conclusion
Whether you're a professional chef, an enthusiastic home cook, or part of the restaurant staff, a high-quality waterproof apron is a wise investment. These aprons offer excellent defence, crafted from materials that keep you dry and stain-free. With various styles like bib and waist aprons, features including adjustable neck ties and pockets, and a spectrum of colours for personalisation, there's an apron to match everyone's requirements. When needing a new apron, consider going waterproof – it not only shields you but also stands as a durable, functional, and stylish choice.