Whether you're a seasoned chef or a passionate home cook, an apron isn't just a piece of fabric – it shields you during culinary adventures. Adjustable chef aprons are a versatile and practical choice among the various apron styles. This guide will delve into the intricacies that make these aprons a kitchen essential.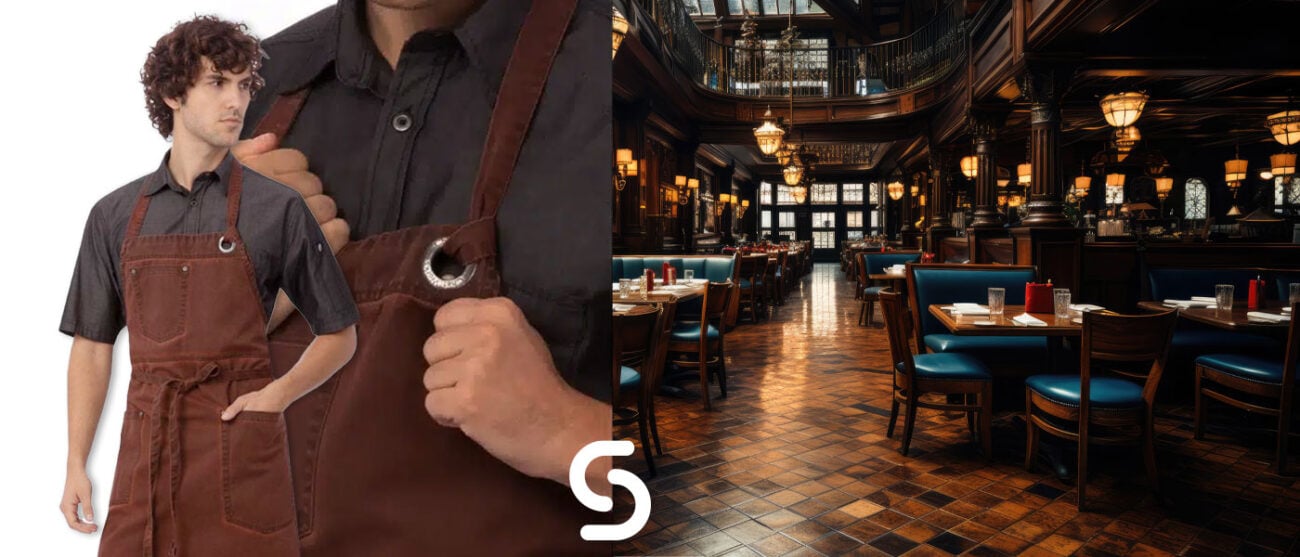 Features of adjustable Chef Aprons
The adjustable neck strap on these culinary aprons is a standout feature that significantly boosts comfort and practicality in a kitchen setting. This customisation aspect benefits those working in the hospitality sector, where extended periods are typically spent in meal preparation and cooking.
Finishing the apron's fit to your comfort specifications helps the chefs and kitchen personnel. This ensures ease of work, even during lengthy shifts. Whether you like your apron sitting higher or lower on your torso, the adjustable neck strap facilitates effortless adjustments. This allows the apron to be set at the optimal height, helping to mitigate neck and shoulder strain and lowering the chances of discomfort or fatigue.
Some aprons are equipped with an adjustable halter feature for those who seek an added dimension of fit customisation and stability. This extra feature enhances the apron's secure fit, which is crucial in bustling kitchen settings with continuous movement. The last thing you want in such an environment is for your apron to slip or become a hindrance.
Material matters
When selecting an apron, the choice of material is pivotal. Options range from soft, comfortable cotton blends to robust synthetics that resist stains and water. Your chosen material should withstand the rigours of culinary endeavours and endure multiple cycles in the washing machine.
What are the typical materials used to make chef aprons?
Aprons have a wide range of uses, and the materials they are made from are crucial in determining how effective and long-lasting they are. Cotton is a popular choice for aprons in the culinary world due to its breathability and comfort, making it ideal for chefs and kitchen staff. The softness of cotton allows for easy movement while still providing decent protection against food splatters and minor spills.
Aprons made from leather or durable canvas stand out in the demanding and potentially hazardous kitchen. These materials are designed to endure the rigorous demands of culinary work while offering superior protection. They are crucial in shielding chefs from sharp utensils, intense heat, and the everyday risks of their kitchen environments.
With the growing emphasis on sustainability, the landscape of apron production is shifting towards more eco-conscious options. Manufacturers increasingly turn to recycled fabrics or sustainable raw materials like organic cotton and hemp. This transformation responds to the heightened public interest in minimising our environmental footprint. Opting for aprons made from sustainable materials empowers businesses and consumers to reduce their carbon impact without sacrificing the functionality of these garments. The apron market is adapting to incorporate these sustainable choices, making it more straightforward for consumers to align their purchases with their environmental values while enjoying top-quality products.
Colour and style varieties
Adjustable strap aprons come in various colours, including blue, yellow, grey, white, black, brown, and navy, catering to diverse tastes and needs. The colour you choose can be personal preference and practicality; darker shades may conceal stains better, while lighter hues offer a more relaxed wearing experience. Beyond colour, various styles like waist and bib aprons are around, and you'll also find ones that incorporate pockets, loops, and other functional details tailored to the unique requirements of chefs.
Universal appeal is suitable for all genders
One of the most remarkable aspects of adaptable strap aprons is their universal suitability, designed to accommodate both men and women. The extensive range of available designs ensures that anyone can find an apron that fits comfortably and complements their style. Some lines even offer sizes and cuts explicitly designed for women, taking into account diverse body shapes and dimensions.
A versatile wardrobe addition
While primarily crafted for the kitchen, these aprons are easy to wear and can find purpose in other settings, such as gardens or workshops. Their adjustable straps provide a secure fit for frequent bending and movement tasks.
Cost-effective solutions
Adjustable strap aprons have garnered acclaim for their ergonomic design, durable materials, and overall practicality. But many users praise these pieces of clothing as a cost-effective choice due to their price and longevity so that they will be in perfect condition for longer.
Adjustable chef aprons epitomise the perfect blend of comfort, resilience, and functionality.
Their customisable features ensure suitability for various body types and working conditions. An extensive selection of materials and colours allows for personal presentation while meeting essential functional needs. Adjustable-strap aprons should undoubtedly top your list of items if you're searching for a new apron. Offering a seamless fusion of form and function, they present an ideal solution for anyone who spends substantial time in the kitchen.
If you're looking for a website to buy them, we offer free delivery to the UK mainland and have a great returns policy on our high-quality garments for chefs.