Chef aprons are integral within culinary, essential companions for professional chefs and dedicated home cooks. Beyond its practical function, a Chef Apron is a canvas for self-expression, a source of pride, and a valuable tool for creating culinary masterpieces. This comprehensive blog will delve into the various apron styles, focusing on four popular types: the Bib Apron, Pinafore Apron, Tabard Apron, and Bungalow Apron.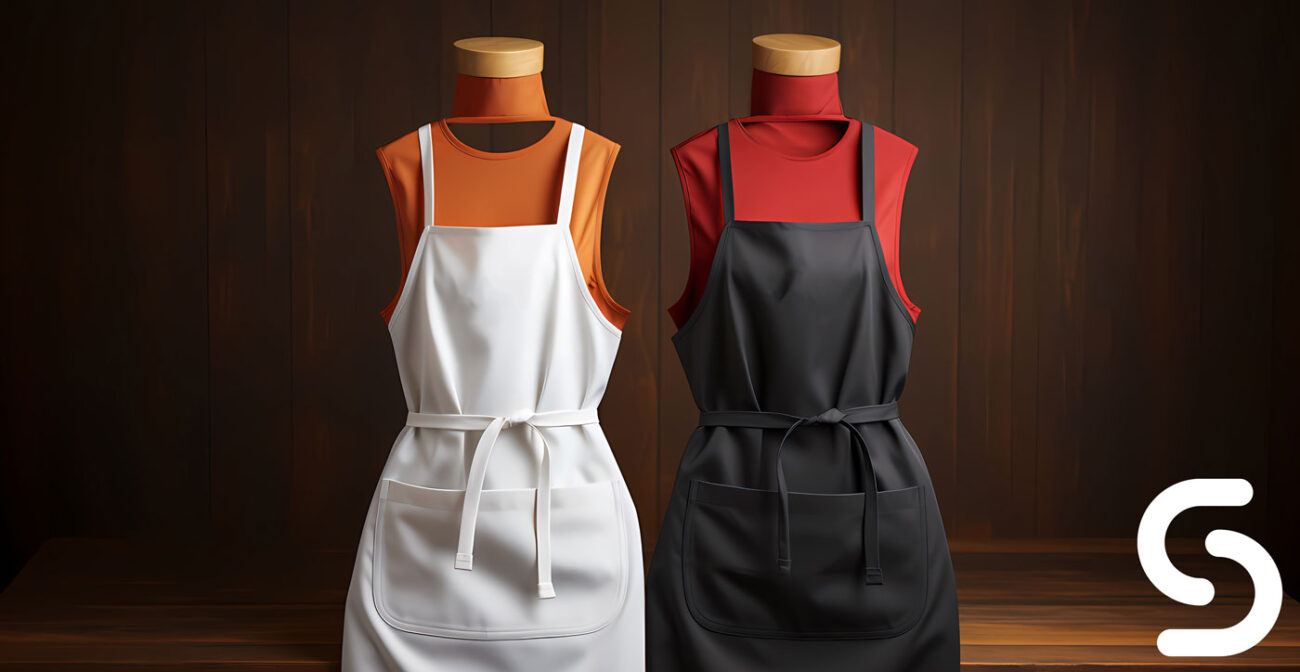 The timeless elegance of the Bib Apron
When envisioning an apron, the classic Bib Apron often comes to mind. Also known as a waist apron, it is a foundational piece, offering a comfortable fit and adjustable straps for a secure fit, striking the perfect balance between comfort and functionality.
Beyond comfort, Bib Aprons have handy pockets for essential kitchen tools. Crafted from durable cotton, they withstand the rigours of culinary work, including stains and wear. For culinary professionals and passionate cooks, the Bib Apron signifies a commitment to their craft, providing comfort and practicality in equal measure.
The essential role of Waist Aprons in hospitality
If you've worked in the hospitality industry, you understand the significance of waist aprons. They are practical essentials that lend a professional appearance to servers, bartenders, and waitstaff. Tied around the waist, these aprons cover the lower body and are designed to endure restaurants and bars in fast-paced and often messy environments. Featuring adjustable straps for comfort and pockets for essential tools, they are crafted from durable materials capable of withstanding frequent use and washing. These aprons are indispensable tools for those in the service industry.
Yet, their importance transcends functionality. Waist aprons also contribute to branding and uniformity, enhancing the image of restaurants and bars. They represent the attention to detail and professionalism vital to the industry, ensuring that staff members appear polished and well-prepared. Whether carrying order pads, pens, or other essentials, waist aprons are practical and integral components of the uniform for those who serve and delight customers.
The Pinafore Apron: Where Fashion Meets Functionality
For those who seek to make a style statement while sharpening their culinary skills, the Pinafore Apron is the perfect choice. This apron style goes beyond mere practicality, adding a touch of class and charm to the cooking experience.
With its stylish design and lightweight fabric, the Pinafore Apron complements the attire of modern chefs and homemakers. What sets it apart is its customizability. Many individuals opt to personalise their Pinafore Aprons, selecting fabrics and details that match their preferences. This customisation elevates the cooking experience, allowing the wearer to express their unique style in the kitchen.
Pinafore history
The historical journey of the pinafore apron is a captivating narrative that reflects the changing roles of women and shifts in fashion. Originating in the 18th century, it was a simple garment designed to protect clothing during everyday chores. As the 19th century unfolded, the pinafore apron carved out a niche as an essential item for women engaged in household tasks.
Jumping ahead to the 20th century, the pinafore apron transformed into a symbol of the American housewife, featuring new elements such as floral patterns and ornate trims that matched the era's stylistic trends. However, as societal attitudes evolved, so did the pinafore's role, transitioning from a practical necessity to a retro fashion statement.
In the 21st century, the pinafore apron is making a resurgence. It effortlessly blends its timeless charm with contemporary aesthetics. The enduring appeal and adaptability of the pinafore apron underscore its lasting allure and its ability to bridge the gap between cherished traditions and current fashion preferences.
The Tabard Apron: A Professional's Best Companion
In the fast-paced realms of catering, butchery, and food service, the Tabard Apron takes the lead. Designed with professionals in mind, this apron style prioritises grease resistance, providing essential protection for chefs and food workers who handle messy ingredients like meats.
The Tabard Apron seamlessly combines functionality with a touch of style. Its straightforward yet effective design ensures it gets done, allowing wearers to take pride in their work attire. Crafted from sturdy fabric and featuring convenient pockets, it's no wonder that the Tabard Apron is the preferred choice of butchers, caterers, and anyone in the food service industry.
Tabard history
The tabard apron's history traces its origins to medieval Europe, where it initially served as a protective garment for knights displaying heraldic symbols during combat. Gradually, it transitioned to signify membership in craft guilds during the Renaissance, acting as a symbol of expertise in various trades. In the modern era, tabard aprons have become integral to the attire of professionals in diverse fields, including hospitality, offering functionality and practicality for chefs, servers, and others.
The Bungalow Apron: Embracing nature's charm
For those who cherish their connection to nature and require an apron that can withstand the outdoor elements, the Bungalow Apron is a must-have accessory. Meticulously crafted, these aprons offer protection against spills, stains, and the wear and tear of outdoor activities.
The Bungalow Apron is versatile and suitable for various tasks, from gardening to outdoor events. Its durability matches its functionality, making it an essential tool for outdoor enthusiasts who take pride in their pursuits. This one seamlessly blends the practicality required for outdoor activities with the charm and style nature enthusiasts desire.
Bugnalow history
As a garment, the bungalow apron gained prominence in the early 20th century as an oversized, protective apron woman wore over their clothes while doing household chores.
Versatility and Functionality: The heart of Apron styles
Finding an apron that suits your unique needs and type is crucial. From the classic and reliable Bib Apron to the fashionable and customisable Pinafore Apron, the practical and durable Tabard Apron, and the outdoor-friendly Bungalow Apron, there exists an apron style for every culinary enthusiast.
Aprons as culinary companions
Aprons transcend practicality to become elements of the culinary world, combining fashion and functionality. When a chef wears an apron, it signifies dedication, pride, and a passion for the culinary craft. These humble garments protect clothing, offer pockets for tools, and infuse a sense of style and charm into the cooking experience.
Think of an apron as your trusty assistant on your journey, providing a canvas for self-expression and aiding in creating something unique. Aprons have multiple functions in cooking, such as protecting against fire and other elements and adding style.