A restaurant without a menu cover is like a body without a soul. We cannot over-emphasise its importance in your restaurant.
But the big question is, "Which would suit your restaurant "? Would it be the A4 or A5 cover?
Finding a suitable menu cover can be daunting, especially with the wide range of options available.
But, if you want one that would display your menu and simultaneously showcase your brand personalisation, you should try the A4 Menu Cover.
In this article, we'd be focusing on the A4 Menu Cover and why it's an excellent option for your restaurant.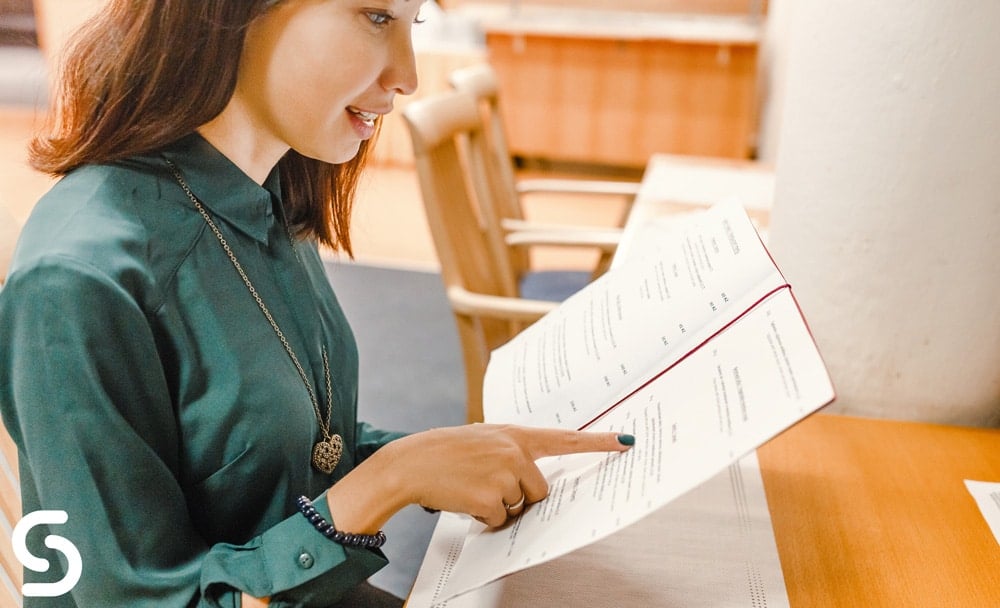 What makes a4 Menu Covers suitable for restaurant menus
The A4 menu cover is a great way to make your menu stand out. They're the most versatile option available and, as such, are appropriate for most restaurants.
The A5 Menu covers are smaller and lighter, making them easier to carry in aprons, use outside, or bring to a hotel room for room service. Still, you can fit fewer things on A5 pages, and there isn't much room to describe them.
The A4 menu covers, on the flip side, have a lot of room for long menus and menu-hacking options.
They make it possible to talk about each dish in detail, but they can be hard to use in crowded restaurants.
A4 menu covers are primarily used in restaurants, cafes and other places that want to add more details to their design.
Despite the A4 and A5 covers showing similarities, you shouldn't try to make an A4 menu insert to fit in an A5 cover.
Customers who are older or need help seeing well may have trouble with smaller fonts, which could cause needless frustration and turn away valued customers.
Designing your perfect A4 Menu covers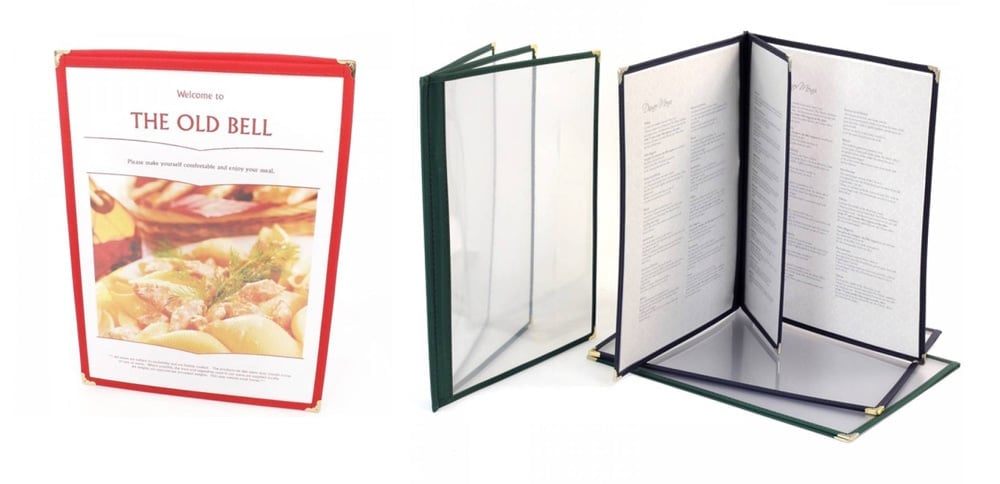 It is one thing to select a menu cover. It is another for it to appeal to customers.
However, with Smart Hospitality supplies, you can personalise your covers to the slightest details to appeal to the pickiest diners. Our Menu customisation in four steps;
First, you choose the colour.
The colours of your menu covers have a significant impact on your customers. Before deciding on the colour, you must consider how this would impact diners if it's too or less colourful.
According to research, green can bring out the natural goodness of food, while red and yellow can evoke appetite.
Secondly, you select the material.
You can select any material to design your menu covers: Fabric, PVC, Metal, Leather or Wood.
You'd also choose the Panels ( tri or double fold), thickness and finishing of your cover from a wide range of options to get that perfect feel.
Thirdly, place your orders.
You'll give the desired quantity and turnaround time. You can have faith in us to take your design and requirements and turn them into reality, resulting in the menu cover you've envisioned. So, if you want brand personalisation, you can call to speak with our team.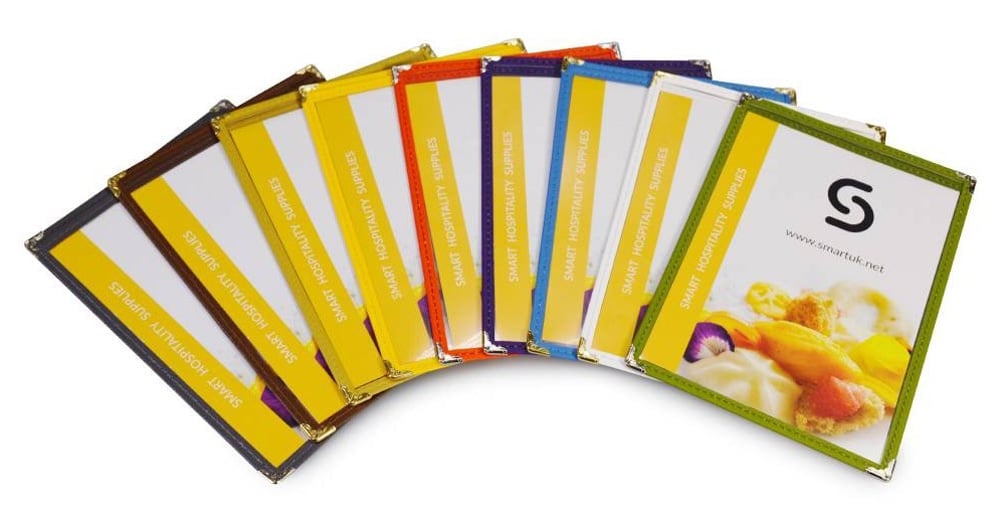 Top-notch A4 menu covers available at Smart Hospitality supplies.
Eco 1/2 A4 Menu Cover
The DAG Style Eco Menu Covers are a stylish and unique way to show off your menus.
They are made of the same material as the tags on your jeans.
They are very durable and can even be washed and ironed. DAG's products are of the highest quality and feature cutting-edge designs.
When you buy a DAG menu cover, you can be sure that you are getting a product that is not only well-made but also looks great and will last a very long time.
These covers have a fantastic feeling because they are made of cellulose fibre.
They are available in four natural and popular colours and textures, ensuring they will work in any decor. They are durable enough to withstand a wash at 60 degrees and iron, and they're also easy to maintain. Sunlight does not affect the colouration of these covers.
Securit Rio Menu Cover Black A4
The Securit Rio A4 Menu Cover is a durable black plastic with "menu" inscribed on the cover's stainless steel plate. This appealingly curved menu cover has a modern style appropriate for various settings, including restaurants and classy wine bars.
The elastic inner cord securely holds inserts in place. Despite including one double insert (displaying four pages), this menu can be readily expanded using Securit A4 menu inserts (H600).
Slip Grip Menu Covers A4 Size Copper
With the Copper A4 Menu Holder, you can protect your paper menus from wear and tear while adding a touch of style to the table.
It is made of rich copper buckram cotton and is durable and stylish. It has a quick-change slip grip design that makes it easy to switch out menus. Just pop out the spine, put your paper menu in, and put the spine back in. It is sturdy enough for even the busiest kitchens.
Securit Contemporary Menu Cover Black A4
Are you looking for a fashionable and safe way to present your menu? Then this high-quality menu cover from Securit is just what you're looking for.
The menu cover is made of high-quality synthetic leather, which makes it resistant to wear and tear and easy to clean. It also looks great.
This makes it a great addition to professional dining rooms, which will liven up your table settings for years to come.
The internal pockets resist scratches and can display up to four sheets without losing clarity. This makes the menu holder perfect for busy restaurants where it can be used repeatedly without looking worn.
The gloss detailing includes a subtle 'menu motif' and is finished with contrast stitching to give the cover a unique and stylish appearance.
Slip Grip Menu Covers 2/3 Width A4 Size White
The Slip Menu Cover keeps your menus safe from spills and stains. It is simple, durable and finished in fresh white buckram cotton, which makes it stylish and durable.
It has a unique slide grip system that allows you to swiftly and effortlessly swap out your menus.
Pop out the spine, insert your fresh menu, and reinstall for venues with a revolving list of specials or a frequently changing food and beverage offering.
The 2/3 A4 size makes it easy to store and reduces the amount of stuff on the table, so your guests can eat comfortably.
Securit Contemporary Menu Covers and Storage Box A4 Black
A black leather effect menu storage box is available to compliment Securit's black contemporary menu covers.
It has a pack quantity of 20 and can display four A4 pages, but they can easily be expanded with extra A4 inserts. Securit's storage box is available in a variety of colours.
Why you should get your A4 menu covers from Smart Hospitality Supplies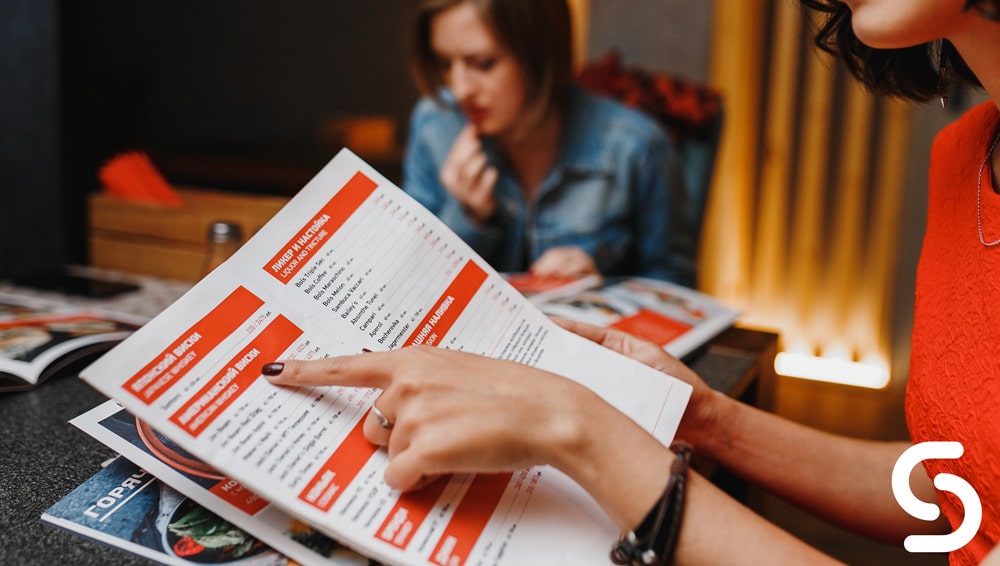 Because the menu cover is a must-have unit in hotels, restaurants and bars, We are passionate about providing hospitality businesses with high-quality products at great prices.
With our large selection of products, you can personalise your establishment to match the style and colour of your restaurant or bar.
We offer many products, including Personalised menu covers, Wooden menu holders, Acrylic Menu holders, and many more. Our stock comes in different colours and styles and is made with high-quality material, which will last for years.