Investing in a menu holder is something you should think about doing if you want your café to be noticeable and, at the same time, visually appealing.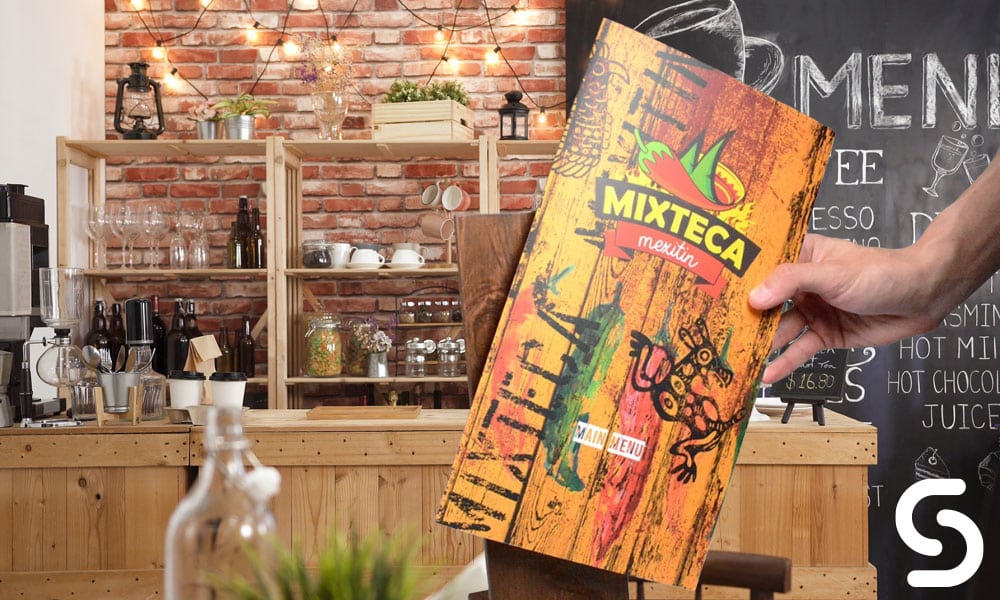 Products such as our acrylic menu holders or metal menu holders are designed to showcase the menus in a fashionable and organised way.
Many cafes are scattered across the United Kingdom, but the ones that get more attention are the cafés that have mastered the art of mesmerising visitors.
Yes! And you don't need to be a hospitality expert to give your customers a memorable experience. Still, you need the right tools and purchasing a menu holder is the step in the right direction.
But with so many options to choose from, it could be daunting to select the perfect menu holders for your café. So you'd want this article to the end as we'd be discussing tips to help selecting a suitable menu holder.
Factors to Consider When Choosing a Menu Holder for your cafe
Before you rush out and buy menu holders, you should consider several important factors to ensure you find the perfect menu holders for your café. Here are a few factors to keep in mind:
Durability
Menu holders are an important part of your café's décor, so they must be built to last. When choosing a menu holder, make sure to find high-quality materials, like metal or wood, that can withstand daily use for years without showing signs of wear and tear.
Your café's menus is a hot spot for customers to browse throughout the day. The menus must be protected against spills, crumpling, and tearing.
Ease of Cleaning
While you want to choose a menu holder that is built to last, you also want to make sure they are easy to clean. After all, you want your customers to easily navigate the menus without dealing with caked-on food and drink stains.
Brand Message
Your menu holders, they must match your café's theme.
How can you make this happen? First, figure out what your café's general theme is. Is it modern? Vintage? Retro? Then, find a menu holder that match your café's theme.
And don't forget to consider the colours of your menu when choosing the colour of your menu holders. You can also add a unique twist to your café's theme by customising your menu holders with a design that reflects your café's brand.
Budget
A Menu holder is a perfect choice for a smallpox, bar or restaurant, the are a more cost effective solution to a menu cover and can be made from a range of material such as real wood, wood veneer, plastic, metal, fabric & acrylic menu holders. One thing to consider is, although there are numerous menu holders available, you must set a budget before shopping. After all, you don't want to go over budget for menu holders, especially since they are an investment that will last for years.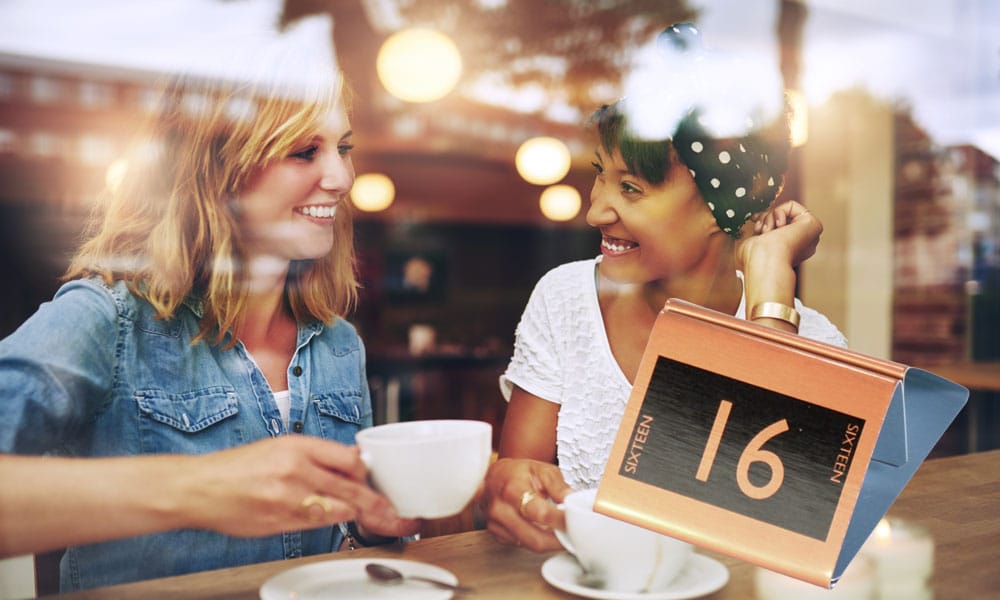 Customisation options
While you can find a ready-made menu holder that match your café's theme, it is also crucial that you can customise them. Not only does this make them more unique, but it also allows you to add a personal touch to your café.
Benefits of Custom Menu Holders
Besides simply holding your menus in place, menu holders have so many benefits, including:
Brand Recognition
Putting menus in menu holders is a solid way to increase brand awareness, making consumers more likely to return to your café.
Ease of Access
Customers can easily get to the menus, which makes it easy and quick for them to order their favourite drinks.
Organising
In addition, a menu holder make it easier for you to organise your printed material, which contributes to the overall tidy appearance of your café.
Easy to Update
When new meals, drinks or promotional offers are introduced to a café's menu, it will allow you or the end to be updated on a daily or weekly basis.
Customisable Menu Holders in Smart Hospitality Supplies
Menu holders come in a wide range of styles and shapes, so they are sure to fit your café's style. Here are some of the large selection of menu holders available at Smart Hospitality Supplies.
Numbered Metal Holders- SKU: RS114
Numbered metal holders are popular for cafes and restaurants to organise tables and seating areas. They feature a number or series of numbers stamped or engraved on them, making it easy to identify and assign tables to customers. They are made from durable metal materials such as steel, aluminium, or brass and come in various sizes and designs to suit the cafe's decor. They can be placed on tables, walls, or stands for easy visibility for customers and staff. They are also easy to clean and maintain whilst also being practical for holding menus inside.
Plain Triple-Channel Metal Menu Holders- SKU: RS117
Plain triple-channel metal holders are a functional and stylish addition to any café or coffee shop. They are designed to hold three menus or signs and can be easily mounted on walls or countertops. Made of durable metal, these holders are built to last and are a cost-effective way to display important information to customers.
Numbered Single-Channel Metal Menu Holders – SKU: RS120
Numbered single-channel metal holders are a great option for cafes looking to organise and label their tables. These holders are durable metal and feature a single channel for displaying table numbers. They are easy to install and maintain, making them a practical and cost-effective choice for any cafe.
Numbered Triple-Channel Metal Menu Holders – SKU: RS126
A numbered triple-channel metal menu is a menu board commonly used in cafes. It is made of metal and has three channels to hold menu cards. The menu cards are numbered, making it easy for customers to find and order their desired items. The menu board is durable and can withstand frequent use. It's a great option for cafes looking to organise their menu items clean and efficiently.
Wooden Menu Holder with Chalkboard – SKU: SHS164
Wooden menu holders with chalkboards are a stylish and functional option for cafes. The menu holders are made of wood and have a built-in chalkboard surface. This allows the cafe to easily update its menu items by writing them on the chalkboard. The wooden menu holders give the cafe a rustic and warm ambience. It's a great option for cafes looking to add a touch of personality to their menu display.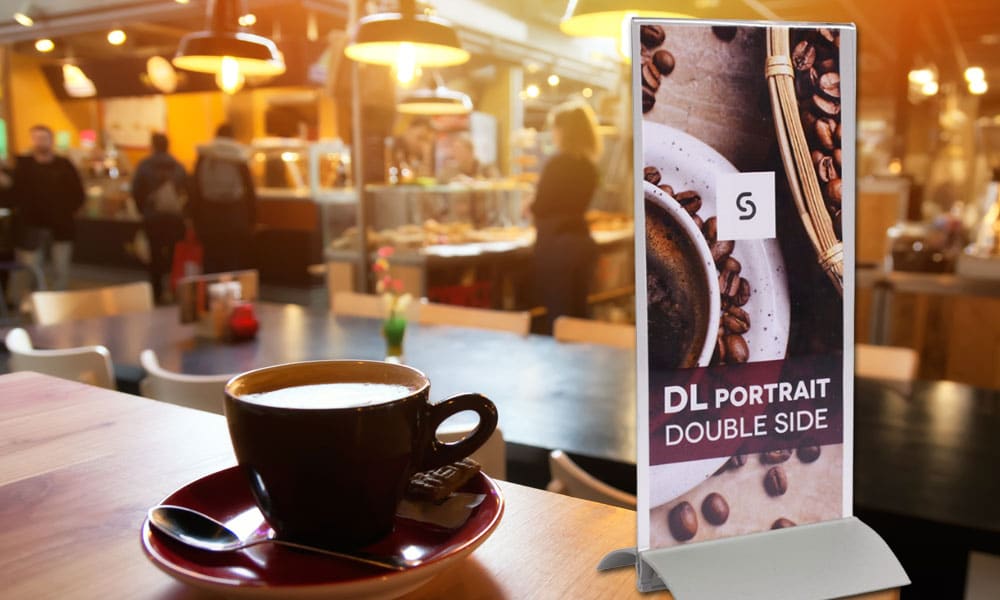 Why you can trust Smart Hospitality
There's no denying the usefulness of a menu holder and menu covers in your cafes, and if you aren't already using them at your, it's time to start.
So check our products if you need a café or restaurant menu holders for your establishment. We have such a wide range of menu holders in stock which you could display your standing or printed menu material.
We also high-quality hospitality accessories they include Menu cover, acrylic menu holders, table top display, table stands for signs, triangle table menu holder, acrylic holder solution, picture frame solution, menu stands and table number identification.
All our menu holders, menu stand and menu covers are made from premium materials that are sure to please your customers and boost your sales.