In the culinary arts, the chef uniform is more than just a set of clothes—it's an emblem of mastery and dedication. This ensemble, known as chef's whites, combines several unique elements, and the chef's hat is instrumental in completing the aesthetic and serving functional needs. In this article, we delve into the importance of chef hats and the reasons they're a non-negotiable part of any chef's outfit.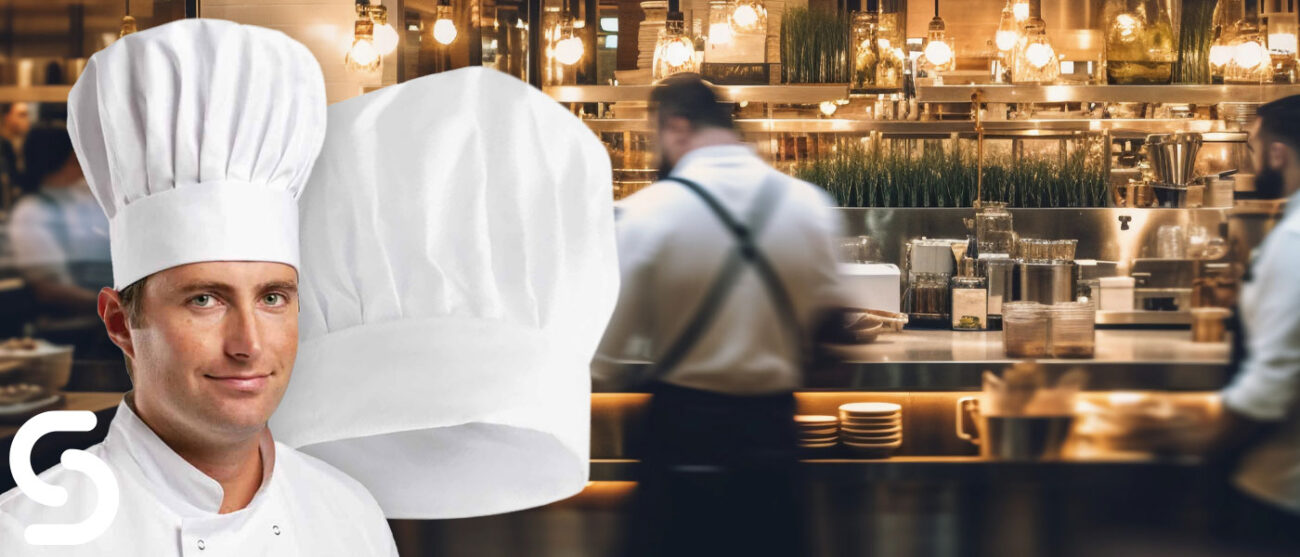 The Traditional Chef's Uniform
The classic chef's uniform is a visual feast, representing a storied culinary lineage passed down over the years. Here is a brief overlay of the traditional attire.
Chef's Coat: The chef jacket is typically white and double-breasted. It is designed to protect the chef from heat and splatters in the kitchen. The double-breasted design allows the chef to hide stains by reversing the sides.
Chef's Hat (Toque): The traditional chef's hat, known as a toque, is tall, pleated, and highly iconic in the industry.
Chef's Pants: Chef pants are typically checkered or houndstooth patterned. These patterns help hide stains. They are loose-fitting for comfort and mobility in the kitchen.
Chef's Apron: Some chefs wear an apron over their coats and pants for protection. The apron can be made of various materials, including canvas or cotton, and it usually has pockets for convenience.
Neckerchief: A small, folded neckerchief is often worn around the neck. It can absorb sweat and is considered part of the traditional chef's attire.
Chef's Shoes: Chef shoes are designed for comfort and safety in the kitchen. They are often slip-resistant and have a closed-toe design to protect against spills and dropped objects.
Kitchen Towel: Many chefs keep a kitchen towel tucked into their aprons or pants to wipe their hands or surfaces while cooking quickly.
The origin story of the toque
The toque blanche, the white chef's hat, is arguably the most famous part of this uniform. It's an integral component of a chef's uniform, traces its roots back to 16th-century French culinary practices and has evolved into a universal emblem for chefs everywhere. More than a mere accessory, the toque symbolises a chef's devotion to their art.
In bygone eras, the height of the toque indicated a chef's position within the kitchen's hierarchical structure. The tall shape of the chef hat signifies the rank or status of the chef wearing it.
Here are the main reasons why chefs wear hats
Projecting professionalism: Generally, wearing a chef hat sets the tone for professionalism. A neat and spotless hat grants a sense of authority, signalling to both kitchen staff and patrons that the chef is knowledgeable and in command. Maintaining a professional appearance is imperative in a commercial kitchen's chaotic, high-temperature conditions. When diners witness chefs in their clean attire, complete with the signature hat, it elevates their overall dining experience and fosters trust in the food served.
Prioritising food safety: Chef hats also fulfil a functional role, especially regarding food safety. Amid the hurly-burly of a professional kitchen, where hot oil, spills and splatters are commonplace, a hat safeguards the chef's head. It also minimises the risk of stray/long hairs contaminating the food, thereby upholding hygiene standards and ensuring a pleasurable dining experience for guests.
Upholding tradition and style: Culinary traditions are deeply revered, and the chef's hat is a living testament to this legacy. It links contemporary chefs to their ancestral roots and to those who have worn similar hats in years past. Besides its traditional significance, the chef hat adds a stylistic flair to the uniform. The ensemble of the white hat, jacket, and houndstooth pants creates a visually arresting, evergreen look that distinguishes chefs and leaves a lasting impression.
Selecting the best catering hats
When picking the right hat, chefs are spoiled for choice. From the classic toque to modern skull caps and even disposable food service hats, there is a style for every preference and need. Factors like breathability and heat resistance are often considered to match the demands of a hot kitchen.
For instance, when safety takes centre stage, chefs may lean towards flame-resistant fabrics to protect against mishaps involving hot substances or flames. Non-slip features can also be essential to ensure the hat remains securely positioned, even during high-stress kitchen scenarios.
To sum up, a chef hat isn't just a stylish accessory—it's a badge of tradition and functionality in the culinary universe. It rounds off the chef's attire, amplifying the aura of a culinary expert. Whether you're a culinary veteran or an ambitious newcomer, topping off your uniform with a professionally tailored chef hat is the finishing touch to your culinary identity. So, whether you wear it to celebrate tradition, safeguard food, or establish a professional presence, a chef hat is an indispensable part of the professional kitchen toolkit.
Check out this blog if you want to look at hats with adjustable features.