Menu covers convey a lot of information, one of which is the overall performance of your bar. It might sound ridiculous, but it's true!
The first thing a customer sees after walking into your bar is the menu, and to give your guests the best impression, your menu has to be eye-catching.
You should never forget that so many bars are out there, so it's crucial to ensure your bar's menu cover stands out from the rest.
How to Choose the Right Menu Cover for Bars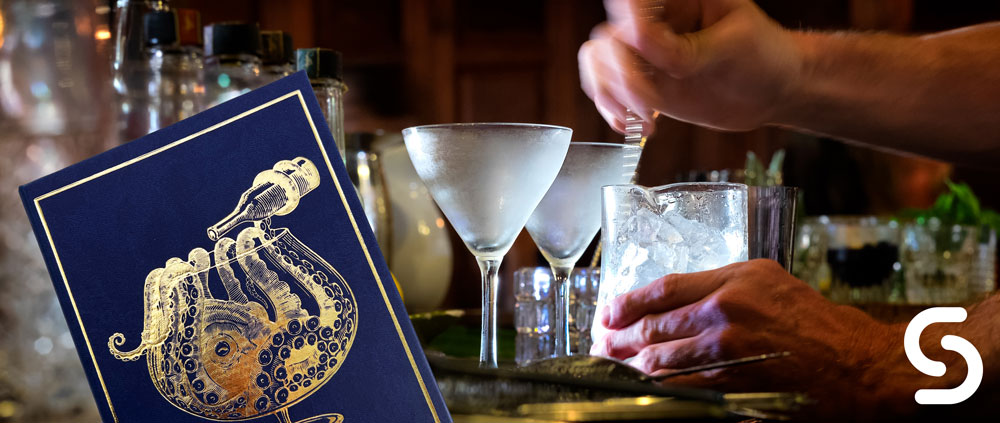 When choosing the right menu cover for bars, there are a few things to consider. The first and most obvious is the design of the cover. You would want your design to align with your brand and reflect your unique style. Here are also other things to consider:
Menu size:
Menu covers are typically designed in A4 and A5 sizes. But you can make both sizes bigger to fit your needs and add more menu items.
A5 menu covers are small and easy to store, which makes them easier to carry around. But there are fewer things on an A5 page, and there needs to be more room for details.
But A4 menu covers have a lot of room to display different menu options. It gives you space to talk about each dish in depth. The only problem is that it can be hard to use in places with many people.
A3 is suitable for one-page menus and can be slipped into an edge-bound A3 to make a menu with two sides. Slimline (half A4 folder portrait) is another choice.
Durability
When it comes to choosing a menu cover, durability is critical.
You want to ensure that your menu cover will last for years, so you must choose materials that will hold up to everyday use in bars to prevent changing menu cards frequently.
One popular material is acrylic, which is highly durable and easy to clean. It is also water-resistant and can hold up under hot temperatures.
The leather menu covers might be the best option if you're looking for something more durable than acrylic and more classy.
They are usually waterproof and can be cleaned easily with soap and water or a damp cloth.
Strive to be unique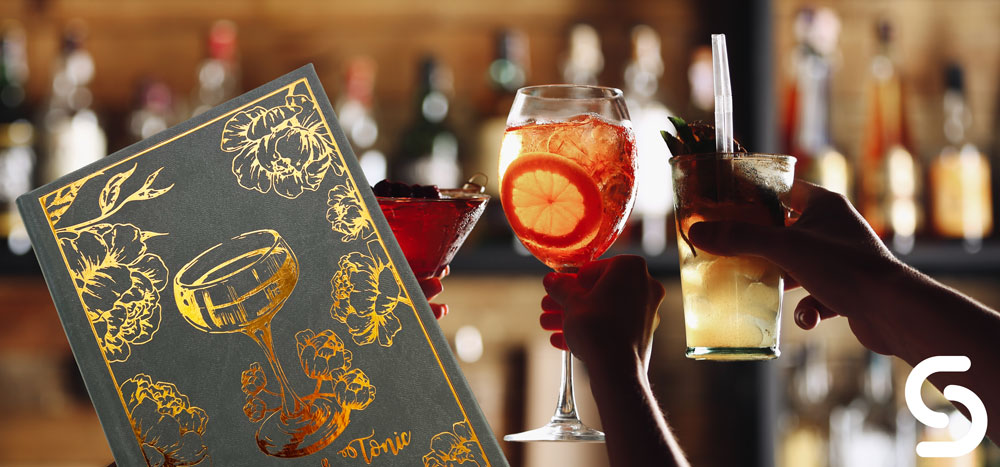 It would be best if your restaurant menu covers differed from what you'd find elsewhere.
You have to strive for originality; one way to do that is with a custom menu cover.
If you need help figuring out where to start, contact our team, and we'll guide you and design a tailored cover.
For personalisation, you might be tempted to choose flashy colours when selecting a menu cover. Still, it would be best if you tone it down and use more muted colours that match the overall atmosphere of your bars and restaurants.
Consider branding with your bar's logo. It does not only foster brand recognition, but it also adds a touch of personality to your menu cover.
Decide on the style.
The binding, edging and spine of the menu often define the style.
Usually, you can choose between a transparent edge and spine or a fabric edge and spine.
There are also full vinyl-covered and heat-sealed menus that are all clear and have a laminate to protect them.
You'd also have to decide on the materials, which could be either Leather ( Faux or Real Leather), Wood, Metal, Fabrics (Buckram cloth) or Plastics.
In all, ensure your style best complements the aesthetic of your venue.
Reasons why you need menu covers in your bar

Keep your menus safe.
First, menu covers keep your menu prints in great shape, saving you money because you don't have to print new menus daily.
When your menus have covers, customers can use them more than once, making cleaning easy.
Increase brand awareness
In the same way, you use your brand's logos and colours on your menus, you can customise your menu covers and holders and make sure they match your brand.
This is an excellent strategy to increase brand awareness and consumer loyalty.
Customers will be presented with your message quickly if you advertise your menus in bespoke products.
Since there are different products and room for customisation, it's simple to find the best fit for your brand.
Boost sales
Acrylic menu holders are an excellent way to display menus and special deals. Again, they may assist in reducing the wear and tear on your paper menus while ensuring that all guests know what you offer.
Using menu stands can also bring attention to special deals, and these items can help boost sales. Customers are more likely to get hungry or want to buy more when your menus are out in the open.
To impress guests
Instead of just putting paper or card menus on the tables, using menu holders and menu covers can make a big difference in how people see your bar or restaurant for the first time.
These items have a professional appearance and feel, and by adequately presenting your menus, you can influence how clients perceive your service.
If your business offers formal dining, you should use only the best holders and covers for your menus.

Menu holders used in bars
The acrylic standing menu holders are made for displaying menu cards or sheets of paper on a table. These are great for showing limited lunchtime menus, special discounts, or public notices.
Standalone acrylic menu holders show managers' specials and make significant countertop announcements. Since these holders aren't waterproof, you might need to replace worn-out menu cards.
Wooden menu holders are a stylish way to keep laminated sheets and menus in order on the table. Your menus must fit tightly because they don't have the built-in tension and grip of their metal counterparts.
You could use a framed menu holder instead to get the best of both wooden and freestanding acrylic holders.
Reason to shop at Smart Hospitality Supplies
Smart Hospitality Supplies is a leading supplier for the hospitality industry in the Uk.
We have a large selection of everything you might need for your bars, hotels and restaurants —: they include Menu covers, Menu holders, Menu inserts, Table Menu holders, Wine List covers, Drinks Menu Covers, Restaurant equipment and more! They are available in many colours, shapes and designs. 
With more than a decade of experience in the industry, we've built a reputation for being the best in our field by offering an extensive range of hospitality products at competitive prices.
So, if you desire refined and top-notch products, then Smart is the place for you!