If you are a restaurant owner, you know the horrible sinking feeling that comes with reading a negative review of your establishment on TripAdvisor. The customer is obviously not very happy and they have left a scathing account of everything they disliked about dining at your restaurant. Not only are they displeased, but now everyone on the internet can see this negative feedback – which will discourage customers from dining at your restaurant in the future.
Negative online reviews can be very powerful, but the way you handle them will reveal a lot about your establishment. If customers can see that you handle negative criticism in the right way, you will be able to salvage the reputation of your restaurant. It's very good for your image to show that you read, consider and respond to all reviews – even the negative ones.
So what is the best way to respond to a bad review? Here are some tips that you can keep in mind:
Respond as Quickly As Possible
It is important to respond to the negative comments as quickly as possible. First of all, it will show the guest that you care about what they have to say and you are paying attention. Secondly, it will minimize the amount of people who see the review posted online without your response alongside it. If you can, it is best to respond to 100% of negative reviews within 24 hours. In order to find out about the reviews as soon as possible, you can use an online review management system that will send you an alert whenever you have a new review on your restaurant.
Thank the Guest for Their Feedback
Even if the guest is being rude and harsh when reviewing your hotel, turn the other cheek and respond to them with a humble thank you. Resist the urge to get defensive and respond to them angrily. If you can deal with them gracefully, it will reduce the negative effects of the bad review in the eyes of your other guests.

Give Them a Sincere Apology
Many restaurant owners are hesitant to apologize when responding to a bad review, as they believe that it is the same as admitting fault. However, the point is that even if you don't think you have done anything wrong, you should apologise for the fact that the guest had a poor experience. They guest will respond well when you show sympathy for the fact that their night out was unsatisfactory.



Explain the Full Picture
When a guest writes a negative review online and other potential customers read it, they are only getting one side of the story. Sometimes there is a small piece of information that you can add that will round out the account and help people understand what was happening in the situation.
For example, if the customer has complained that they had to wait for 45 minutes before being seated and that the service was slow, you can mention that they came to the restaurant during dinner rush on a Saturday night – your busiest time of the week. This is not making excuses, it is simply offering a reason why service was slower than usual.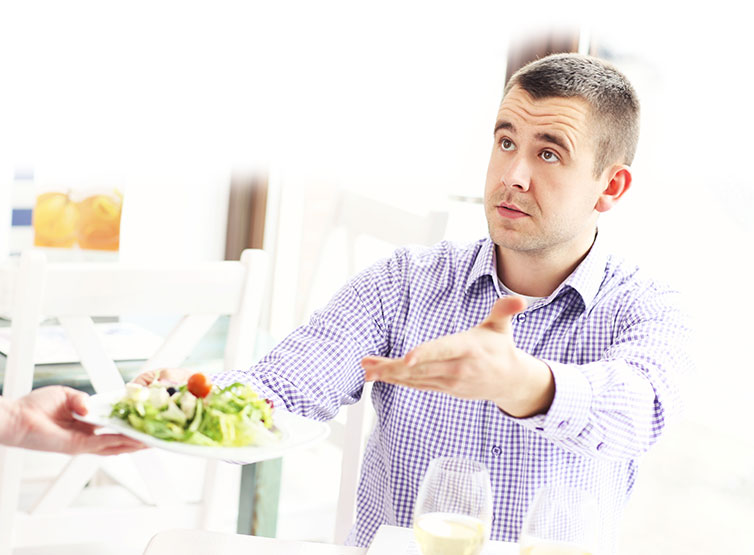 Explain How You Will Make it Right
Offer the guest your contact information so that they can contact you to resolve the issue. If they do, you offer to discount or refund their meal or provide them with vouchers or discounts on future dining at your restaurant. Don't mention this publically in the Trip Advisor comments section, as it will set a precedent with other reviewers.


Take the Feedback and Apply It
Read the feedback carefully and ask yourself whether the reviewer is right. Is that particular server disorganised and slow? Is the chicken breast really dry and tasteless? Are your desserts overpriced? Be honest with yourself and look carefully at your restaurant to see where you can improve. Take the feedback and use it to make your restaurant better. The best restaurants are those that can take criticism and use it to improve what they have to offer.


These are just a few tips to keep in mind when a customer leaves a bad review of your restaurant online. It's not a great situation, but if you handle it well you can mitigate the damage and learn from their feedback.